Indonesian Experience (Ubud part 5)
Architecture and landscape

10 / 10 points

Entertainment

8 / 10 points

Culture and customs

10 / 10 points

Transport

6 / 10 points

Gastronomy

10 / 10 points

Prices

10 / 10 points

Party

4 / 10 points

Weather

8 / 10 points
---
Getting there
This article will be picking off from our Indonesian Experience series. This overall experience had been so enjoyable that I had to post these stories up here. Hopefully, they will act like a guide or even a motivator to visit Indonesia. Although, the story is mostly based on Bali, the Gili Islands, a short stay at Lombok, Nusa Penida and Java. This series picks up from our adventure at Gili Meno. We had a bit of a detour which ended up costing us the whole day as currents were too strong to take a speed boat. After being relocated for several hours by bus to get to a port with a massive ferry we were then able to make our way back to Bali. One thing that was quite fortunate was that we were given bus transportation to Ubud, our current district. It was included in the bill of the fast boat as compensation.
If any sort of disaster strikes such as cancellation or on the way issues then make sure to review what you're entitled to. You are travelling in a foreign country with potentially different rules than what you are aware of. So for this reason you should do research to figure out what you're entitled to. Once you find out your rights then make sure to stand by them firmly. Sometimes, they would try to stop you from gaining the benefits or compensation as it does not benefit them and it actually cuts into their costs. I have met quite a few charming silver tongues who tried to swindle us at some points throughout the trip. Do not be deceived as it could cost you. Shyness might also cost you in funds so do not back away and stand firmly.
I reckon this would also be life advice for any situation although the main focus is for the trip itself. In our case, we made sure that we had our compensation which led us to be dropped off almost to the door of where we had to be. It's a bit of a shame that the compensation did not include a refund as that was not part of the guidelines for compensation. By the end of it all we had unfortunately lost several hours due to mother nature. The waves and currents were too hard for a fast boat. So, for that reason we instead had to take a stable and massive fairy as it would definitely survive any current and the waves this region is able to hit boat rides with.
We were dropped off around midnight by a supermarket. The trip had taken roughly an hour due to the pace we were going at. The bus was mostly filled with backpackers. As soon as we stepped off to the warm humid night we all dispersed onto our own ways. We then made our way to our hostel. We were worried as reception was meant to close pretty early. So we walked down the main roads and we spotted a Hindu temple on the way. While Indonesia is a Muslim majority country, the residents of Bali have a large population of Hindus within. This would be obvious with the many temples around towns. We did not have any WIFI nor an Indonesian sim card. Luckily, I could use my Australian number's data (with roaming charges) to simply use google maps to find our hostel. We decided to stay at the Wayans's Family Hostel as it was very affordable and had an acceptably decent rating on Hostelworld.
Wayan's Family Hostel
It is worth noting that throughout the trip I had had to use my Australian sim card and lost quite a bit of money along the way. I highly recommend that you buy a temporary sim card with internet data. It is a worthy investment as things in Bali are a bit haphazard. That is to say that roads crisscross like crazy and many of the locals in Bali do not speak fluent English so you risk miscommunication. It is also quite easy to get confused with all the streets and alleys that crisscross all over the place. We made our way to the hostel. The doors were unlocked. They lead into an open-air courtyard which had multiple beautifully designed cabins to sleep in. The place was saturated with decorations. It truly felt like being in a temple rather than a backpacker's hostel. We walked about and found everything to be shut off and quiet. Luckily, there were some sockets located right outside the houses for people to simply sit down and relax as they use and charge their phone. I charged my dying phone while my mate walked about a bit more.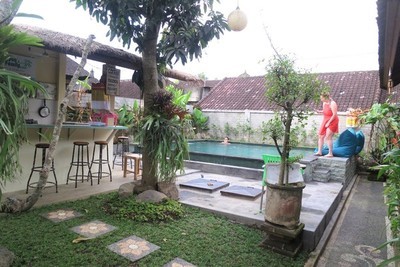 (Source: http://hotelwhy.com/wayans-family-hostel-ubud/)
We were out of luck. We decided to leave the place and go down an alley across the pedestrian-only street. As we pass through the short alley we make it into another courtyard which is equally beautiful. There was a small serene-aura emitting pool. Within it there were multiple colourful fish that were a foot long. I couldn't recall their exact breed although they are often featured in Chinese restaurants I had visited that owned a fish tank. They may have been Koi fish. We kept walking around the courtyard. There was a section that had been cordoned off as construction was underway. It seemed to be a swimming pool. That exact pool would have been completed by now. I decided to look about the eastern part of the courtyard as my mate looked at the western part. I heard a dog barking loudly in the direction of my mate's courtyard and I quickly bolted there. I feared that my friend might be in trouble with a stray dog. By the time I got there, I found my mate smiling as the owners of the dog stepped out of their own cabin. Apparently, these were the owners, or at least the managers, of this hostel. They were very polite even though we interrupted the serenity of their night.
We learned that this was the Wayans family hostel rather than the first one we had gone to. He let us into our hostel cabins. We stayed in two adjacent cabins, one for males for myself and one for females for my mate. The front of the hostel had comfortable looking seats, a hammock and even a small library set up in between the two cabins which are connected by their porch. As soon as I got into my hostel I quietly dropped off my stuff by a wall, pocketed my passport and wallet and then passed out in my bed. There were no air-conditioning units during my stay although they had fans which surprisingly did well to cool me down. Perhaps they added an air-conditioning unit by now.
The next day I woke up to construction work. There were about a dozen construction workers fixing the area around the pool and the pool itself. I didn't mind too much as they had woken me at around 8 am which is a good time to set up and then set off on our next adventure. My mate was still sleeping at the time, so I decided to muck about. At the centre of the small courtyard there was a shack that acted as the kitchen. They provide cooking utensils for basic cooking. I didn't see an oven although they had a fridge which allowed you to store your goods. On the counter of this open-air shack (which was basically an L shaped counter, some chairs, the tiny kitchen in the centre, the back wall and the roof. It was refreshingly open, so you would be able to enjoy a meal while gazing at the greenery and architecture of the area.) there are multiple brochures that showcase trips through Ubud, rice fields, many sport adventures and even volcano climbing (which we will get to in another article). I would definitely investigate this as there are quite a few fun adventures on display. Many of them are tours so you could take them up on their offer or at least use the articles as inspiration for what to check out next.
Exploring the tourist district
They also had a menu for the different breakfasts they could make. They have a worker there that cooks up different meals for people. I recalled having an omelette with sliced watermelon and a salad on the side. It was very filling due to the size of the portion and it barely cost 3 dollars. You could also get Nutella based pancakes and other tasty treats. I would really consider getting food from here as the cost is ludicrously cheap. After munching down on my delicious breakfast, I washed up and prepare myself for the day. My mate soon wakes up and does the same. We then set off on our adventure. Our hostel is located in the south to south eastern part of the town. We walked northwards to get to the big destinations. We passed a few sim card shops and I lamented my stubbornness for not buying one. At the end of the road from our hostel there is a restaurant located here. This restaurant functions as a regular eatery although it also sells coconuts. We decide to grab a couple of the large bowling ball sized green coconuts as a refreshing drink against the rising temperature of the late morning.
Don't forget. While travelling through Indonesia it is highly recommended that you wear sun cream. Often enough during my travels it was quite sunny and due to the heat, you will probably be wearing minimum clothing, so it would leave more areas of your body exposed to the sun. As you will probably be out and about for most of your travels it is not a decent idea to get burnt and spend the rest of the week recovering from the burn as you walk out into the sun day by day. Also, make sure to grab afterburn in case of small burns around your body.
Royal palace
Anyway, back to the story. When you arrive on the street of the restaurant you will have to walk westwards to get to the heart of tourism and sights. This is where things get busy. You get to see many different restaurants that sell local cuisine although there are also quite a few stores selling branded clothes such as Lacoste and Ralph Lauren. As we kept walking forward we passed a large flea market to our left which we shall visit later on. Firstly, we wanted to check out the Puri Saren Royal Palace. This palace is the former residence of the royal family of Ubud. You can't really miss it as it has an exquisitely designed gate at the very front which has a couple of tour and ticket vendors for festivals or acts. We passed these and made our way inside. I won't go into too much detail as it's one of those things you have to go in yourself to fully appreciate. Simply said, the royal family of Ubud were very well off regardless of how small the town was. It's mainly designed with stone and has the most amazing structures that you should check out. We spent a considerable amount of time touring the area.
Luckily, we had come relatively early compared to the peak hours. This allowed us to look around comfortably without having to cluster past crowds. Perhaps the tours (which are very common and are usually quite large as it is quite cheap to get on one of these) were busy at another attraction and have yet to visit this spot. Lucky for us. We finished up our last sightseeing bit and then made our way out. Looking back, I realised how saturated our Ubud trip had been. We saw so much in so little time. The next thing we checked out was the market only a stone throws away from the royal palace.
Pasar Seni Ubud
The Ubud Art Market( Pasar Seni Ubud) is a spectacular place to visit. It is quite large and has a large selection of many different types of goods that range from clothes, wall ornaments, art pieces to much more. Most of the goods on display here are handcrafted by locals in nearby villages around Ubud. This gave the scene a more authentic feel. It's a great place to grab a souvenir or any goods you need for your trip. There are many silk scarves and souvenirs of all types. We spent roughly an hour simply wandering around and checking out what there is to offer. As is the case for most of Bali you will have to haggle for what you want. In many cases, it really isn't an option but a necessity. The reason for this is because there are quite a few products that have a ludicrous price tag. This way, if you do haggle to a price much lower than the original it could still be a price higher than the actual value of the product. So, haggle away, use tactics such as 'checking out a rival store with the same item' or simply 'leaving'. These two tactics usually tip the bartering on your side. Although, make sure to also be reasonable. Some of these people are simply trying to make a living and the GDP per capita is not high at all. However, there is a saying that states: a good deal is one where both parties are unhappy with the outcome. Not sure if I wholly believe this saying although that's up to the individual person.
Ice-cream
Right before leaving we went to one of the ice-cream shops nearby. It seemed we walked into an ice-cream chain. The store was handled by two incredibly young-looking adults. I can't recall exactly what I ordered but I remember my mate's. She ended up getting a certain flavour and, more importantly, a durum scoop. I was bewitched. I had never tried durum before but only smelt it, unfortunately. Are you aware that it is illegal to transport durum during the daylight due to how pungent its smell is? I tried a lick and was not very pleased. My mate, on the other hand, was on cloud nine. I recall hour I kept burping for an hour after and all I could smell was that dreaded flavour. Try at your own peril. However, feel free to splurge on ice-cream as it is not too expensive and it will pretty much save your life against the intense humidity of Bali. You may find some exotic ice-creams or sorbets set up in these shops.
Tegallalang Rice Terraces
At this point, we decided to grab an Uber to one of the rice terraces which Ubud is well known for. We specifically headed to the most visited one: Tegallalang Rice Terraces. We ordered an Uber to get to this place. It is also worth noting that you keep in mind the reputation of Uber in Bali. There are a few taxi companies that work together as a sort of 'cartel'. This cartel completely opposes Uber due to the fact that it offers cheaper fares. Which is true, some people have to make a living and Uber may get in the way of that. However, taxi drivers are known to overcharge tourists who do not know what they are doing. The trip itself from the north of the art market to the rice terraces was just over 20 minutes and there was quite a bit of traffic. We were afraid that we would be charged 30+ dollars for a one-way trip. These fears were unfounded. As we took the Uber, it had cost us roughly 2-4 dollars. The pricing was incredible. We were completely shocked that it had cost so little. After we were dropped off in front of the terraces we discovered how touristic the road we were on. Many souvenir shops and restaurants priced much higher than that which the locals go to. From our elevation, we were able to look across from the edge to the rice terrace. It was a spectacular view although since the rice terraces stretch out we were unable to see the whole terrace from that location.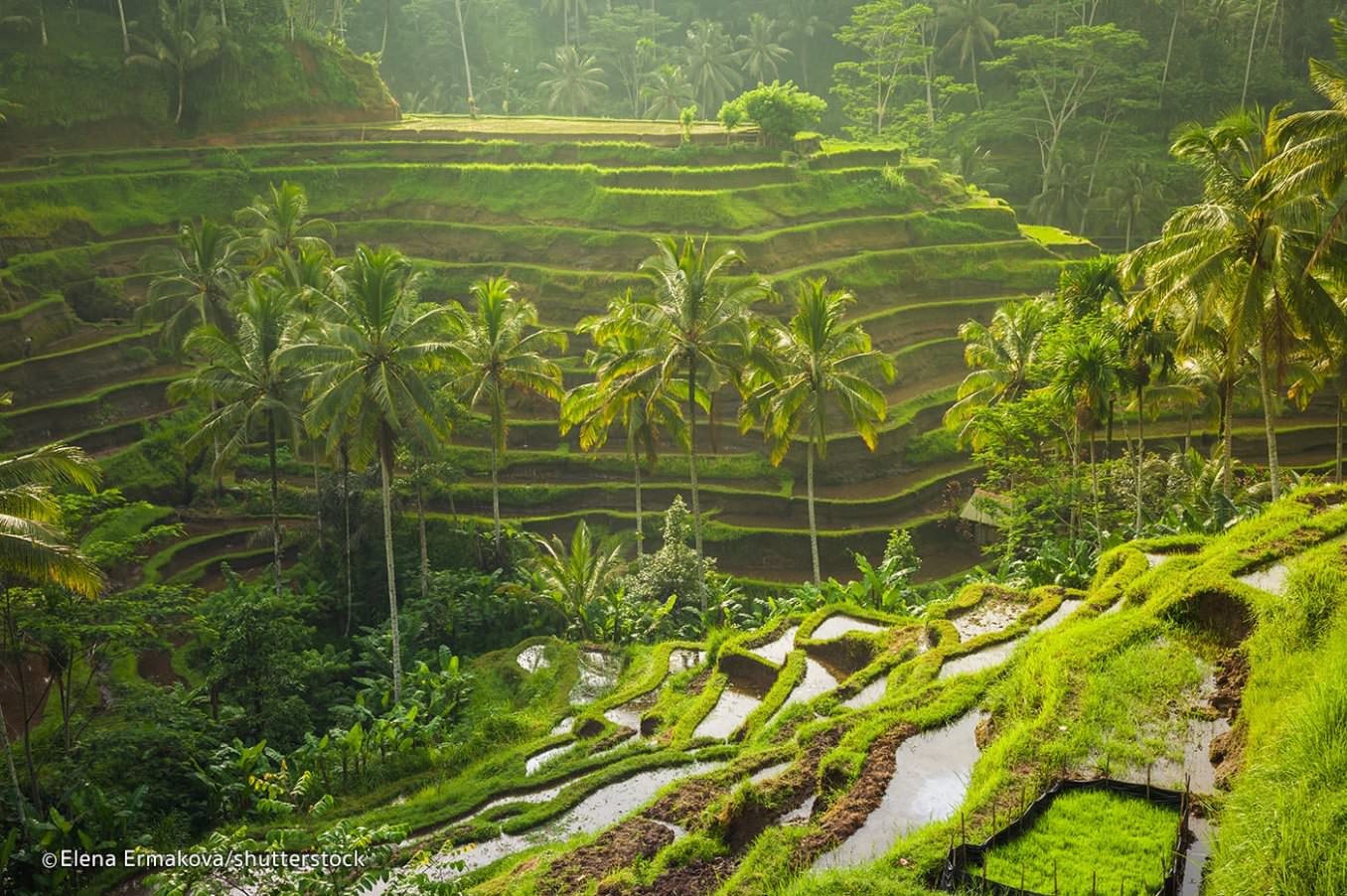 (Source: http://www.bali-indonesia.com/ubud/tegallalang-rice-terraces.htm)
We then made our way to the base of the rice terrace. There is a main entrance which is found in the southwestern part of the rice terrace You would have to walk down a long flight of steep steps. It took us a couple of minutes of simply walking down to finally make it to the bottom of the steps. After that, we made our way all the way into and around the terraces. There will be a couple of small booths with ladies asking for donations to support their livelihood. Some would even walk around with items on them to allow you to take a photo with them. This includes rice farming equipment such as over the shoulder sticks with a basket on each end. Keep in mind not to be guilted into over donating. I recall how the amount I had donated would have even seemed generous by standards in much wealthier countries. However, she was disappointed and get pointing to the much larger bills in my wallet. The amount I was about to give her is the equivalent of (I later found out) several hours of work. Some will push you to get as much as they can as possible, so do keep this in mind.
We kept on walking through the rice terrace. It was a very serene experience. We walked through the tiny paths that were made to easily access the different levels of the rice fields. The whole strategy behind it is to have a level of rice field at the bottom, then another field on top of it except with a few metres of space which allows for rice fields to be planted in those meters and then another level and another. It makes it easier to cultivate rice on steep hillsides. So, you would be able to go higher and higher. During this walkabout I realised how much water rice actually uses just to grow. I was doing some reading at the time and found out that rice uses almost 2.5 times more water than wheat. It made total sense that South east Asia would be an ideal region in the world to grow rice due to how much rain and how often monsoons pass through the area. It's kind of stupid to have the epiphany now but I didn't really think about it in the past.
Monkey sanctuary
We explored for just over an hour before walking back to the main street. We didn't stick around for too long as the list of things to see today is extensive. We decided to grab another Uber back. We were dropped off close to the markets. We were keen to go to the Monkey sanctuary in the southern part of the town although there was so much traffic that it was logistically impossible to do so. From there we marched on down southwards. It took about twenty minutes to get there walking. It wasn't exactly the coolest weather and we were both struggling with the heat. More so my friend as she enjoys black clothing. I, on the other hand, wear sleeveless shirts. I have an affinity for this type of clothing in the heat, this really helps you cool down as your armpits are two areas that heat up quite excessively. Keeping these two exposed would mean less sweat and a cooling down of the body. I recall how one of my English teachers in the past had a story relating to this. I can't recall if it was her or her cousin that did so but one of them really wanted to skip school by faking being sick. So, she put ice-cubes under each armpit which raised her temperature immensely. When her mom checked her temperature to prove whether she was faking it or not she was stunned to find that she was heating up. So, she skipped school (I do not advise nor recommend this strategy as education is important.)
Back to the story, we were standing face to face with the entrance to the sanctuary. We paid for our tickets which literally cost just over four and a half dollars. I was incredulous as to how cheap it had been. It's even cheaper for children if you decide to travel with the family. but told to be careful as the monkeys here are notorious for stealing anything they could get their hands on. This includes cell phones. So, the next time you decide to visit this place and snap a few photos for Instagram then you may be at risk of having your phone snatched by a curious monkey. It certainly would be one of the worse ways to lose your phone, I reckon. Although, the more at-risk items that could be stolen is food. If you are carrying food, you may be attacked if you do not allow them to take it from you. These monkeys are devoid of fear to humans and will not hesitate to take what they want from you. Although, as you walk in there would be points right before the main area that allows you to buy bananas to feed the monkeys. Just be careful not to be bitten.
After paying for our tickets we made our way into the sanctuary. It was quite beautiful walking through this massive forest. There were trees that were hundreds of years old and shot high into the sky. As we walked further in we finally started seeing some of the monkeys. I soon realised that there were a lot more than simply 'some' monkeys hanging about. They were small with adults being only 2-3 feet tall. They were also pretty adorable. Many babies hung onto the backs or chests of their mothers. They ran around in circles and chased each other. It was incredible watching how nimble they were as some chased each other up trees with what seemed to be zero effort. We watched in fascination for a while as we entered a large area with a monkey themed fountain. The area we were on was apparently the high ground of the area. We could look over the edge and far down below. It was truly a sight to see. The whole area was also completely covered with trees as some that were even located so far down extended high above us. We walked about this area for a bit more. There were many tourists around us with their exciting kids shouting and laughing about with the monkeys. We could hear all the different howling of the monkeys from around us to treetops above. After looking around the area thoroughly we then decided to head deeper into the large sanctuary.
We took a stone bridge that extended downwards to get to our next spot. Along the way we read a sign that stated that there are about 186 different types of trees located in this area. More importantly, there were about 700 different individual monkeys living. As we kept walking down I quickly realised how refreshing it was to be here. The fresh air from all the trees made it a marvelous place to be after all the traffic and pollution from the streets of Ubud. Marching on down we spotted some statues that were placed about. Throughout our whole walk around we saw many statues of old which are covered with moss. It felt like being in another world. There is also a river at the bottom of this sanctuary which we passed. It's a great place to snap a few photos due to how scenic the surrounding area looked like. By the end of our trip we reached a temple with shut gates. In front of it was a courtyard where a man stood entertaining the medium-sized crowd by playing and feeding nearby monkeys. He would encourage people to come up and take photos with said monkeys.
We decided to start walking back to the entrance. You could easily spend a couple of hours simply walking about and checking out all there is to see. I had never see so many monkeys up close. After that, we stood right outside the gate of the entrance. We went off to the side to sit down and eat some of the snacks we brought. Big mistake. A small monkey walked up to us while my mate was eating from a small plastic bag. The monkey then started pulling the bag to which my mate almost immediately let go off. A larger monkey, which I assumed was the mother, then jumped onto my friend and bit her on the finger. We threw it away from her and it ran off with its child. We rushed her to a bathroom to disinfect the wound. She vehemently refused seeing a doctor. After a few more please I decided to drop it. If a person wants to risk potentially getting an exotic disease, then more power to them. One thing that I had not mentioned earlier that at the time of our trip it was almost Christmas. The day we explored around was the 24th of Christmas. We will get more into that later.
Campuhan Ridge walk
At this point it was fast approaching the evening. We walked about the western part of the town for longer while checking out everything there is to offer. We passed by some colourful stores selling all sorts of knick knacks and clothing. If you're looking to buy clothes, then buying them here would be much cheaper than back in Europe or Australia in most cases. I would, however, make sure that you buy them from a legitimate place or at least one where online backpackers have praised. The reason for this is due to the potential of the clothes being of very low quality and deteriorating quite quickly. On the bright side, in many markets that sell clothes it is quite easy to haggle the price down. Although, I wouldn't do this at a proper store as this is a proper establishment. After walking around for a couple of more minutes we decided to head to our next great destination while the sun was still out Campuhan Ridge. This was one you cannot miss while staying in Ubud. The area where you start from is spectacularly beautiful. There is an ancient structure located there which allows for some beautiful picture taking.
After doing so you could begin the walk. The whole experience is about a twenty to twenty-five-minute walk. You will be walking through a beautiful field going up a hill. The surrounding area is striking. You could see a few rice fields around that stretch down to the bottom. Most of the area is forested below and there are even some luxurious mansions in this area. It is quite pretty. As you walk on you will spot a few joggers or dog walkers doing their run. This area is mostly visited by tourists from what I have seen. At the end of the trip you will be able to reach the Karsa Kafe. It had been getting dark by the time we arrived and we were able to spot a scenic sunset over the horizon. We snapped some prize-winning photos that day. The cafe itself was closed when we arrived. The walk back was more striking as the sky had a shade of bright orange as we walked on by. It was a pretty relaxing walk as it was far away from traffic and smoke but was not as hectic as the adventure we had at the monkey sanctuary. We then ordered a cab back to the hostel as we were too exhausted to walk on. One thing I truly like about Ubud that everything in the town is within walking distance, this even includes the ridge walk although we were quite lazy after a long day out. Walking about in Ubud is especially great not only because the traffic is overbearing here.
Sawobali Cake & Coffee shop
After we made it home we dropped off our stuff and deflated onto the exterior sofas. Walking about for several hours a day is not exactly what I would call easy work. We were also feeling famished, so we rested up for a bit and then decided to make our way towards the main road again. After inspecting a couple of restaurants, we decided to head over to Sawobali Cake & Coffee Shop. There are no words to describe how absolutely delicious eating here is. We walked into a small route flanked by potted trees and plants. We walk inside the small eatery. In the eatery, there are a few drinks and 8 large rectangular steel pans filled to the brim with vegan food. A lot of it was very saucy, full of flavour and very appetising to look at. It wasn't saucy in the sense of ketchup or cheap sugary sauces but proper sauce. The way it worked was that you simply started digging in. You grabbed a plate and added whatever you wanted on top of it and you could just keep on coming back. The place itself was pretty small and homey but also amazingly decorated which brought out the local culture and art. We sat there eating until we could eat no more. I would definitely go vegan if that meant eating as well as we did. By the end of it you could choose whether to pay or first buy one of the many delicious cakes on display. I had one of their homemade chocolate lava cakes and was thoroughly impressed. The cake is paid separately but it was cheap as chips.
We walked deeper into the cafe to the back where the middle-aged couple that owned the place cooked. He thanked us in broken English for coming and waved us goodbye. In total eating here without any cake costs a measly five Australian dollars. We came here again within our three-day stay to enjoy some more of this vegan goodness. We hobbled back to our hostel with bellies full and large smiles on our faces. I hadn't been so satisfied with my meal in a very long time. The next day was to be an exciting one as we will get to see many of the great sights surrounding Ubud. The town itself is very pretty and within its close proximity it has some nice views although farther out in the wilder part of Ubud there is much to witness.
Regional Ubud
The next day we woke up relatively early. This in itself was a miracle after all that adventuring and eating we did the day before. It was also Christmas Day. Merry Christmas! The night before we booked a driver to take us to all the areas we wanted to go to. He came by while we waited on another gorgeous sunny day with thick clouds in the distance. The area was wet from the rain of last night. After he finally came, we jumped in with our small backpacks filled with water bottles, snacks and sun cream. If you're looking to have a guided tour or at least a driver for the day, then talk to any of the hostels in Ubud or simply look it up. It cost us roughly 60 AUD total to have a personal driver for the whole day. That pricing is incredible seeing as all the places we wanted to go to where out of the way in their own direction and we had somebody who would drop us off and wait for us. Also, our driver was very polite and spoke decent enough English.
This form of transport is also highly recommended by many of my mates who have been to Bali. The reason behind that is due to the fact that you could spend the whole day going wild and doing everything you need to do and being able to pass out or nap in between the transit to each place. It's a luxurious feeling and one that my mates could not stop stressing over and over again. If you want to feel wealthy and have your own temporary private chauffeur, then this is the option for you. Also, you're charged by the car rather than by the person. So, if you were four people it would cost you less than thirteen Australian dollars each. You will not only have a driver but also a tour guide who could explain to you all the places you will be visiting and recommend you some others.
Or, if you're more of the adventurous and independent pack of backpackers then there is another cheap alternative. It is pretty cheap to simply rent a scooter to get around. You could rent a scooter for a day and your mates could grab your own or you could have a romantic two-person scooter ride to the destinations you need to go. This may be the more fun option if you like driving or want to feel more in tune with the countryside as the wind passes through your (helmet adorning) hair. The downside to this option is that you may not be used to the relatively more chaotic style of driving that is carried out in Ubud. Furthermore, there is the possibility that you may get lost as some of these drivers know the roads like the back of their hands although you, on the other hand, have been in Indonesia for a fraction of a fraction of the time they have. Another downside is that you'd definitely have to pack light as the scooters are not designed to carry a lot of baggage due to their size. It would be a bit risky. I highly recommend the former option but if you're keen to go for the latter then be my guest. Make sure you bring your license with you. Try not to sneak away without a license as police in Indonesia have been cracking down harder on license-less scooter drivers. It really isn't worth paying a fine on your holidays.
Tea plantation
Regardless, before we went off to any of the different spots we had planned we were first taken to a tea and coffee plantation. He said that this was a very popular option although one that was not crowded with people. I was excited. I enjoyed my fair share of exotic teas when travelling and couldn't wait to try out some more. After a short twenty or so minute ride we then stopped in front of an area that looked overrun with trees and bushes. The entrance itself was a wall of trees with a large opening to allow people to enter. We stepped inside and was greeted by a smiling local who spoke relatively decent English. He introduced himself and gave us a tour of the plantation. He walked us about haphazardly from one point to another going through trees and barely visible paths. He pointed out the different type of coffee beans growing. I had never seen them up close in person before. I was amazed thinking about how the large amount of these pods had to be cultivated to make the many thousands and thousands of kilograms to be shipped all over the world. He explained that they allow these ones to grow wildly here while the main areas that were harvested were deeper into the complex. We kept on walking till we saw a few wooden structures without walls in the middle of all the green. There we spotted a lady roasting some of the beans in a fire. It was very picturesque watching the whole scene unfold. After we walked about for about fifteen minutes we were then sat down on a wooden bench in front of a table. The man left us for a couple of minutes. In the meantime, we starred off from our position to the fields that was barely visible from our vantage point. The larger fields were beautiful rice fields. I never found out exactly where they grew most of their crop and I wish I had asked, but such is life. If you don't ask, then surely you will regret.
After a few minutes the man returned with a large tray filled with teas of all kinds. The I had never seen so many teas altogether. They were all brewed in a glass cup and ready for ingestion. You had turmeric, ginger and many more. They also had three cups on the side. All three were filled with chocolates of different kinds. It seemed they even harvested cacao beans. We had from the most bitter to the regular type. It tasted very natural and very delicious. They also had coconut flavoured tea which was one of my favourite ones of the bunch. We sat there for quite some time trying out all the teas they had to offer. It must have been crazy cheap for them to simply use straight from their standing stock to brew all these different teas. The profit margin for them must have been pretty high if tourists bought them.
They even had Kopi Luwak coffee. Although that one was not for free as the rest of the tastings had been. I am not much of a coffee fan, so I didn't have a try, but my mate did. For a cup it cost her about five Australian dollars. She said she thoroughly enjoyed it. It would have been a waste for me to try it although I highly recommend you try it yourselves. After the tastings we were then guided towards a large wooden structure which was also their selling point and gift shops. My mate bought a box full of tea to take home to her mom. They also sold soaps and chocolate bars that looked locally made but of very high quality. Not the supermarket variety. The also sold different types of souvenirs and knick knacks to take for home. We said our goodbyes to the very friendly staff working there and made our way back to our driver who was patiently waiting for us to return. At this point we buckled in for our next destination: Pura Taman Saraswati Temple.
Pura Taman Saraswati Temple
This place is known as the 'water temple' by many tourists. I was excited to go as one of our mates had visited this place a few months back and was incandescent. Feel free to chit chat with your driver to pass the time. We got to learn quite a few stories from the areas around us during our drive from the coffee plantation to the water temple. We learned the history of the place and how it was all established. The royal families before and the people and how they lived. He talked about his lineage where his father taught him about his ancestors. It was a very interesting experience. What felt like so long went by so quickly. We were at the entrance of the temple and itching to go inside. As this was the wet season there was not an overwhelming number of tourists in the area. However, the water temple was not in full throttle which meant that the pools were not filled to the brim, so we were unable to go swimming. This wasn't much of a loss as I didn't expect to swim anyway. To enter you must wear the sarong. If you enter through the main entrance, there will be a couple of stores that will sell such items. Many of them are quite beautiful and exquisite. However, you can get one for free at the entrance (not sure if this is due to the fact that it was the off-season or its always a thing to give them out temporarily for free).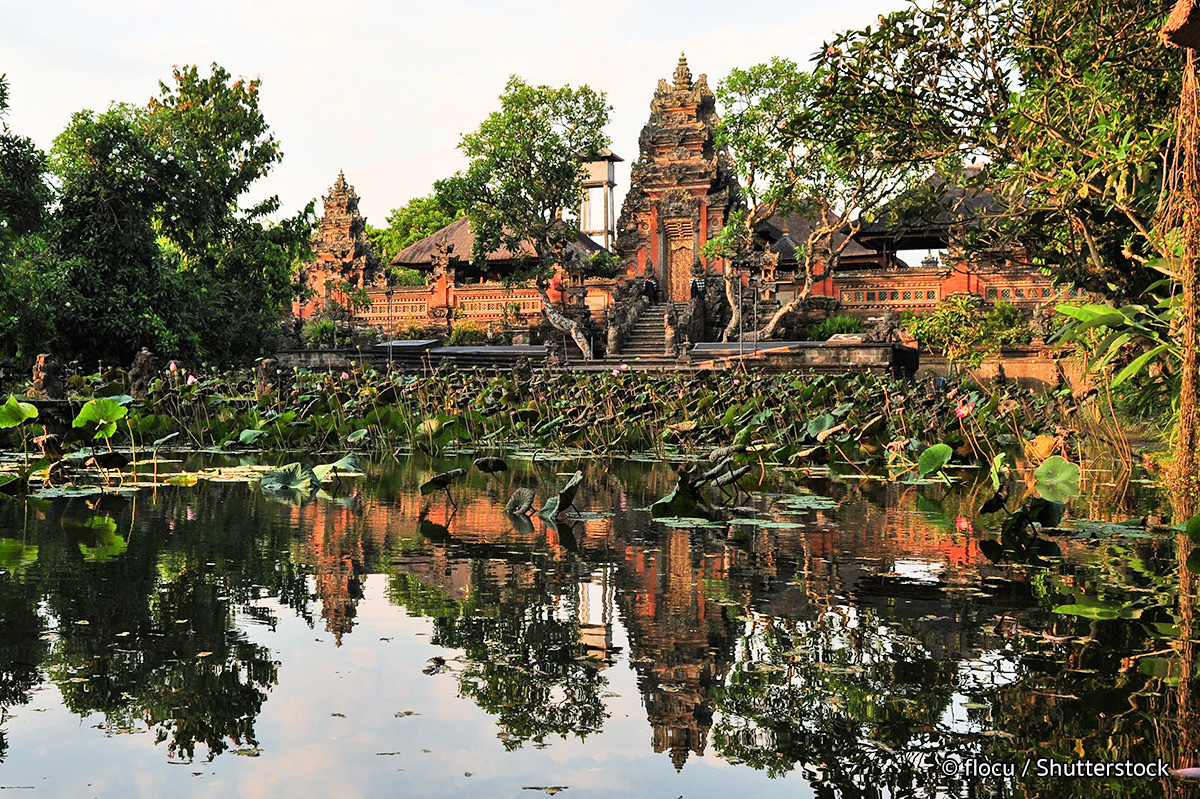 (Source: http://www.bali-indonesia.com/magazine/pura-taman-saraswati-temple.htm)
We put on ours at the entrance and made our way into the temple. The temple is truly a sight to see. The beautifully carved stone walls and structures to the meditating areas that overlooked large drops below. These same drops you could climb down using the stairs to find other temples and caves were religious individuals would use to partake in their faith. There were no shouting kids and a lot of ancient trees. It was absolutely beautiful. We first explored one cave that was almost completely silent and lit by candlelight. They would say that these areas were some practicing the faith would stay in solitude. We kept on walking down till we reached one of the set-up meditation areas where people could sit and overlook this drop. It looked quite dangerous as there was nothing stopping anybody from slipping down. Although, this goes back to the series most common quote, the issue with common sense is that it's not common at all. So be careful. Regardless, we kept on walking down towards the lower part of the drop. Here we spotted a fountain and many beautiful trees that grew with their roots exposed. It was almost insane how beautiful they looked. We kept on walking and found some stone creatures that were a mixture of lions and monkeys. We were taken aback as to how detailed and how well these statues have survived as long as they did. There were a few signs around that explained their history and age. As the name implies the water temple is quite wet. There are many small streams and small bodies of water found around.
We stuck about for almost an hour simply looking around for all the things there was to see. It just felt so natural being here. Since there weren't so many people it was easy to hear the streams passing by. There is even a waterfall you are able to check out. It's a small trek to get to but it's very worth it. One thing I found interesting is that there were some locals here that were probably not from Bali. They would take photos of the areas around them and even ask us to take photos with them. I personally didn't mind as their enthusiasm was quite genuine. We snapped some photos with them by the waterfall and kept on walking. I wondered what they did with these photos. Would they keep it in their galleries as a memory of meeting internationals and seeing the waterfall? Or would they brag about it to their families and friends. Perhaps they would post it on Facebook to show off how great their adventure was. I found it strange how some random foreigners would contribute to a photo and awe that people feel towards each other. Then again, it's most likely than not that many of these individuals live in highly homogenous societies. Then again, I can't really give a solid answer as I don't know how each individual person lives their lives and who they stick around with. So, I will probably forever be perplexed.
It is worth noting that I cannot recall the chronology of places I have been to around Ubud due to how many small places and large touristic places we've been to and the amount of time that has elapsed since then. I will simply treat these different places as if I've come here step by step. Although, it might sound strange as some of these places are quite far from each other. Anyway, we've gone so far with this style let's keep going for a while longer. Now, we'll talk about the next place which was one of my favourite natural sites in Ubud: Tegenungan Waterfall.
Tegenungan Waterfall
It is worth noting that I cannot recall the chronology of places I have been to around Ubud due to how many small places and large touristic places we've been to and the amount of time that has elapsed since then. I will simply treat these different places as if I've come here step by step. Although, it might sound strange as some of these places are quite far from each other. Anyway, we've gone so far with this style let's keep going for a while longer. Now, we'll talk about the next place which was one of my favourite natural sites in Ubud: Tegenungan Waterfall.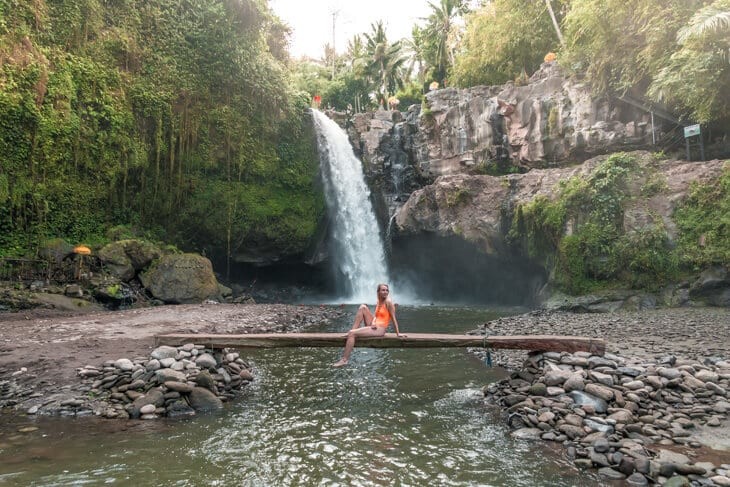 (Source: https://www.swedishnomad.com/tegenungan-waterfall-bali/)
This waterfall is located just south of Ubud. It had been just past noon and a perfect time to cool off from the rising heat. So, we were dropped off in front of the entrance to the waterfall. I recall we had gone to two different waterfalls. One of them we had to pay at the entrance and the other we had to pay a toll just before the waterfall to get through. I am going to go on a limb and assume that it was this waterfall where we had to pay for entrance. The entrance fee was very cheap, so I wouldn't worry about going over any budget at all. We had to walk for quite some time by following a path. On the way there were a couple of small stores filled with different snacks and drinks. If you're running low on supplies, then you should be able to stock up relatively cheaply from these points. On the way there are also a couple of benches if you're feeling too exhausted to walk on and need a break. You will be walking by a ridge with a far drop to your right if you're heading towards the waterfall. You'll be walking through a massive forest. You may not be able to see too much if you look over the cliff due to all the thick and ancient trees stretching out.
If you keep on walking, then you should eventually reach the highest point of the trek before heading down a steep slope. This one is a pain to walk all the way up so make sure to steel yourself for the return trip. At this point, you should be hearing the waterfall. Stick to the right side of this forest as it gets a bit confusing at some points. If you walk for under ten more minutes from here, you should be able to reach the waterfall. When we reached it, we were ecstatic. We were soaking with sweat and suffering from the humid heat at this point. The spray of the waterfall against the rocks shot a refreshing spray of water. It was marvellous watching the powerful waters crashing down hard onto the shallow waters below. The same thing happened to us as it did in our last spot. We were photographed with locals who were visiting Bali. We were as much of an attraction as the waterfall was. It was kind of sad to an extent, but they were so excited, so I didn't complain.
After that, we went to another waterfall that was much bigger but also a bit more isolated. I can't give many details on this because I can't recall the name or how we got there. It was a recommendation from our driver. So, feel free to ask your driver to recommend you places to go. For example, the last place we went to was a recommendation from our driver. He said that there was a spectacular view with rice terraces. He drove us there and after about fifteen minutes from the waterfall we made it. There were a couple of other cars filled with people that were also watching the view. We were standing just by the edge that had an amazing view of the area around us. We saw the rice terraces about a hundred or so metres away. The surrounding countryside was the icing on the cake. It was utterly beautiful to look at. We stuck about for about thirty minutes simply sitting down and soaking in the tranquillity of the area. It started to get dark, so we decided to head back to our hostel. After a relatively short sleepy ride we made it back to our hostel. We uttered our goodbyes to our driver and slumped into our beds. We soon decided to go out as we were very much starving. We went to the vegan restaurant again as it was incredibly delicious and exactly the fuel we need.
Closing the day
I recalled having a nice cake as it was Christmas day and a time to celebrate. We then decided to get a bit creative. We bought a coconut and a bottle of liquor. We mixed them together to create a sweet cocktail. We shared it throughout the night and relaxed in the outside area of our hostel. We packed our stuff and got ready for the next day. Before we called it a night for an early rise we booked a tour to one of the volcanos located up north of Ubud. We woke up early the next morning and enjoyed one last tasty and cheap breakfast before saying our goodbyes to the great hostel owners and making our way to the minibus waiting to take us on an adventure. The minibus will take us to an area where an off-roader jeep will pick us up with four other travel enthusiasts. From here we will see one of the most spectacular experiences from our Indonesian experience. We will visit this further in another article. Hopefully, this motivates you to check out Ubud. This town (and region) has been my favourite place to visit in mainland Bali. If you visit Bali and miss Ubud then you truly have not experienced Bali. So, plan accordingly and make sure you check out many of the things I have mentioned. Also, remember to eat well and eat a lot as the prices here will most likely be in your favour. Even eating gourmet meals would be relatively cheap to you. However, I was a sucker for the all you can eat option. Happy eating and safe adventures!
---
Photo gallery
---
Share your Erasmus Experience in Ubud!
If you know Ubud as native, traveler or as exchange student... share your opinion on Ubud! Rate different characteristics and share your experience.
Add experience →