Memorial Erasmus Experience in Romania
Facilities

10 / 10 points

Quality of the college

10 / 10 points

Is it easy to pass?

10 / 10 points

Activities

10 / 10 points

Tuition fees

10 / 10 points

Faculty

10 / 10 points
---
Memorial Erasmus Experience in Romania
Home Town
My home city is Cairo, the Capital of Egypt. It is considered one of the most populated cities in Africa and it combines history with modernization. The most popular points of interests in Cairo are: The Egyptian Museum, Cairo Tower, Salah Eldin Citadel and Mohamed Ali Mosque, In addition to some beautiful places along the banks of the great Nile River. The Pyramids (which is considered one of the most famous monuments in the world) are located near Cairo in a city called; Giza. My home university is Cairo University which is considered one of the oldest universities in Africa, Plate (1).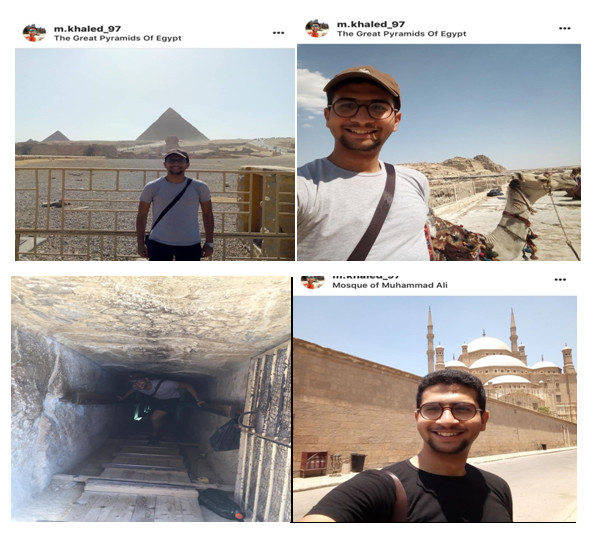 When a dream becomes a truth!
Traveling has always been my favorite hobby, but as a third world citizen I haven't got the chance to travel abroad because of financial issues, so I used to travel only inside my home country (Egypt). After growing up and joining the university, my desire to travel abroad has increased a lot! One day while I was attending an Erasmus orientation event at my home university, I heard about Erasmus for the first time in my life! I was at the beginning of my third academic year at this time, I told myself why not?! Maybe I am lucky enough to get accepted in one of the Erasmus student mobility and I was so grateful to the existence of such an organization that allows students to travel and study abroad for a period of time, so literally it was a precious opportunity for me. After searching, I managed to find an opening call for Erasmus + undergraduate mobility in Romania at Alexandru Ioan Cuza university of Iasi in my specific field of study (Business administration), and this call was for the second semester of the academic year (2017/2018), so I applied to this call immediately without any hesitation, and after a few period of time I received one of the happiest news in my entire life! That I was accepted and finally I will travel and experience new culture!! Plate (2)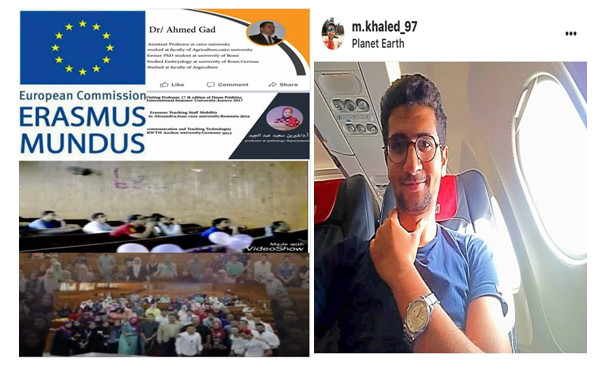 First Days
Honestly When I arrived there I was a little bit worry and restless because it was the first time in my life to travel abroad alone! At the same time there were a lot of procedures to complete before the beginning of the academic semester but by the helping of the international relations office in Alexandru Ioan Cuza hosting university, I knew what to do, and indeed I completed the procedures and the essential papers required in a proper time such like: the Bank account and the resident permit. Shortly afterwards, I received the schedule of my lectures and the academic semester had started, I was so excited because it was my first time to attend a lecture abroad as a foreign student and away from my home university.
At my class, there were a lot of foreign students from different nationalities who were studying through Erasmus program such like me. On the other hand there were Romanian students who were studying in their home university. After a short period of time, we all knew each other and we became good colleagues and even some of us became close friends! Plate (3)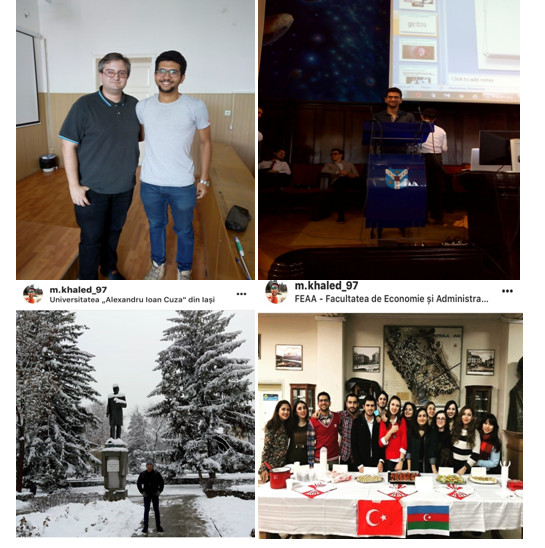 Campus Life
Actually I haven't experienced before to live in a dormitory so it was the first experience for me in students campus. There were two roommates with me in the room one from turkey and the other one from Moldova, so we had different cultures and backgrounds consequently we had a lot of topics to discuss with each other!
the international students that study through Erasmus program were all accommodated in one building which is called; C5, and this building was in a perfect location because it was so close to the main building of the university, and to all faculties of the university as well. The student campus as a whole has an amazing geographical location as it was near to the city center which full of different shops and restaurants, the railway station and near to the main touristic sites too. Inside the student campus there was a restaurant, a clinic, and a laundry, Plate (4).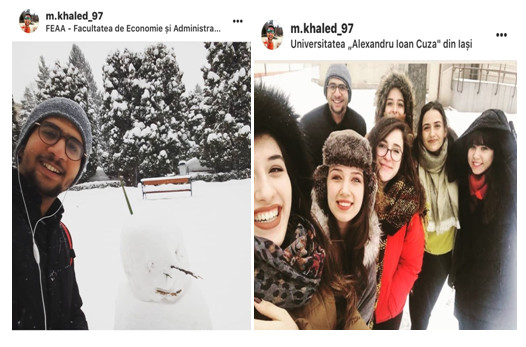 The city of Iasi and its points of interests
The city of Iasi is in Moldova region in the north eastern part of Romania. It is characterized by the richness of history and culture, it has a lot of historical orthodox churches and a mosque as well, but the most popular landmark in the city is the Palace of Culture it is the  imost famous and beautiful monument there. In front of it, there is a big shopping center and a mall called: Palace Mall. Moreover, there is also an opera in the city center and a big library for the university students. For me as a (Green Nature Lover) I liked a lot the central park, which is called: Coupo Park, and besides it there is also a lovely botanical garden that has various types of rare plants and the entrance is free for the students by the way. One of the most beautiful places in Iasi also from my point of view is a natural lake called: Ciric Lake, the view on this lake was: breathtaking! Plate (5 &6).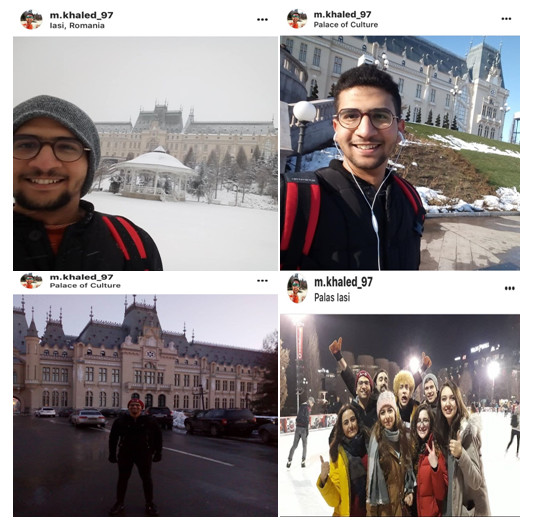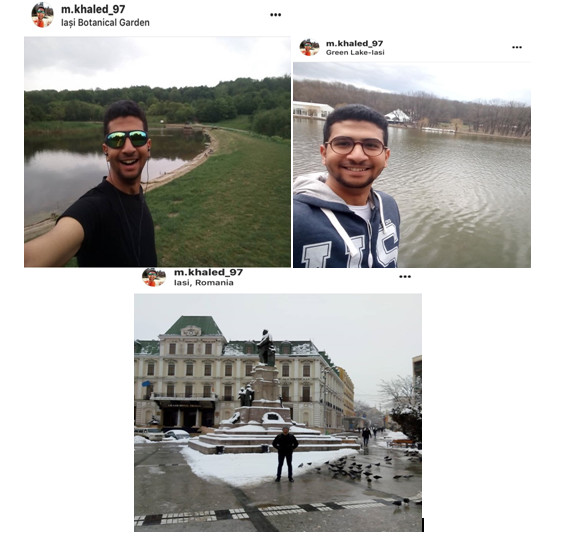 Traditions of the Romanian Society/ Food/ Language
The Romanian society in general is an Orthodox religious one and is considered a conservative society that appreciates family gathering and concerned about family issues. One of the traditional Foods that I have tried there is called: Ciobra de cartofi it is a soup with potatoes and it is so delicious.
The Romanian language is a part of the eastern romance sub-branch of romance languages. I have already took a Romanian language course during my Erasmus mobility and the interesting thing that I had noticed a similarity in some words between Romanian and my native language (Arabic) and at the same time with Turkish too! And that's because Romania and most of the Arab countries were under the rule of the Ottoman Empire a long time ago, Plate (7).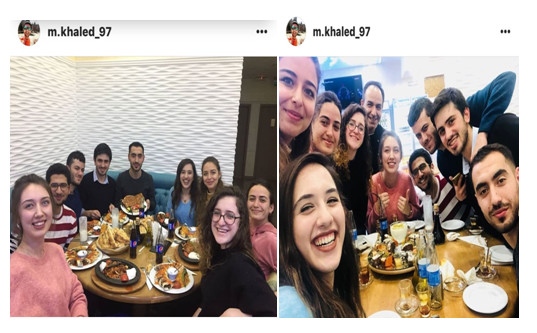 Travelling inside Romania
During my ester holiday I have traveled with some friends to some Romanian cities rather than the city of our Erasmus mobility and literally this trip was one of the best trips that I have ever made in my entire life! Firstly we visited: Brasov it was a very beautiful city with a fantastic nature and the most popular landmark in this city is: Dracula Castle and it is sometimes called Bran Castle. After that we visited a nearby city called Sinaia and it is characterized by a breathtaking Green Nature and an awesome castle called: Peles Castle in which you feel like you are in a fairy tale! We also visited Timisoara which was a city very close to the Hungarian borders. Moreover we visited the beautiful city of Cluj-Napoca. After that we returned back to having unforgettable memories! Plate (8).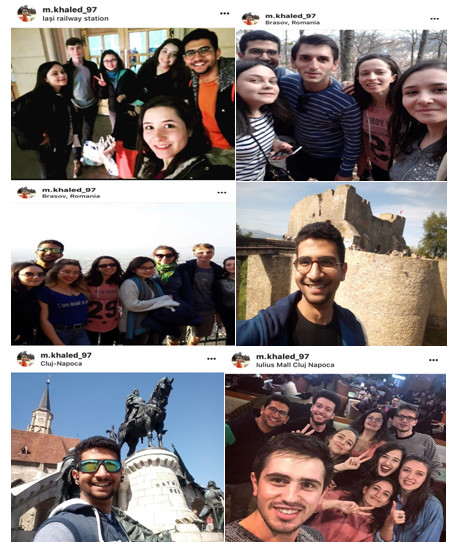 The Impact of my Erasmus experience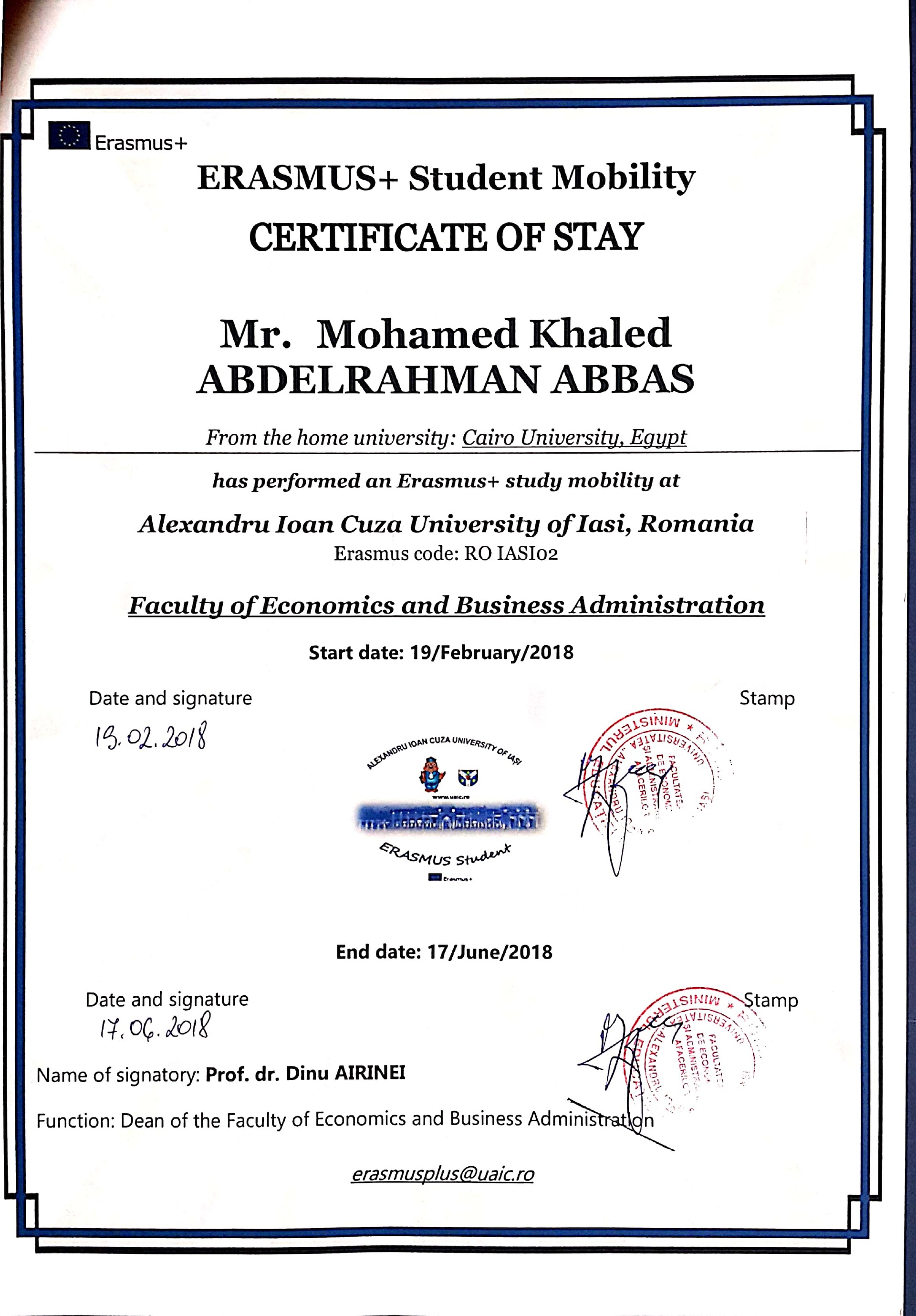 Personally, I strongly believe that this unique experience helped me a lot in developing my personality, and enhancing my skills. Actually, interacting with different people coming from different cultures and backgrounds made me an open minded person who could accepts all the people no matter how different they are. Moreover, I have great passion and willingness to repeat this unique experience again during my upcoming studies for master and PhD to enjoy learning with traveling
Regarding my home university colleagues, I was lucky to be the first student in the history of my faculty to travel through Erasmus program when I returned back to my country I told my University colleagues about my successful experience and i strongly recommended Erasmus for them so that two friends of mine have been encouraged to admit in the next Erasmus call and now they are travelling for Erasmus+ undergraduate student mobility in Czech and Spain!
Lastly
I just want to say Thank You Erasmus for giving a helping hand and taking responsibilities toward youth in the developing countries by offering them such promising opportunities to step forward their dreams and challenge their obstacles believing that better world is not the result of the progress of some countries, but of the progress of all its countries.
---
This content has been entered in the Erasmus Travellers Competition and have earned 893 points.
7915 chars (791 points)
17 views (51 points)
36 photos (50 points)
This competition was made possible by: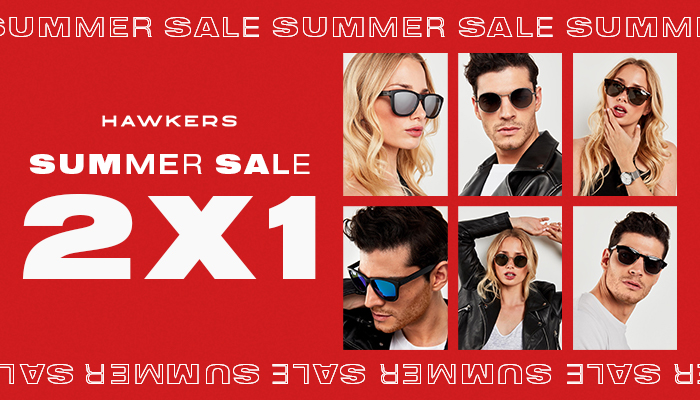 ---
Photo gallery
---
Share your Erasmus Experience in Alexandru Ioan Cuza University!
If you know Alexandru Ioan Cuza University as native, traveler or as exchange student... share your opinion on Alexandru Ioan Cuza University! Rate different characteristics and share your experience.
Add experience →