Creating an event for the subject "The World in Change"
Facilities

8 / 10 points

Quality of the college

8 / 10 points

Is it easy to pass?

6 / 10 points

Activities

8 / 10 points

Tuition fees

8 / 10 points

Faculty

10 / 10 points
---
On the 13th of November 2018 in the Cross-Disciplinary Strategies department, we were introduced to the linguistic professor and writer Boris Buden, who gave us lessons and insights on our rapidly changing world and explored the terms culture and identity with us. After a week of questioning society in its various forms, we were asked to create an event recapitulating on what we've learned as part of our final examination. Being short on time, we quickly formed groups and got to work, or at least we thought so. 
Forming a team: First stages and challenges 
Our first week was hectic in terms of figuring out group dynamics, who was going to moderate and how are we supposed to present such abstract ideas to visitors? Brainstorming sessions were being formed and ideas were being thrown around, but a structured timeline of the event was still missing. Eventually, we split ourselves into 5 groups: LARP (Live-Action Roleplay), Coexistence, Data, Translation Methods, and Hybridity; which I was a part of. We quickly gathered our groups and started writing proposals for our upcoming meeting on Friday the 30th of November, where we could hopefully bring our ideas together to formulate something concrete. 
Event structure: 
Goals:
Exploring the topic of Identity in a broad spectrum with the goal of making the visitor question their own after walking out of the event. 
Team Roles: 
LARP: Giving each visitor an identity in which they will enact throughout the event. 
Coexistence: Sound installation of a conversation happening in different languages as well as printed passports the visitor can fill out with what they identify with.  
Data: Presenting statistics from WTS (World System of Translation) through performance. 
Translation Methods: Performing a song in its original "Viennese" accent as well as the translated English version. This teaches the visitor about the different methods of translation. 
Hybridity: Creating a hybrid food stand with foods from different countries that can be mixed together, as well as a video installation with the title: "What's your name?" in which the students participated to introduce themselves through the names they have been called by other people. 
The Event: 
After a couple of days of preparation, the event finally took place in the Cross-Disciplinary Strategies premises on the 6th of December 2018. It began at 5:30 PM with the LARP team giving people roles to enact at the entrance. Upon walking inside the elevator, a sound installation from the TV show  Game of Thrones is being played on repeat: "Who are you?" "No one." This was to give the visitor the feel of walking into a realm where they strip their current identity to embrace a new one. I was given the role of Piotr, a Polish-Albanian literature student who recently got charged by Kommissa Moser due to racial profiling. (Each role is connected with another role in the room.)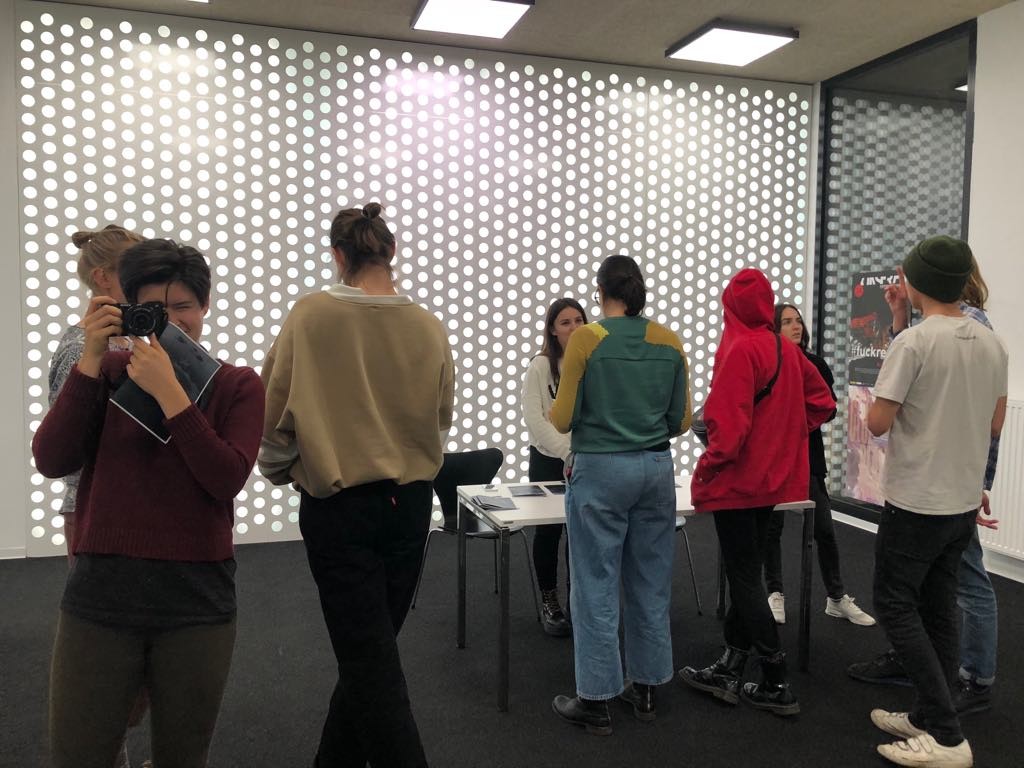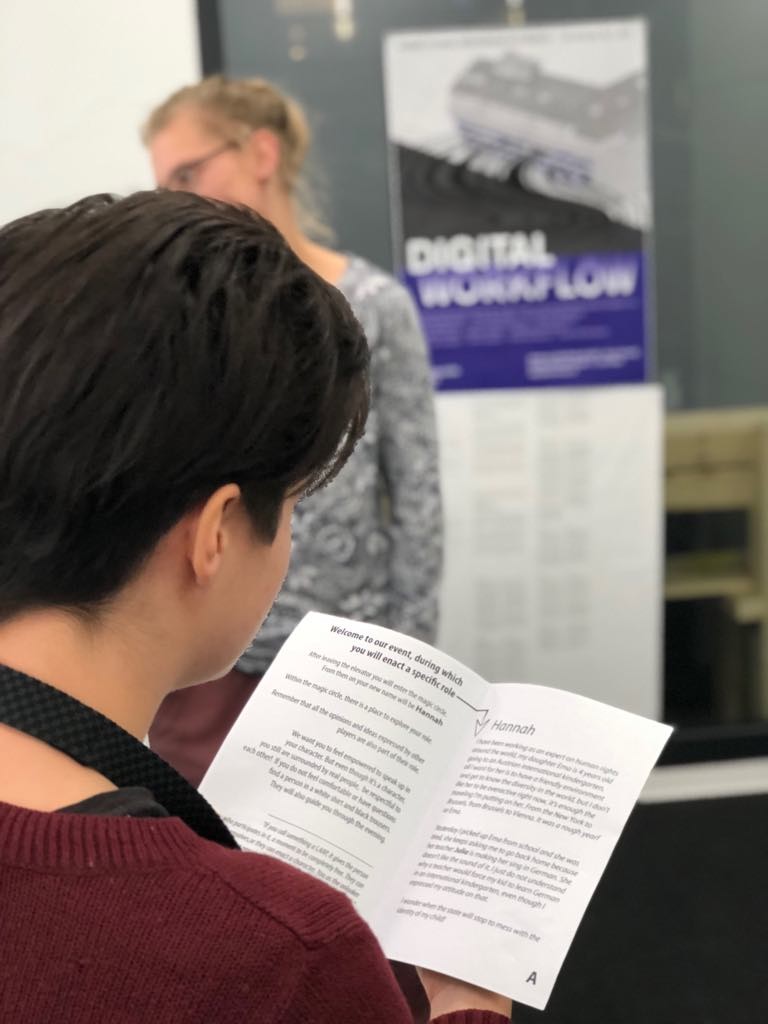 At 6:00 PM, the Data group (Christina and Lisa-Marie) presented facts about languages using stacks of books, as well as an "interactive" world map where you could use pins to guess which countries in the world have the most English speakers and which countries' languages are threatened to extinction, to state a few examples. 
A cooking show was conducted at 6:30 by two students (Florian and Theresa) from the Hybridity group, Theresa was speaking in German and Flo in English, and both cooperated in making Liptauer, Hummus, and Guacamole. I, on the other hand, participated in making posters and fact sheets with Laura. While Nina took the responsibility of shooting and editing the video.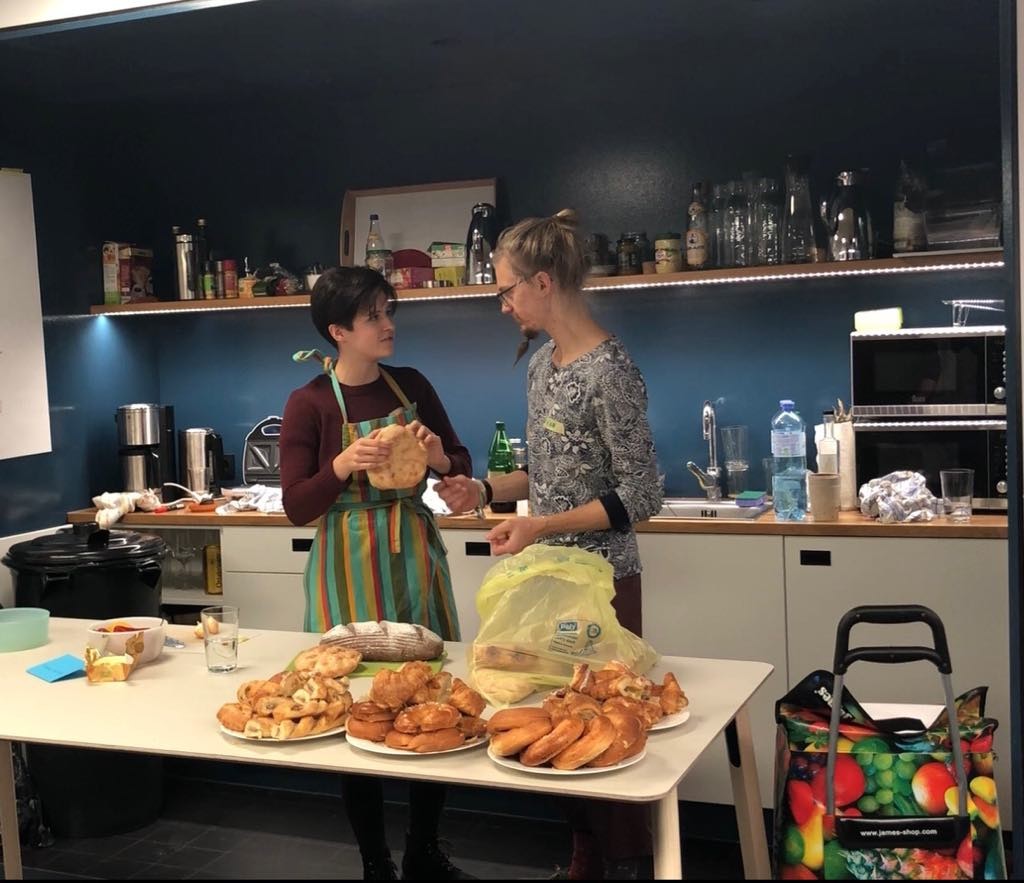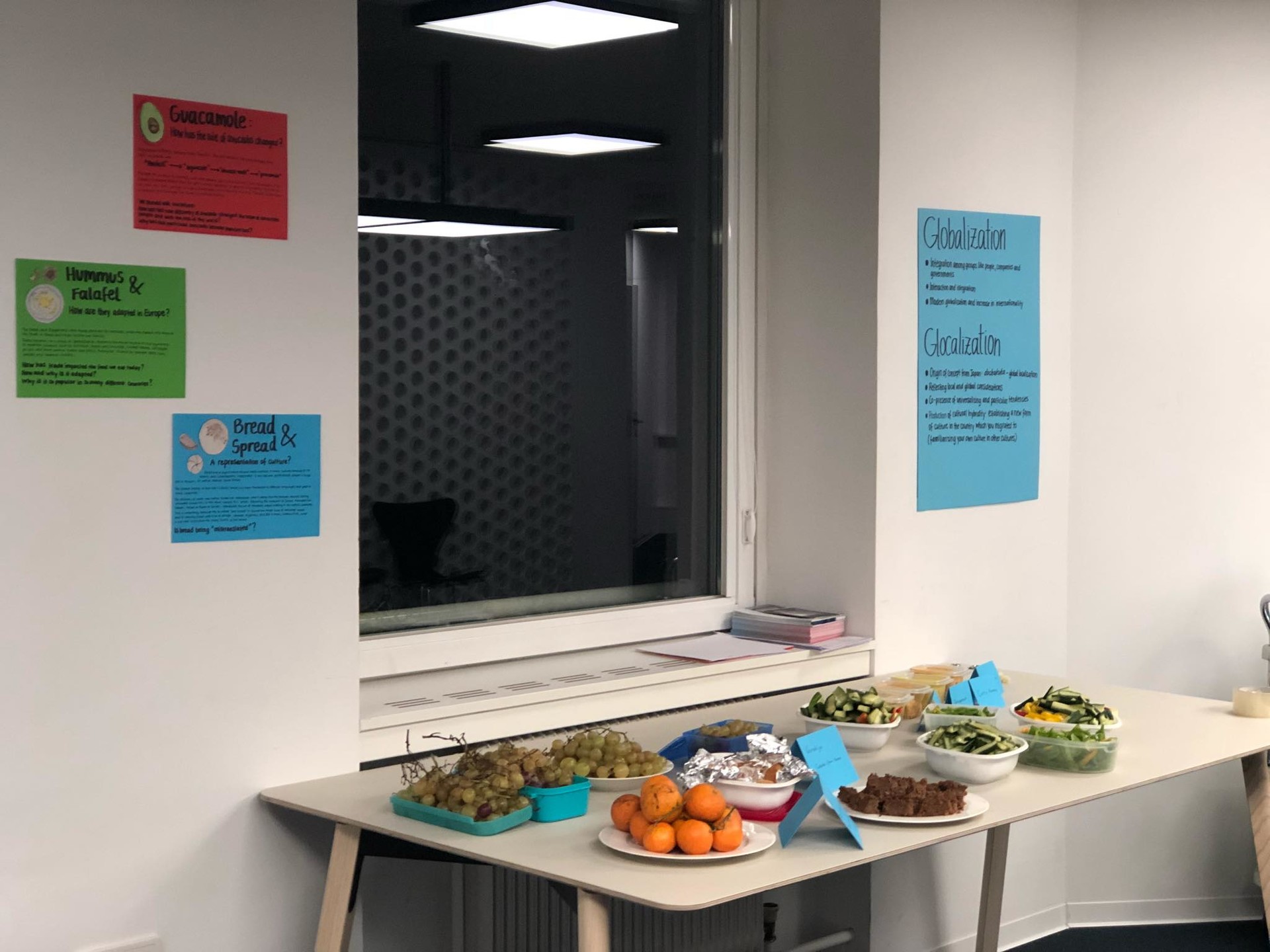 A discussion in 3 different rooms started at 7:00 PM where the person you are impersonating comes in action. A moderator asked provocative questions like: Should every country have its own language and why? Is there such a thing as pure nationality and culture? etc. The visitor is supposed to discuss according to the morals of the identity they are given. Our professor, for example, put on the facade of a white supremacist Trump supporter, while someone else was a Kindergarten teacher. The discussions were both hilarious and eye-opening. 
Finally, the Translation Methods group put on a show and asked everyone from the audience to join in singing. This helped release the tension between the participating people and helped create a friendly environment that continued for the rest of the night.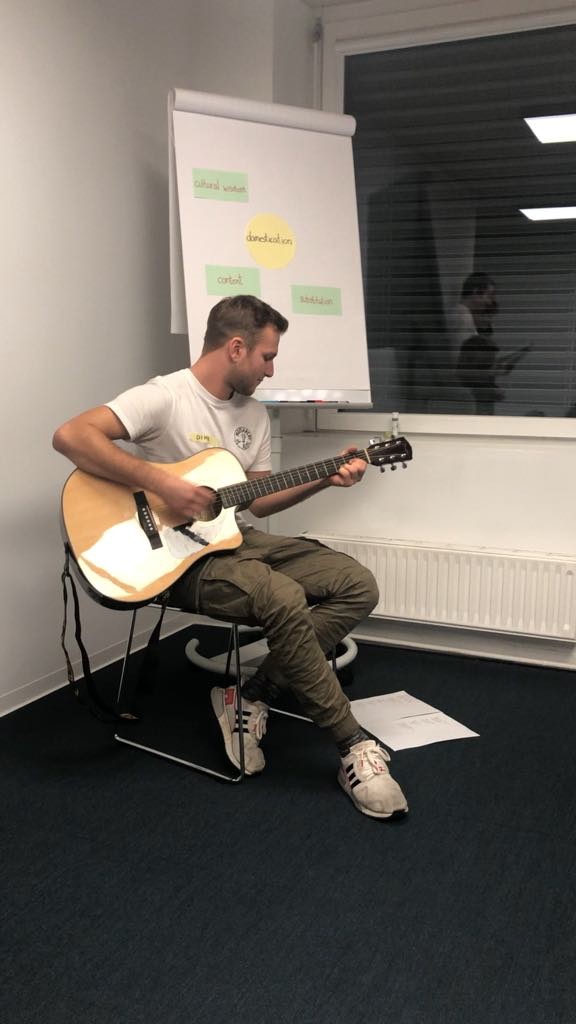 Conclusion: 
The weeks in which we were planning and organizing this event were not easy, especially due to the fact that we have only been studying for 2 months, and most of us have no idea where to begin when it comes to figuring out group work and communication. This experience definitely taught me more about working together with other people and sharing ideas. I look forward to organizing more projects like these in the future and developing my knowledge even more. 
https://www.facebook.com/events/263409314344556/
---
Photo gallery
---
Share your Erasmus Experience in University of Applied Arts Vienna!
If you know University of Applied Arts Vienna as native, traveler or as exchange student... share your opinion on University of Applied Arts Vienna! Rate different characteristics and share your experience.
Add experience →