Outback Experience (Part 1)
Architecture and landscape

6 / 10 points

Entertainment

10 / 10 points

Culture and customs

8 / 10 points

Transport

8 / 10 points

Gastronomy

6 / 10 points

Prices

6 / 10 points

Party

8 / 10 points

Weather

10 / 10 points
---
Getting ready
Today we will be talking about one of my all-time favourite experiences in Australia: The outback road trip. The vast expanses of uninhabited Australian land with its rugged and beautiful characteristics has made Australia a tourist destination for many people from all over the world. Many backpackers, explorers, travelers, campers and all different people from all walks of life choose Australia as their 'wild experience' outside of their usual day to day lives back in their home country. I had been in Australia for about a year and a half at this point and never travelled out to the outback. I finally had the opportunity when two of my mates who were on exchange from Stuttgart decided that they wanted to go travelling through the outback during our mid semester break.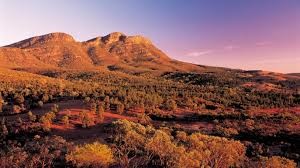 (Source: https://www.australia.com/en-ie/articles/outback.html)
I decided to take them on with their offer almost at the last second. I thoroughly enjoyed our plan as well. I essence, we were to fly from Adelaide all the way to Darwin, so that's from the south all the way to the north, In Darwin, we would check out the sights, festivals and beaches for roughly three nights and then grab our rental car before making our way down from the north to south. Quite a bit of planning went into this, so I would like to go through this in detail as it will make it much easier for you to make your own plans. We'll start off with the camping gear. As I can imagine, many exchangers would not bring tents, sleeping bags or cooking tools from their home country to Australia. So, we would have to adapt. We can't exactly buy the equipment as that would raise costs unnecessarily and it may be hard to find enough people to willingly provide the equipment. What is our alternative?
Our alternative is the Adelaide university mountain hiking club. This club is great for the outgoing spirited and those that enjoy a great and long hike. Although, one thing that makes them especially good is their rental gear. They rent many different types of gear which include boots, tents, sleeping bags, mats, cooking utensils and many many more. The pricing as well is very cheap. You simply have to pay a small deposit and you would be able to rent it by the week. So, a two-person tent would cost about 15-30 per week depending on which one you pick. They also provide all the cooking utensils such as a portable grill which make eating while travelling all the better. However, you will have to buy your own oil. Which is not too expensive to be honest.  It's almost a steal when we refer to how cheap these prices. So, if you ever go travelling then do not miss the opportunity to rent through them as it's a great budget deal for Erasmus students.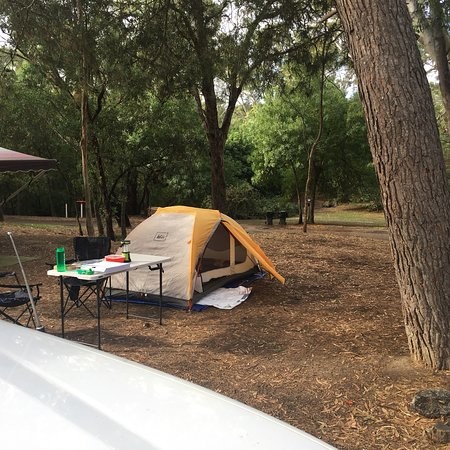 (Source:https://www.tripadvisor.com.au/Hotel_Review-g3205295-d2447222-Reviews-Belair_National_Park_Caravan_Park-Belair_Greater_Adelaide_South_Australia.html)
To rent these sorts of things you will firstly have to message one of the committee members of the mountain hiking board. This shouldn't be too difficult as they have their details up on their website. So, feel free to have a look through it. Also, I recommend that you do it pretty early. The reason why is that there are a limited amount of supplies and they may take some time to respond to your message. It all depends on how free they are, so it could go either way. Anyway, once you secure your camping gear then you would need to get to the next big step of planning your trip. Grabbing yourself a car.
Renting a car
Now, this one is a bit of a major cost-inducer to anybody's trip. Renting a car could cost quite a bit as pricings in Australia are pretty crazy. Now, what makes things even more expensive is age. The younger you are the more expensive it is. For example, I had been looking at cars to rent the other day for another trip I was planning. Apparently, if you are under twenty-five years of age you will be given an 'age-related' cost. That is to say, the oldest person in my group was twenty-four years of age. There was still a charge for 80 dollars extra for renting at that age. As you go lower and lower it gets more and more expensive. At 25 you will not be requested for that extra charge. It's pretty unfair seeing as most exchange students are in their very early twenties. So, the price of renting a car would shoot up the roof. This might seem disheartening as you wanted to do a camping experience and save money like a budget traveler. Never fear, for there is a great solution to this problem. Relocation cars.
In Australia it is very common to have relocation cars and campervans. The way this works is that somebody decided to drive from one Australian city to the other. They then drop off the car there and continue doing whatever they are doing in life. Now, imagine the rental company trying to get their car back from that far off city. This would cost a fortune as the trip would possibly take several days which would mean a hefty cost for the rental company which gets in the way of the profits made from renting out said car. They then came up with a solution. Relocation cars. The way this works is that you are offered an extremely cheap rate on the car or campervan to drive it back. This would amount from one to five dollars per day. They would also throw in a fuel allowance to help you with your trip. This could range from nil to paying for your whole expenses (although, you will need to keep all receipts). However, the majority of the fuel allowances I spotted ranged from 50-150 dollars which is still pretty good.
Now, you may be thinking that this is a dream come true and potentially too good to be true. The latter rings well. While you are offered all this, it is worth noting that you have a limited time frame to get from one side to the other. This ranges differently by rental company, type of car and where it's located. So, some trips they would give you just enough time to get from A to B without sightseeing while others are more generous, so you will have enough time to get around and see a few sights along the way. It really depends on what deals are on. This isn't the most reliable form of travelling as you never know what deals are on. So, I would always keep a plan B in case there are no relocation cars or campervans to suit your needs.
We managed to secure ourselves a relocation car thanks to one of my mates. For the sake of the guide and story, let's call my two mates Han and Ashley (Ash). Please do not question the choice of names as I picked it on the fly. Regardless, Ash got an amazing deal which saw us travelling for nine days from Darwin all the way down to Adelaide. I did my own research after and realised that many of these deals would have the days pegged at five days to get from north to south which basically meant that you would have to drive all day every day to meet that timing. Which we were not keen to do at all as we wanted to travel in between. Not only did Ash secure it for nine days we were also given 150 dollars' worth of fuel allowance. There is also something I had forgotten to mention. There is also a limit in kilometres that you could travel before they start charging a certain fee depending on how much you travelled. The reason for this is that they want to keep the mileage low and would like to limit your joy-riding in response.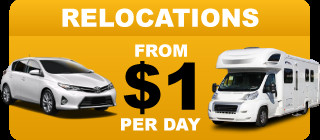 (Source: https://www.imoova.com/)
This was not much of a problem as we were given a generous amount of kilometres and an extra kms would be relatively cheap to pay off as we did not need so much. So, we kept on with our plan. We were truly going to become budget dealers. Although, there is an issue. Many of these deals also limit the amount of people you can take travelling with you. In our case, we could only pick four people which was actually the perfect amount (we'll find out why later on). As it was only us three travelling we wanted to have an extra person join to split costs with and have extra company. After a bit of posting and messaging about we had two people. One travelling from Darwin to Alice Springs and the other from Alice Springs down to Adelaide. It was in essence the perfect deal for all of us. They were both backpackers, so I was keen to trade stories with them. At this point you pretty much have the most vital part of your trip planned out. The next step (excluding buying your tickets) is to book your hostel. As it was the mid semester break there were quite a few people travelling at the time. Coincidently, a mate of mine was doing the exact trip at about the same time although she was travelling from Adelaide to Alice Springs and back. That wasn't exactly the trip I was looking to do as I also wanted to see the northern part of Australia which I hear so little about. Anyway, back to the story. We booked our accommodation to where we were going to stay. My two mates would take an Airbnb they had booked together earlier before I decided to tag along, and I ended up in a hostel. This turned out really well for me as I had two Jacuzzis to pick from in the open air on one of the terraces of the hostel (we'll get into the hostel details later on).
Another thing I forgot to mention was insurance. Travelling through the outback may get dangerous due to the kangaroos crossing the road. I will get into more detail about this once the driving section of this paper starts. The last thing to think about is shopping. You will need tools of different sorts to get through it all. Some are necessary, and some aren't. For example, my mate bought two walkie talkies that could also tune in to local frequencies in case of a crash and being stranded. I will not be the one saying you do not need one of these although the areas we were travelling at is quite busy with a lot of cars driving about and especially other backpackers or massive three carriage trucks hauling their cargo. That would mean that eventually we will be fine. Although, if you reckon you would like to buy this as collateral in case anything goes wrong then go for it. You could sell it right after the trip. Make sure to bring bandages and medication if you get sick. Always remember, that if you are ever in an emergency then you could call the local hospital services that would take a helicopter to your position. Feel free to donate to these doctors in any visitor or information centre. Hostels also provide the option to donate a few cents or dollars to this benign cause.
Also, make sure to grab portable chargers. Your car may be able to charge your phones although it is usually quite slow and there are four people which makes it a bit of an issue.
Also bring matches or a lighter and lighter fluid. It helps to light up fire pits to be able to cook.
Shopping
There are also more things you could bring although I won't have the time to type it all up, so I would highly recommend you do extensive research on the matter. Some things as small as bug repellant to ropes. Now, food shopping should be next on your list. It's common sense but try to pack food that does not expire fast nor melts. So, if you have cooking utensils then grab some pasta and sauce for example. Mushrooms and potatoes are a good combo to cook up by the firepit. Careful with meats as they expire. Although, some meltables might survive if you keep them in the glove compartment. Just make sure you bring a lot of food such as crackers or canned goods. Most importantly, bring water.
I'm not talking about grabbing five large 1.5 litre bottles of water. I mean, properly bring water. They sell 10 litre boxes of water for roughly 3-4 dollars at Woolworths. You can remove the box and have a very morphable bag. Now, they recommend you take between 60-80 litres of water when travelling out into the outback in case of an emergency and to use for brushing teeth, cooking, cleaning etc. You could always fill these bags up again in different areas that allow so. Although, places are truly far and wide away from each other, so I would not shirk the water warning. It's pretty cheap and a great way to remove any unnecessary extra stress if water runs short. Last but not least make sure to grab strong sun cream (and swimming clothes). It is often quite sunny, and the sun is very unforgiving so make sure to pour that stuff on you as though it were liquid happiness.
First days
That pretty much concludes everything that is needed to get the ball rolling. Of course, you would have to do some proper planning. Find the places you want to go and pace yourself to make sure you reach those places with enough time leftover to fully enjoy each place without too much rushing. People say that you could travel for about two weeks for a comfortable ride. We rushed it a bit at nine days, but we got to see quite a bit so it's very doable with that amount of days. Now, we boarded a flight at the very beginning of the mid semester break. It took us several hours to get to Darwin. By the time we got there it was evening. We parted ways and made our way to our own accommodations. The next day we met up early in the morning and did some shopping for brekkie. The interesting thing about Darwin that in essence there is only four main streets were most activities happen and they are parallel to each other.
After we did a bit of brekkie shopping we headed off to meet the sister of Ash's mate who was living here. We introduced ourselves and then made our way to her car. She drove us to one of the closed beaches. Apparently, it was not very safe to swim in many areas around Darwin. There are multiple threats to worry about. For example, there are stingrays (the ones that killed Steve Irwin) sharks of many varieties, crocodiles that stay by the seashore and box jellyfish. These tiny jellyfish are notorious for the pain they inflict upon anybody who gets stung by them. In response, we have closed off areas where all such threats are unable to make it to us. A stone wall separated us from the sea. The beach and sand surrounded the salty body of water we were relaxing around. There were not too many people here at the time and the weather was gloriously good with clear skies. Darwin is known for getting hot or having massive monsoons. Its proximity to South east Asia and this region's weather patterns is the cause for this.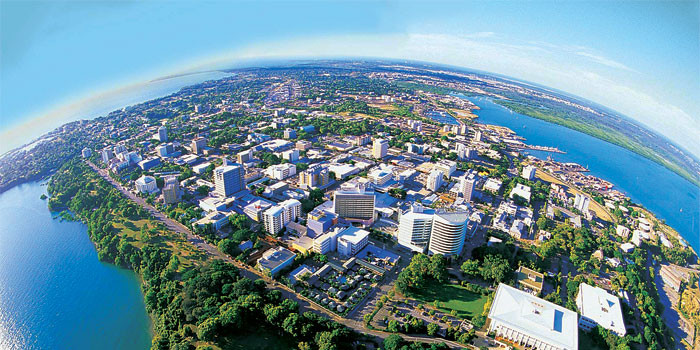 (Source:http://www.defencelife.com.au/darwin-top-end-of-australia/)
After we enjoyed our beach day we decided to go to a local food festival that was going out. There was quite a bit on offer. Foods of all types including spiraling potatoes on a stick doused in either salt or chicken salt. I recall how they also had mussel shots. I never had something similar to that before and had a try with the sister of Ash's mate. It was not very pleasant. They mixed chili with it and it literally tasted like saltwater. Although, I don't blame the vendors as I'm sure this is how it's supposed to taste. The festival was basically one stretch of road by the sea with many things on offer. Not only were different types of food on offer but also clothes and knick knacks. We stuck about for more than an hour here as there was a lot on offer. There were quite a few people here. Apparently, the market didn't happen too often, and we were quite lucky to be on time for this festival. Along the road of the market there was a path you could take that lead you to a vast expanse of mud and sand right next to the sea. The area was closed off at the very ends, so people would not swim as it was too dangerous. Although, many people were walking about barefoot. Some were even hunting for crabs. It was fast approaching the evening and we concluded the day from there. It was a very successful first day to our adventure.
---
Photo gallery
---
Share your Erasmus Experience in Darwin!
If you know Darwin as native, traveler or as exchange student... share your opinion on Darwin! Rate different characteristics and share your experience.
Add experience →