CIAMA N'AUT - Cozy Room with Private Balcony close to the downtown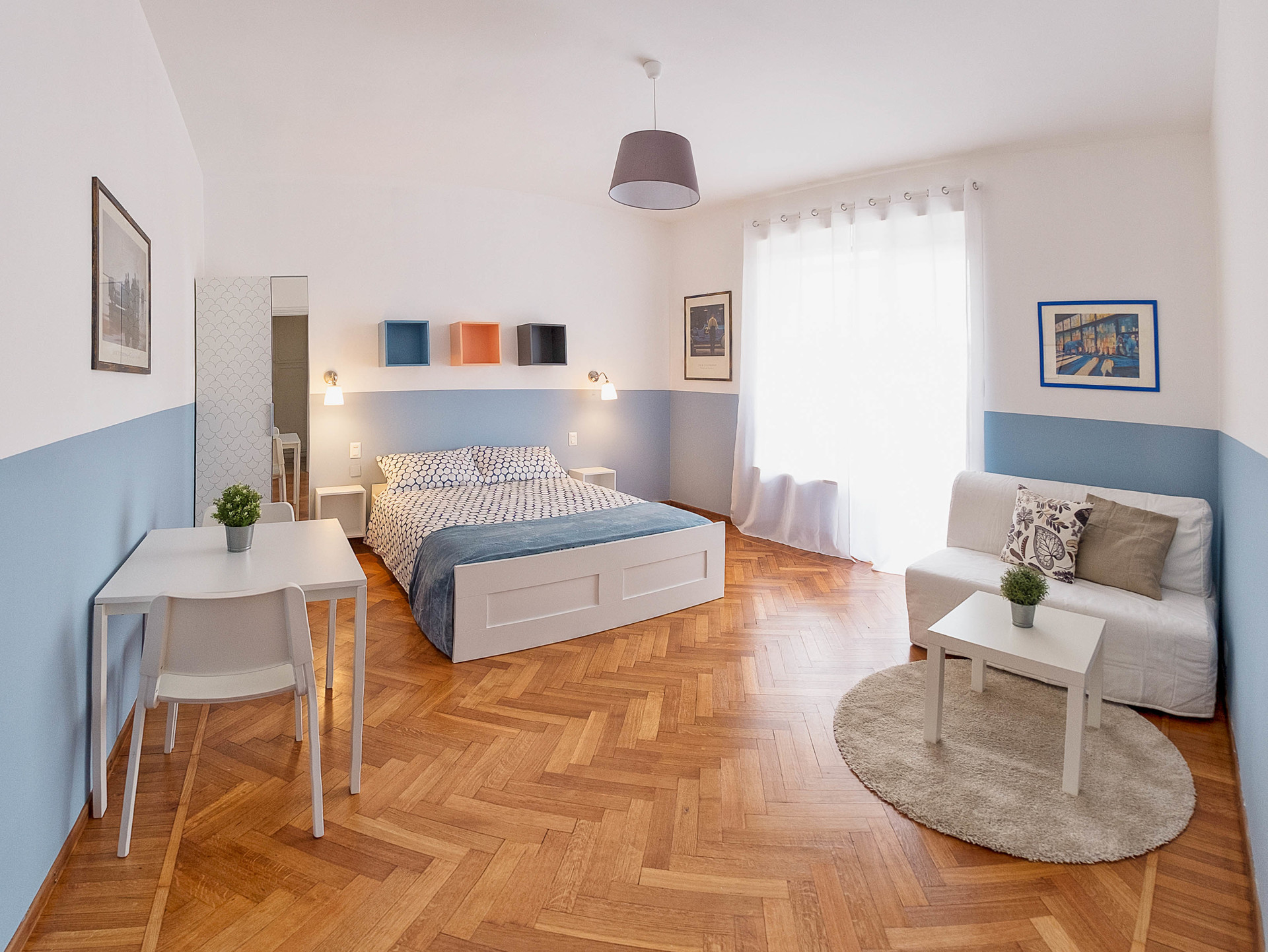 Ciao! Welcome to the CIAMA N'AUT room advertisement page.
If you're looking for a nice room to rent in Turin, you're in the right place :-)
Below, I will try to tell you all the informations you need, to help you understand if the accommodation I have to offer you is what you are looking for and if it coud fit to your needs. I'll try to tell you everything and I'm sure that with a bit of imagination, through this "virtual tour", you'll be looking forward to moving here ;-)
Get comfortable and let's get started!
THE ROOM
As you can see from the pictures, the room is big and spacious (more than 25mq), is very bright and is fully furnished with everything you need. Inside you have: - a huge and comfortable double bed (160x200), - two bedside tables with abat-jour, - a nice wardrobe with a mirror - a table with two chairs - a coffee table - and a comfortable double sofa bed (140x200) on which you can relax by yourself of with your friends. From the large glass door, you can access to your private balcony! The flat is oriented to the South and it is on the sixth and last floor of the condo, so your room is "kissed by the sun" all day long. Everything is ready for you and you have everything to feel at home. The bed has an orthopedic mattress and two comfortable pillows to allow you to sleep as comfortably as possible. When you'll arrive, your bed will be ready and in the wardrobe you'll find a second set of sheets and blankets that you can use as you wish during your stay. As soon as you enter the room, on the right, there is a large white sofa, which becomes a double bed if necessary. Your room is your kingdom, so if a friend of yours or your parents come to visit you for the weekend, you can easily host them with you :-)
THE FLAT
Your room is located in a big penthouse of about 230 square meters in total, on the sixth and last floor of a stately condo. In total there are 5 bedrooms (so you'll have 4 roommates), a nice equipped kitchen, 3 bathrooms and a beautiful shared terrace! As soon as you enter the house, you are welcomed by a large and luminous entrance, with white marble floors and some wooden details typical of Turin architecture. The kitchen is large and spacious and is furnished and equipped with everything you need: a large vintage fridge with freezer, a table with benches and stools and, of course, sink and stove top for cooking. Dishes, glasses, cutlery and pots are at your disposal, as well as a microwave, an Italian-style coffee-maker, a kettle and an American coffee machine. In addition, there is a large pantry where you have your own personal space for your food and your private stuff. The washing machine is in the white closet that you find on the right of the window and you can use it whenever you need it. You can spread your laundry on the common drying rack that is on the balcony of the kitchen, or, if you prefer, you can use one of the drying racks located next to the pantry and take your laundry in your room or on your terrace. The three bathrooms are comfortable, clean and fully functional. Furnished with vintage style, each of them has its own window and you can feel free to use whatever you prefer. In the pink bathroom and in the gray one there is a shower, while the third bathroom is a service one, and has a toilet and a sink. The terrace is the most beautiful "room" in the whole apartment :-) It is very large, it's always sunny and has a beautiful view of the hill. You can have breakfast or organize a nice dinner with your friends or your roommates, or during the spring and summer you can enjoy the sun on the deckchairs, or you can study or work outdoors, comfortably seated at the table with the big umbrella that protects you from the sun.
THE BUILDING
The condo is very quiet and peaceful. It is inhabited mainly by families and everything is managed by Valter, our friendly concierge. The concierge service is available from Monday to Friday from (hidden phone number), and on Saturday from 9-12. We Piedmontese are usually quiet and reserved people, so you will not hear any noise or disturbance. If when you're at home you have to study and concentrate or want to relax a bit, you're in the right place!
THE AREA
The apartment is located in the heart of the "Cit Turin" district, which according to the Turinese is the best in the city. Located about 15-20 minutes walking from the downtown, it's very quiet, safe and above all, it is very well served by every means of public transport. - Safety Within about 100 meters, there are some of the most important public and institutional buildings of the city, and moreover, exactly in front of our building, there is the Court of Turin. As you can imagine, the neighborhood is very safe and you will not have any problem to walk in the street during the evening (very often, in front of the Court, then in front of the house, there are Cops or Carabinieri cars patrolling the area to ensure the everyone's safety).
- Moving around
The TRAIN STATION and the SUBWAY Porta Susa is just a 5 minute walk from here. Taking the Subway you will arrive anywhere in a few minutes (for the downtown, for example, are just 3 stops; to go to San Salvario district, only 4) If you need to take a flight, the SADEM BUS station to and from the Turin AIRPORT is behind Porta Susa, in Corso Bolzano (a 10-minute walk from here) The bus station for the Italian and European bus lines, however, is just a block away (5/6 minutes on foot) UNIVERSITIES are very easy to reach: The POLITECNICO can be reached on foot or by Metro (15/20 minutes in total if you go walking). The Faculty of LAW, LITERATURE and PHILOSOPHY and LANGUAGES, can be reached by the electric bus Star 1, (the bus stop is 2 minutes walk and the total trip is about 25/30 minutes, depending on traffic) . The SUISM, however, is about 5/10 minutes on foot. If on the day of your check-in you prefer a pick-up service instead of the bus, just ask me!
- The Neighborhood
All the neighborhood is full of activities, services, clubs, restaurants, bars, pubs and shops. One of the most famous markets in the city is set up every day, from Monday to Saturday, in Piazza Benefica (3 minutes on foot). There are many supermarkets nearby, including in Via Principi d'Acaja (less than 10 minutes on foot) the PAM LOCAL, which is open every day, even on Sundays, from 7:30 to 22, and a Carrefour hypermarket open 24/7 in via San Donato (15/20 minutes on foot)
RULES OF THE HOUSE, CONTRACT SERVICES AND BORING STUFF
- Heating:
The heating is centralized and is managed by the condo. The house is warm in winter and cool during the summer, so you do not have to worry about anything.
- Wifi
The internet connection is wi-fi and the signal is fast and perfect in every room ;-)
- Cleaning service
The cleaning service is managed by Rita, our Housekeeper, who comes every week to fix, clean and tidy the whole house…singing and smiling :-) Rita speaks very good Italian and English. She's very nice and she's a very special person, so I'm sure you'll really like her!
- General Services and Bills
The heating, the light, the gas, the water, the condo and maintenance costs, the concierge service and the cleaning service are ALL INCLUDED in the monthly price! You do not have to worry about anything and I do not ask you to pay anything besides the price of the room. If you want to host someone in your room, feel free. You MUST tell me who is coming and for how long, but you will not pay me any additional cost! As I told you before, your room is your kingdom :-) If you are two people and want to share the room, that's fine, the price is always the same!
- Contract
The type of contract we sign and the cost of its registration vary according to your needs, which we can certainly discuss before you arrive. Normally, I sign a "Contratto Transitorio per motivi di Studio o di Lavoro", with a minimum duration of 3 months and a maximum of 18 months. The cost of the registration varies depending on the duration and is mandatory by law within 30 days from the day of the starting of your stay. You will not have to worry about anything, because I will do everything for you, without charging you any additional cost!
To let you understand how everything can happen, here is the example of "James": James is an Australian student who comes to study at the Politecnico di Torino for 6 months. After some messages between me and him, James books his room. After that, we send each other some mails with all I need in order to make all the bureaucracy (ID, Visa/Residence Permit, Codice Fiscale provided by the University and the payment of the Deposit) On the day of the check-in, I go to welcome James to the flat and, after showing his room, we sign the contract that I already prepared (2 copies: one for him and one for me) and all is done.
I apologize for the long text, but I hope to be helpful in telling you everything you need to know about the room, the neighborhood and the managing, so you can have all the information you need to decide where to live for the next few months, without having unpleasant surprises once you're here in Turin.
I know how it feels to start an adventure in a new city: there is so much excitement, but there are also many doubts and it's often hard to find someone who, from distance, can help us to take all the right steps and get them done serenely. That's why my goal is to make you feel at home, even before your check-in, trying to let your stay in Turin as pleasant as possible.
If you have any doubt or questions, please, just text me, I'm at your disposal and I will be happy to help you in any way possible :-)
I wish you all the best!
Cheers, Andrea
"A house is made with walls and beams; a Home is built with love and drems" Ralph Waldo Emerson
Photo gallery
---
---
Advertise your accommodation!
If you have accommodation or want to rent a room, you can advertise it on Erasmusu.
Add accommodation →