National communications museum of Iran
Okay so the truth is this year I have sorta became a museum geek, I don't even know how the transformation even happened but I'm glad it did. The thing is I never went to any museums before but there is something about Iran's museums that makes you go back for more. I feel that the reason is that Iran is so historical and cultural and these museums always represent a piece of that history. Anyhow enough with my theories on my next 3 posts I'm going to talk about three different museums, that are all located in close proximity to each other.
The first museum is the national communications museum also known as the national post museum. I went here just because I had some time to spare and it was nearby the other museum I wanted to go to, I was surprised at how good this museum actually was, never thought I'd take any interest in anything postal related.
How to get there:
Okay the localization is great, when I say that I basically mean two things; first that is it super easy to get there and second that it doesn't cost a lot of money. I seriously hate it when I have to spend so much on transport I mean I could spend that money on food, you know what I'm saying?
So get on any metro line from any station and get off at "Imam Khomeini" metro station, the good thing about this station is that it's an interchange station so it is located on both lines 1 and 2 of the Tehran metro line. I got on from the Tehran pars station and got off there, that's from line 2. I have mentioned this before, I'm going to mention it again, buy a two way metro line ticket, cause it's cheaper than a one way, the two way ticket costs about 1100 Toman, make sure you carry around change. Once there just walk out the metro station, the post museum is literally located 3-4 minutes away, use google maps to find the entrance of the museum.
Description and experience:
So I found my way around, while walking towards the museum entrance, I found myself in a rather old area of Tehran, the street looked old, the buildings looked old and traditional, I felt like I was in an older un-updated version of Tehran. It was a good feeling, nice to get away from the modern streets and the crowds for a bit.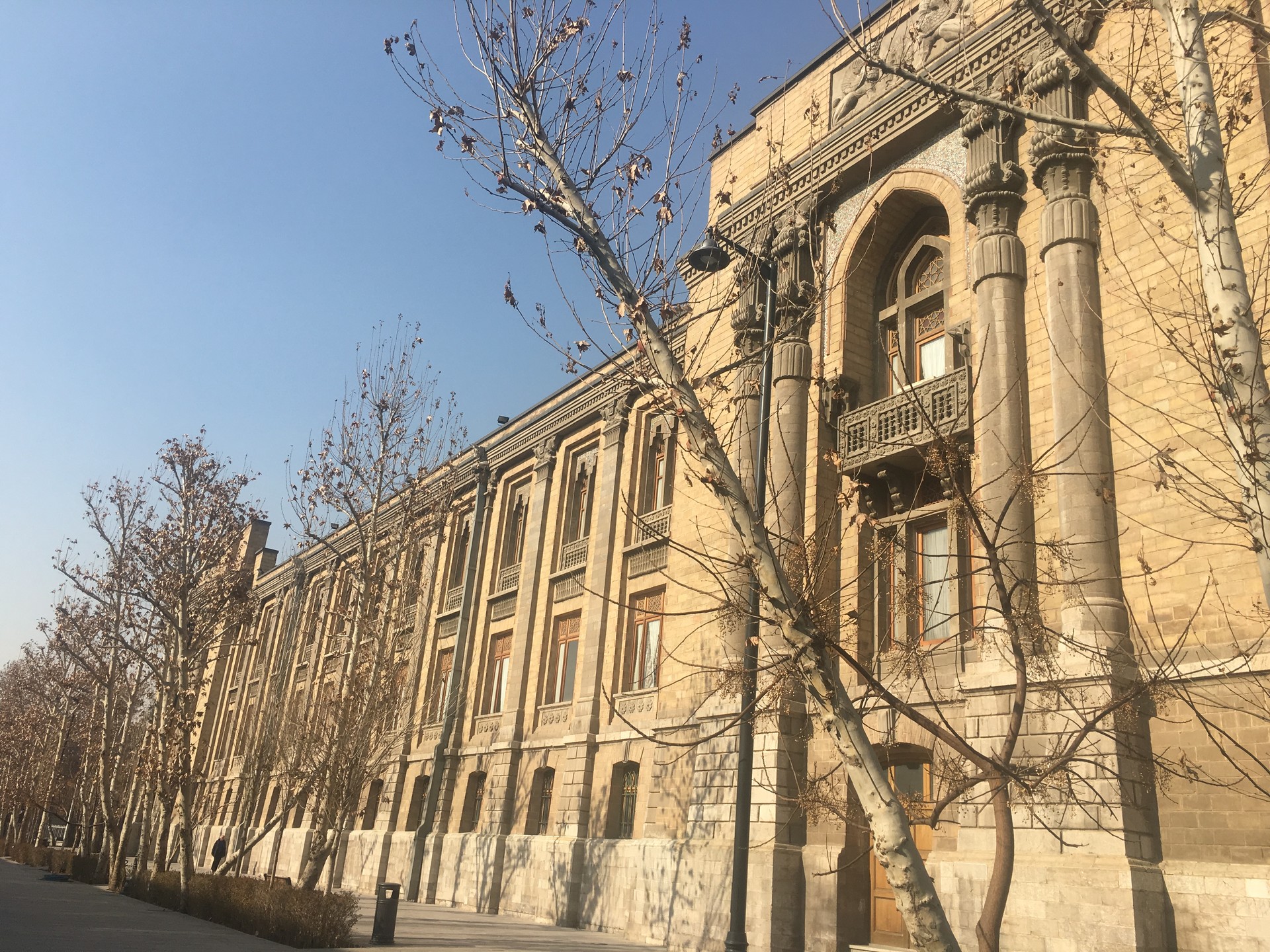 (You see what I mean by old architecture? )
I walked around a little and then found myself at the entrance of "Baghe Melli" which basically used to be the symbol of Tehran but later on the "Azadi" tower was constructed and that became the symbol of Tehran.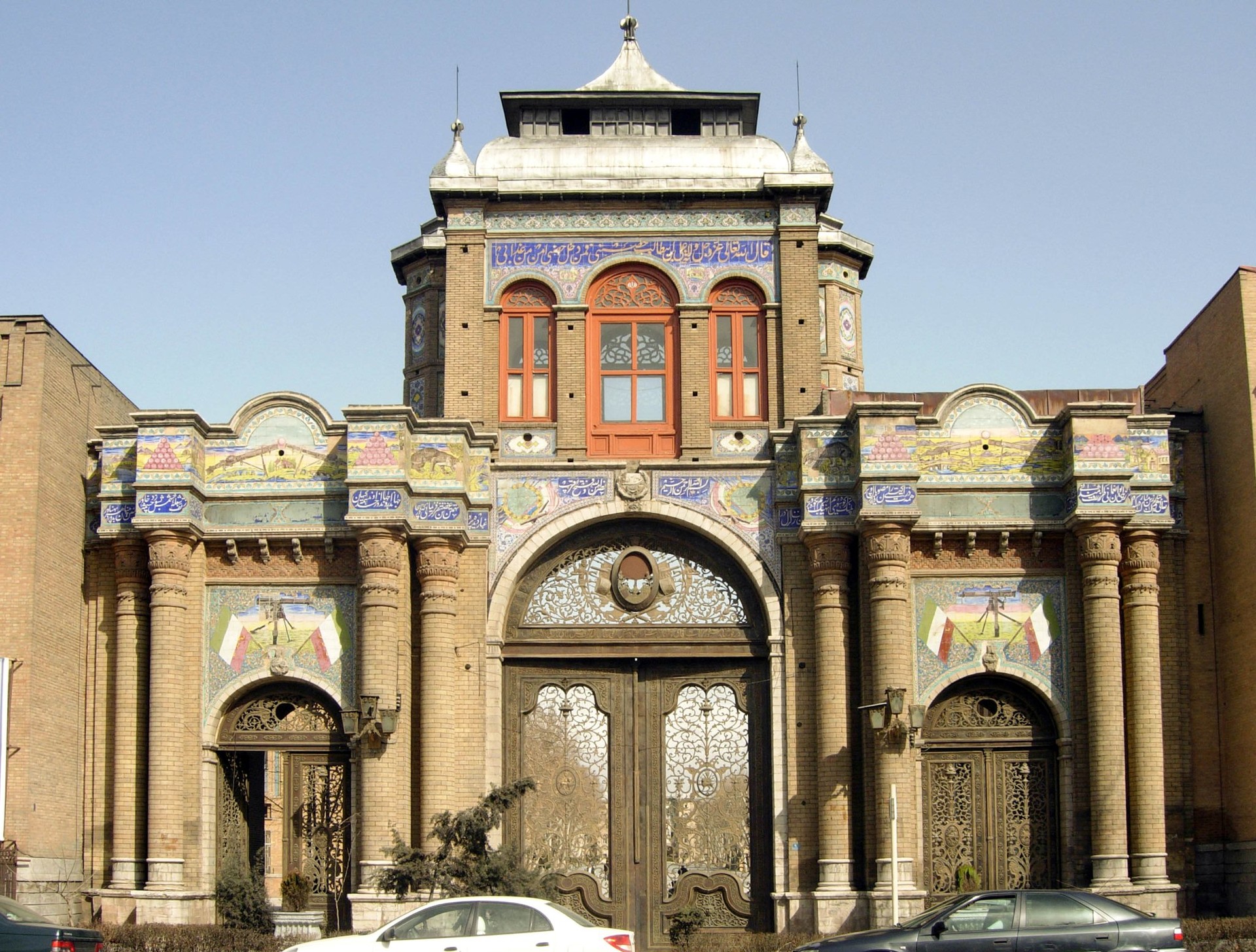 (Baghe melli)
Even though it is no longer the official symbol of Tehran, it still attracts many visitors on a daily basis. This gate like structure was built during the Pahlavi dynasty by Reza shah, the first king of this dynasty. On the walls of this you can see images of the coup that helped Reza shah rise to power and pictures of angels of victory. This structure was the entrance of a famous square in the old Tehran. Since this description was pretty short I just included it in this entry.
Anyways moving on to the actual museum, the entrance of the museum contains a statue of a young boy putting a letter into a mail box, here's a picture of it, I found it extremely cute.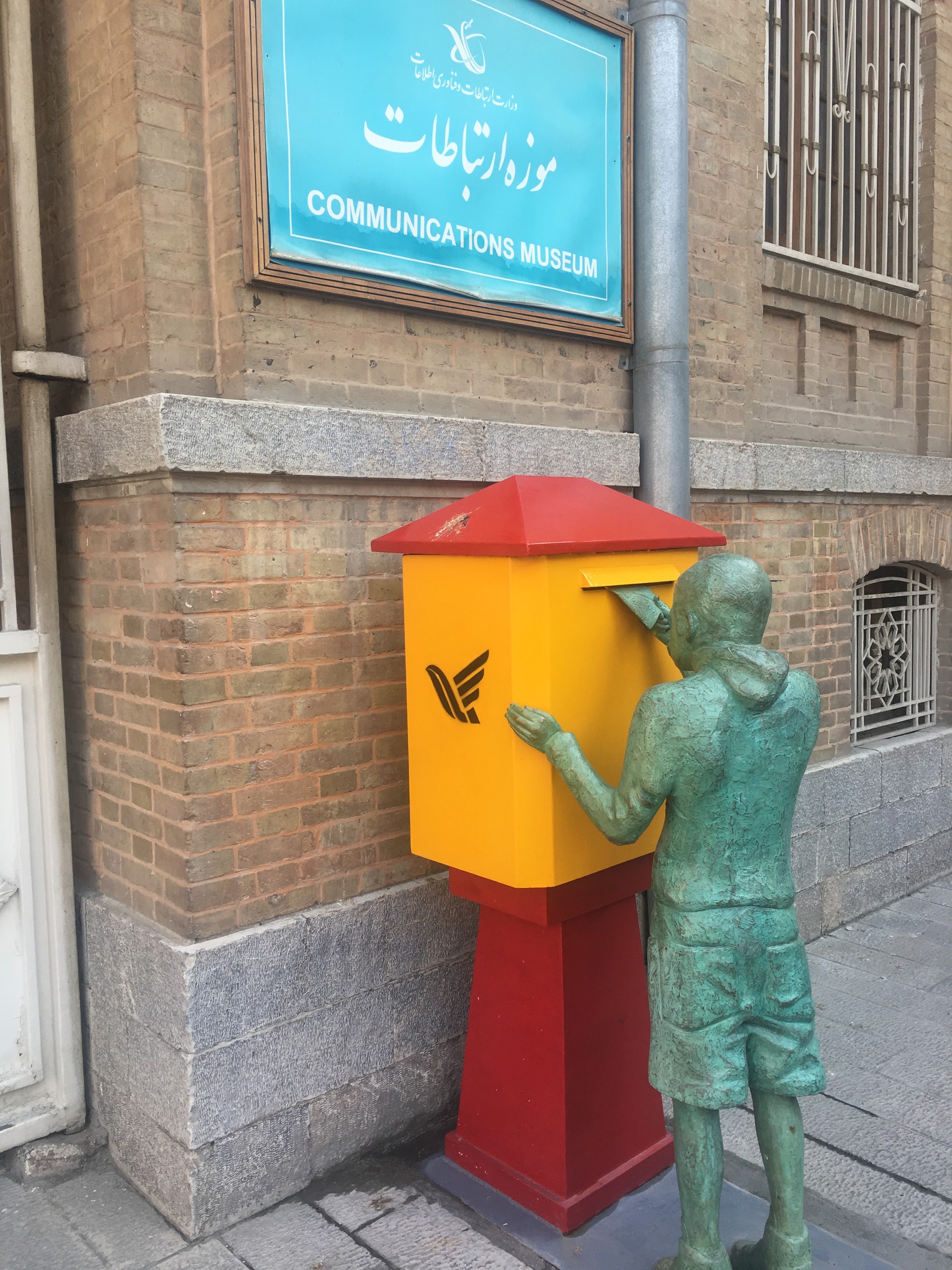 Upon entering the museum I realized that museum was extremely empty, I don't even think there were any visitors there and I was like oh no man this place must not be good, maybe that's why there are no actual human beings visiting it, oh boy how wrong I was. Later on I asked the personnel as to why is the museum so vacated and he said that this is a rather professional museum, so only post enthusiasts or people that actually understand anything from post or telecommunications visit this museum.
The personnel were extremely polite and friendly, I enjoyed conversing with them. The entrance ticket was actually really cheap, like much cheaper than all the other museums I've been to. The museum has three levels; it took me about an hour to go through every level and every room. There is surprisingly a lot I did not know about post.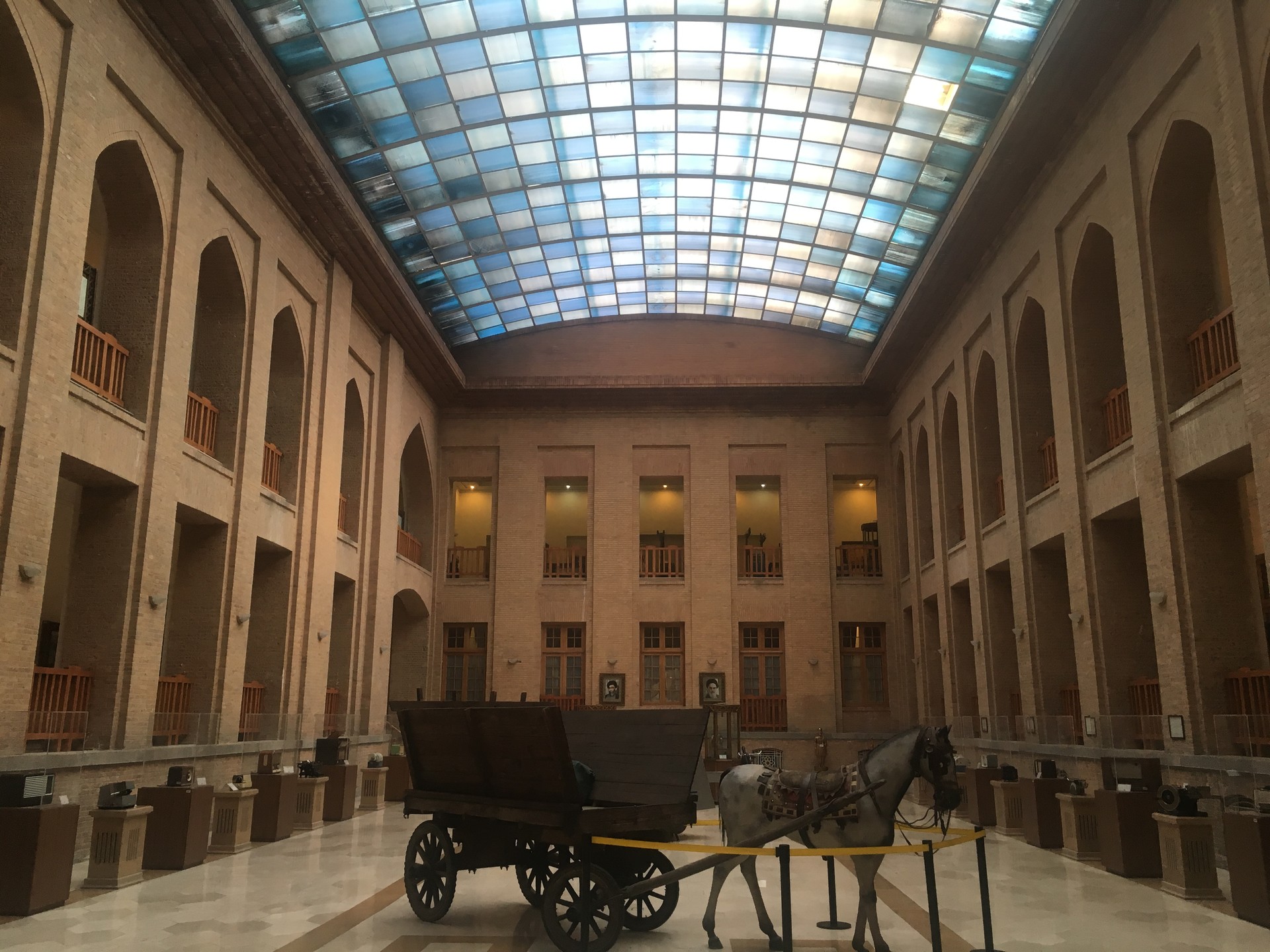 This is the building of the museum; the building's architecture is surely traditional Iranian architecture, specially the windows and the pillars. There is the carriage at the center which is basically a replica of the carriages that were used to deliver packages in olden times.
Here we have a car that used to be used during the Pahlavi dynasty for delivering postal packages, I really like how tiny and cute this car is, although I'm not sure whether I should call it a car or not.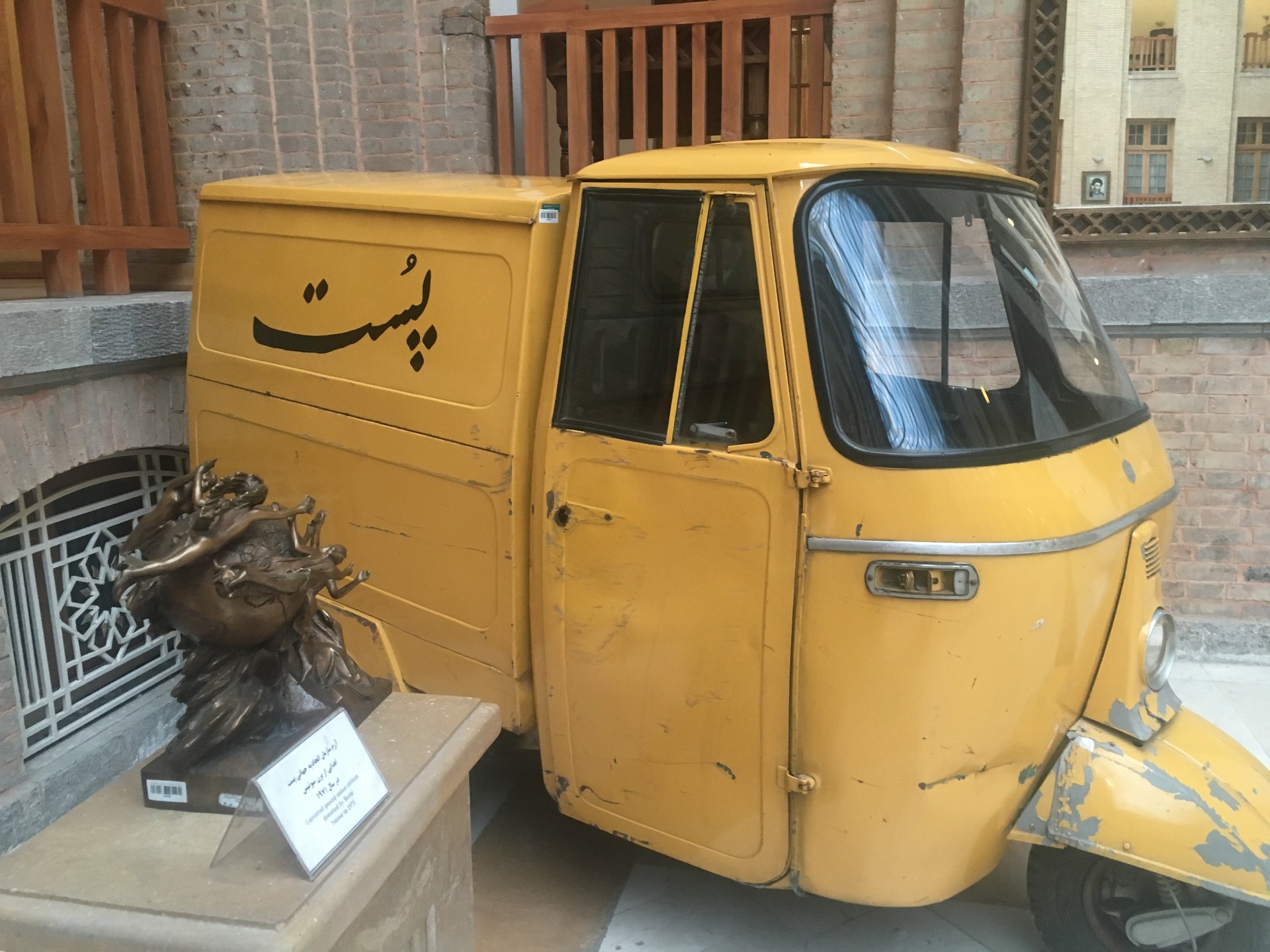 These next few pictures are all of old radios, I found them super cool so I took pictures of them and I surely don't know a single thing about radios and I'm sure I can't be the only one. I mean come on we were born and raised in the age of technology you can expect me not to know about radios. This first one was created back in 1958 by a German company.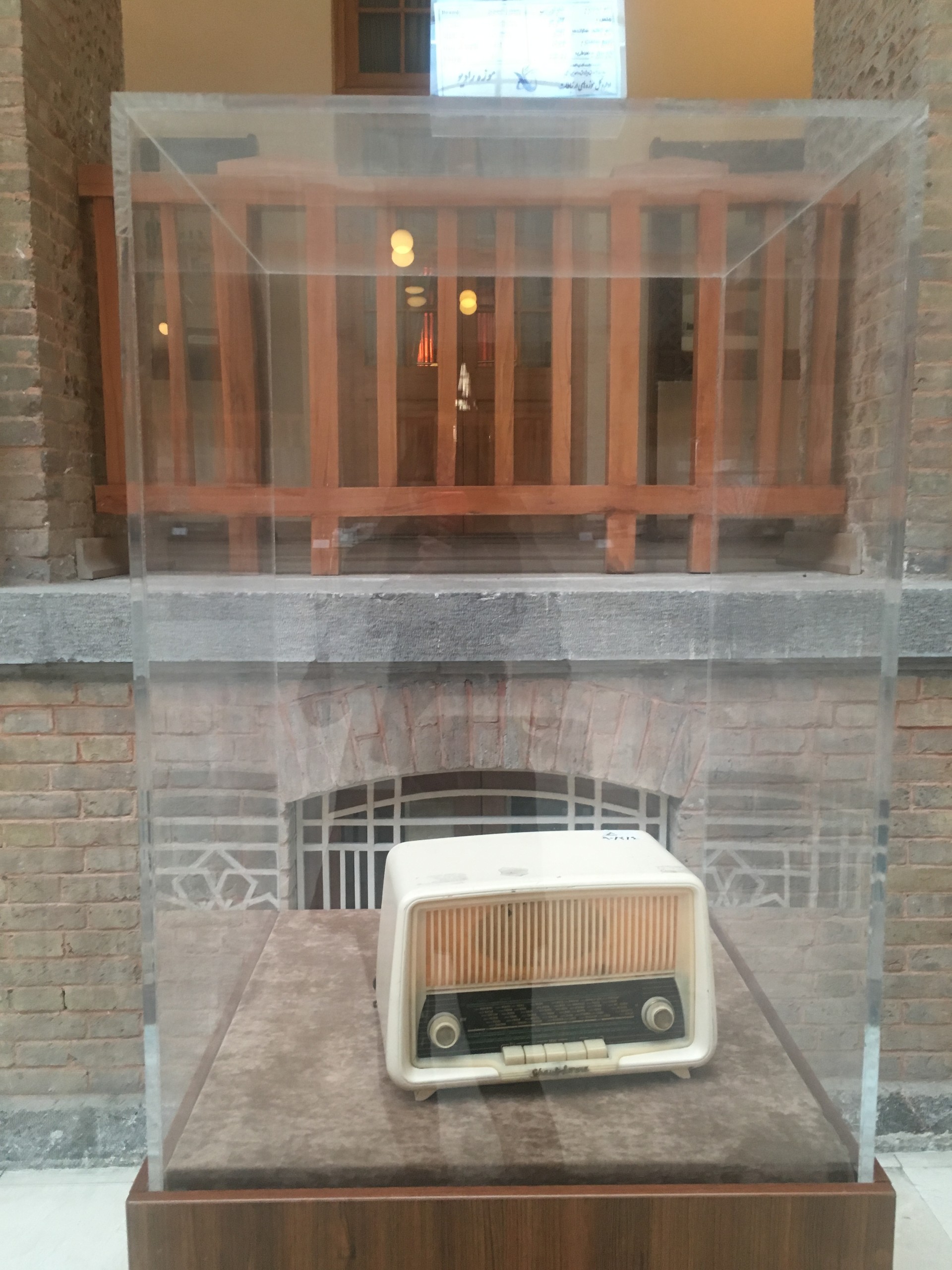 This other one that is actually wooden was made in 1956 in Germany as well.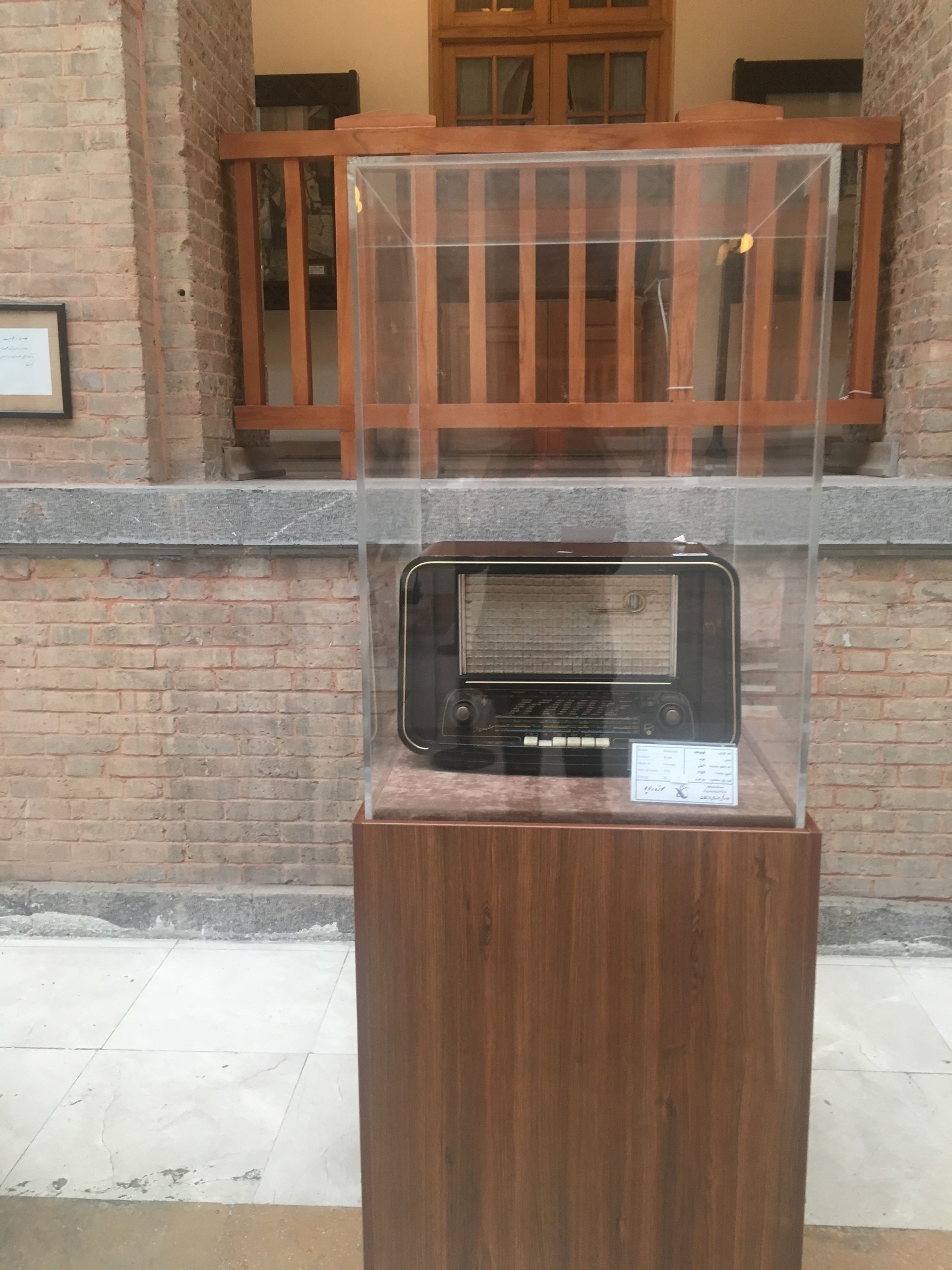 This one is actually related to post, this is a manual stamp cancelling machine that was used in post offices.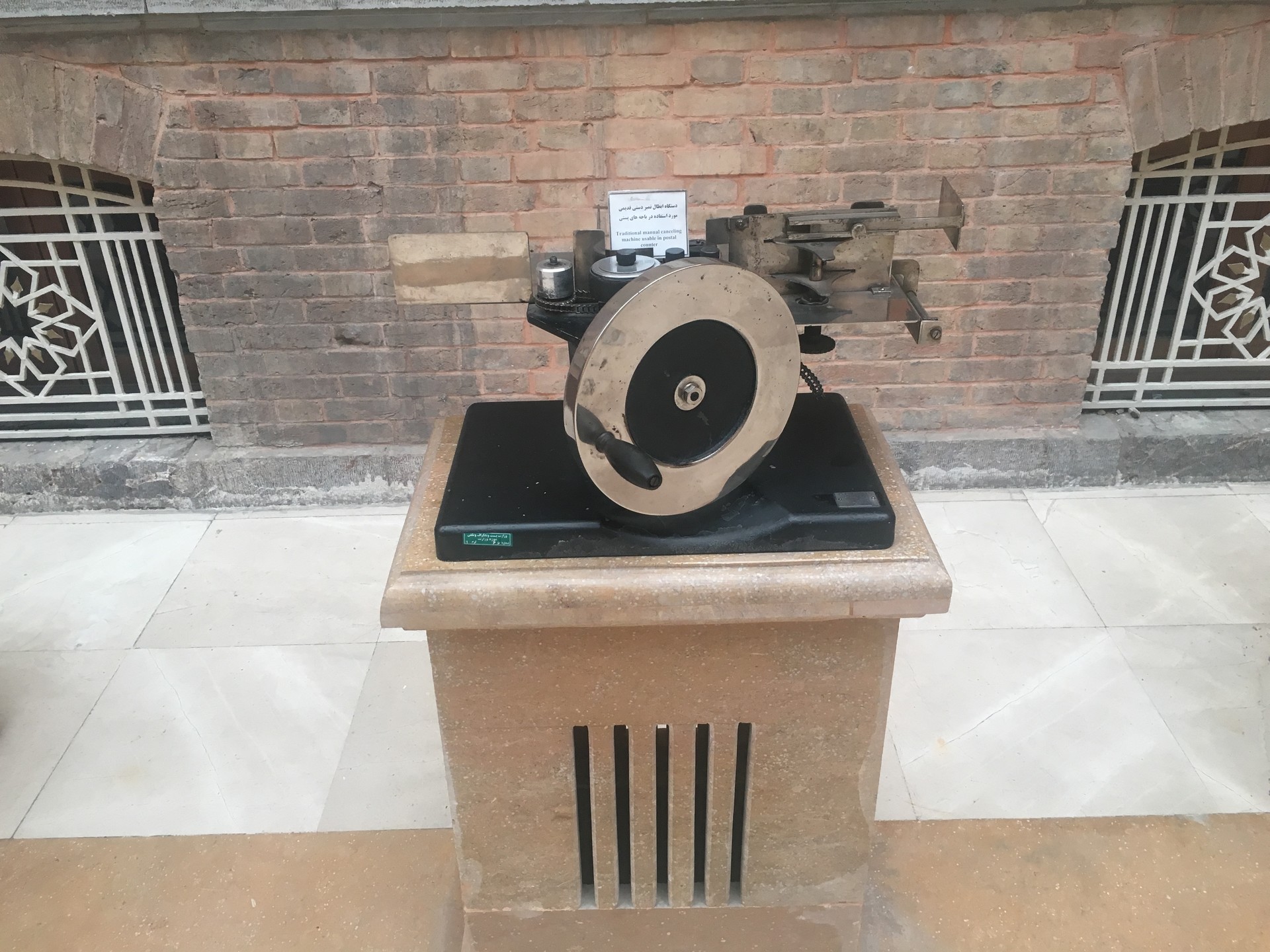 These statues are all different statues of post-men, through the passage of time. The first statue is of the on foot messenger during really really old times, I mean those old times that I don't even know about.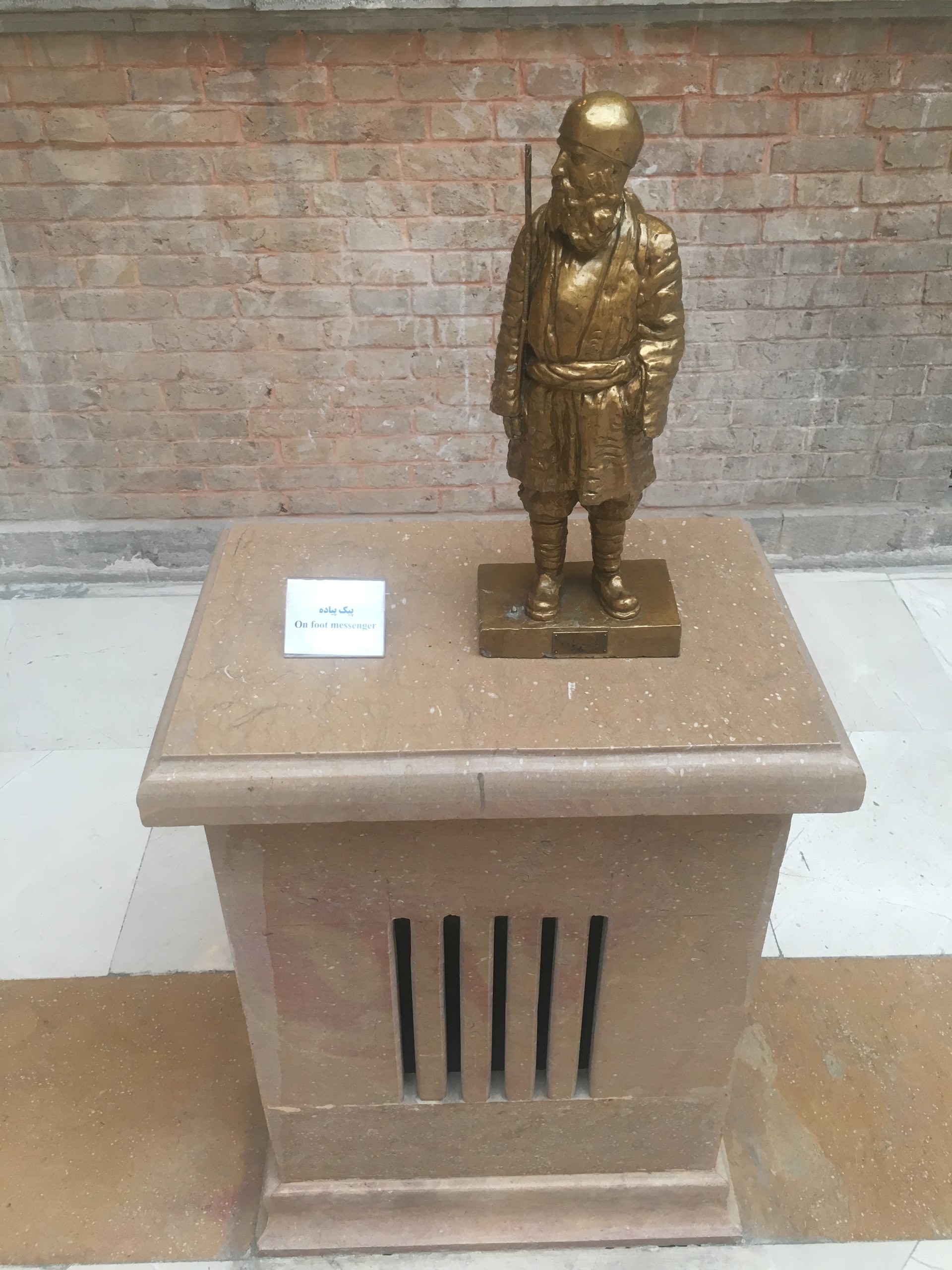 This other one is a messenger from the "Achaemenid" period, which is basically the oldest persian empire, how classy I know.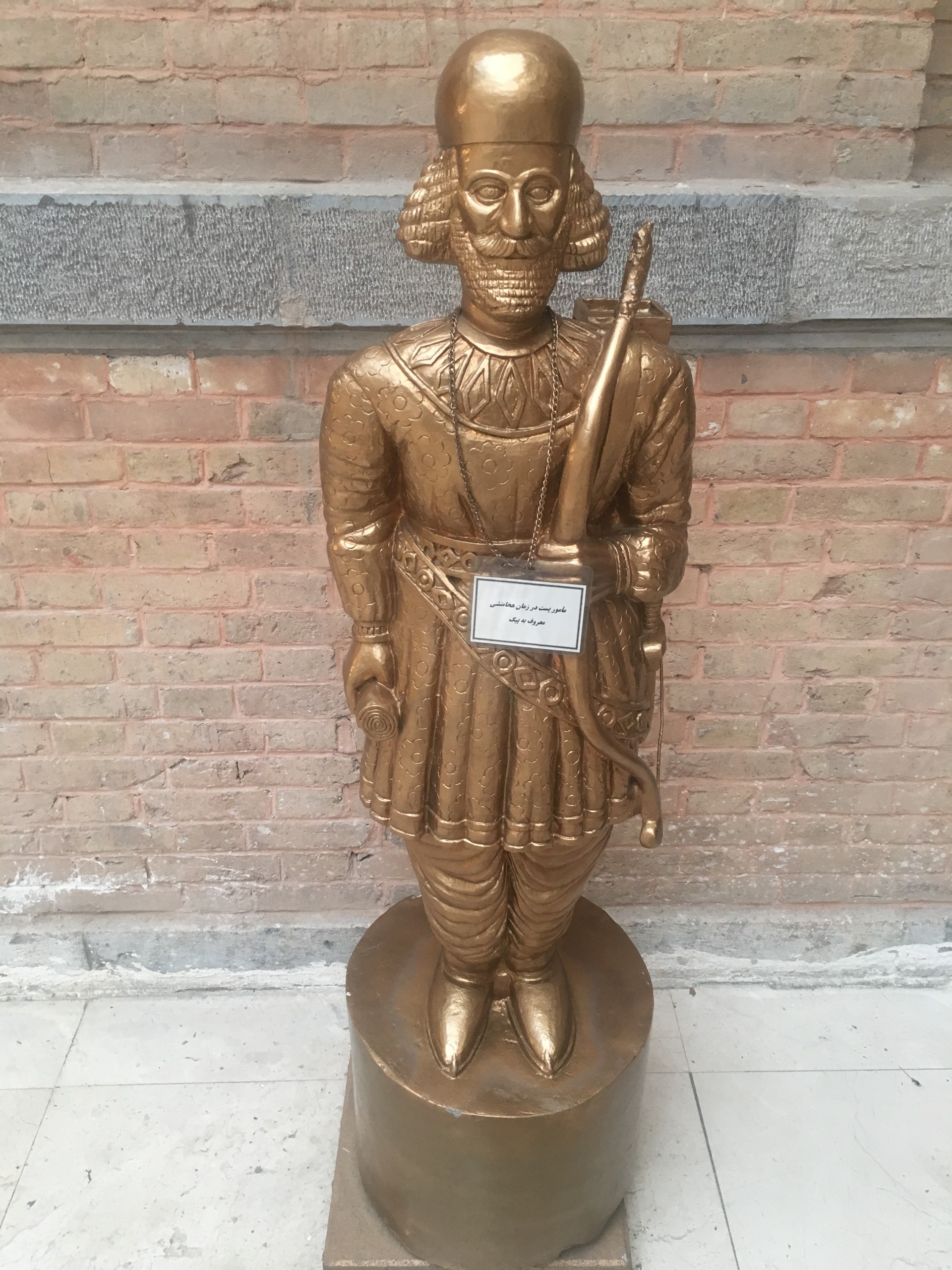 This last one is a messenger from the "Pahlavi" period; they look super serious man, as if they're a police man, award of the year for the best well dressed post men.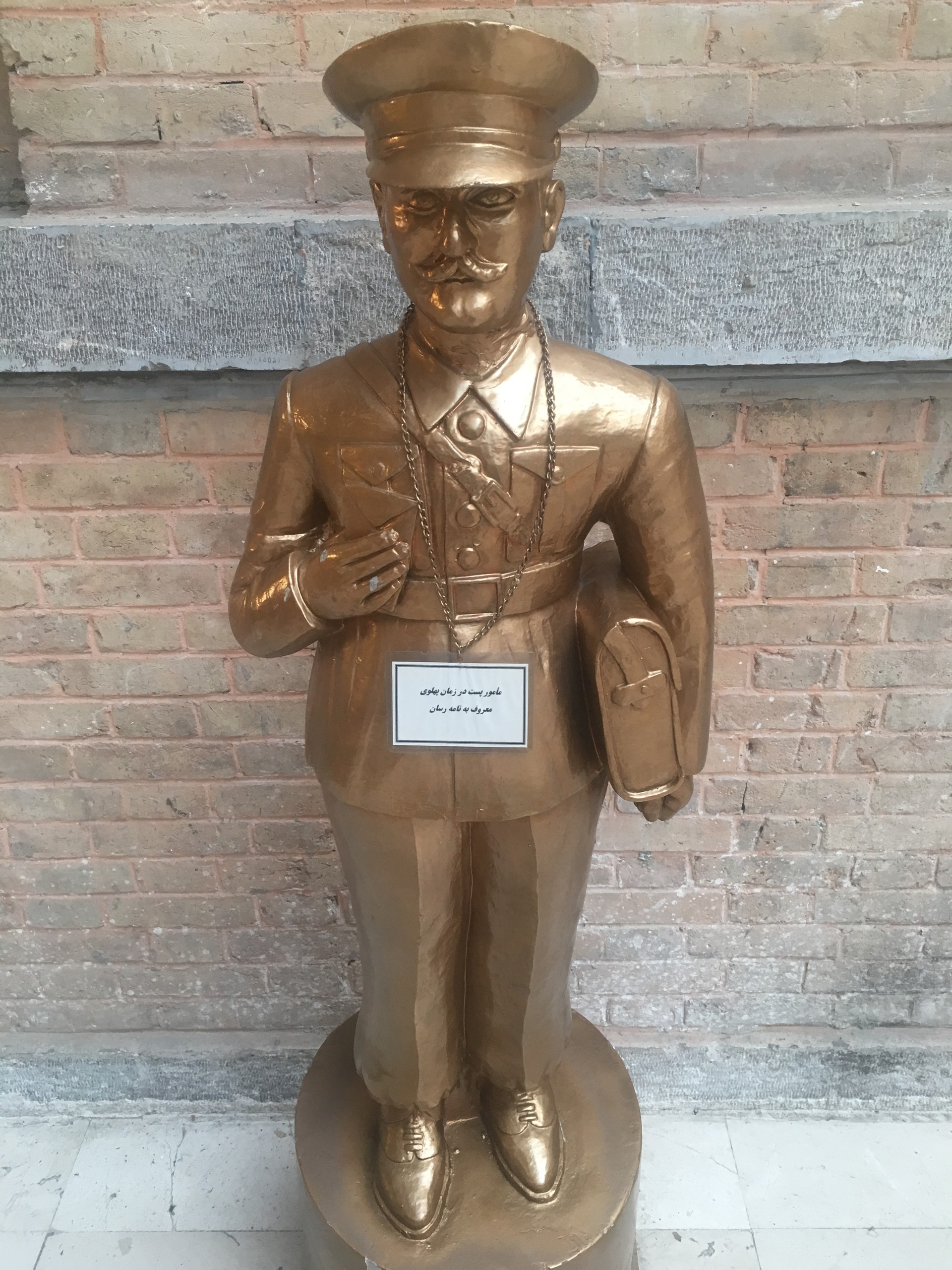 Side view of the museum from the first floor, I was just obsessed with the building, it was super classy and chic.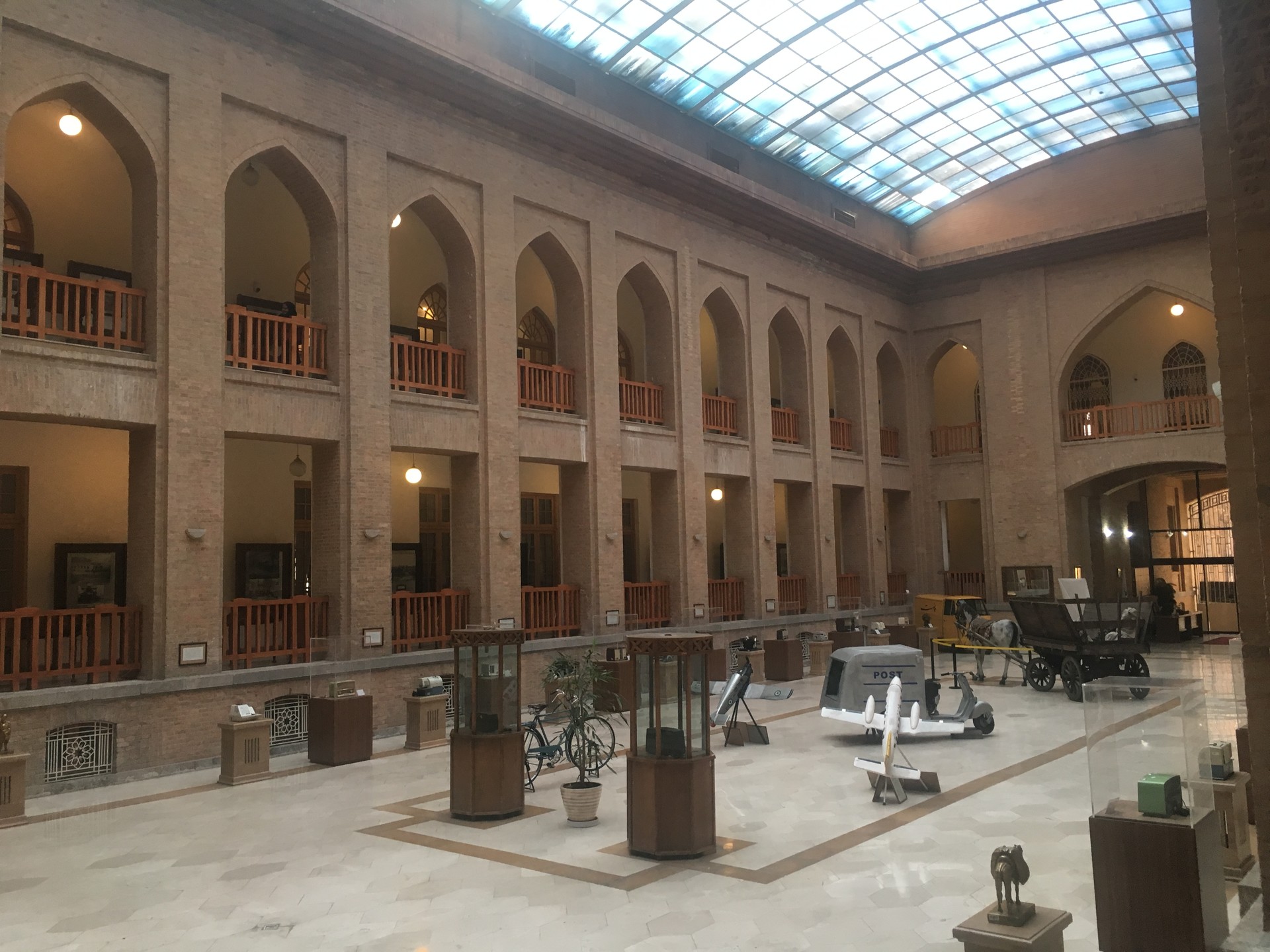 An actual picture of a post office during the "Qajar" period, they are actually weighing and sealing the postal packages. Don't you just love the way they used to dress, I mean look at those hats, and they are all so in style.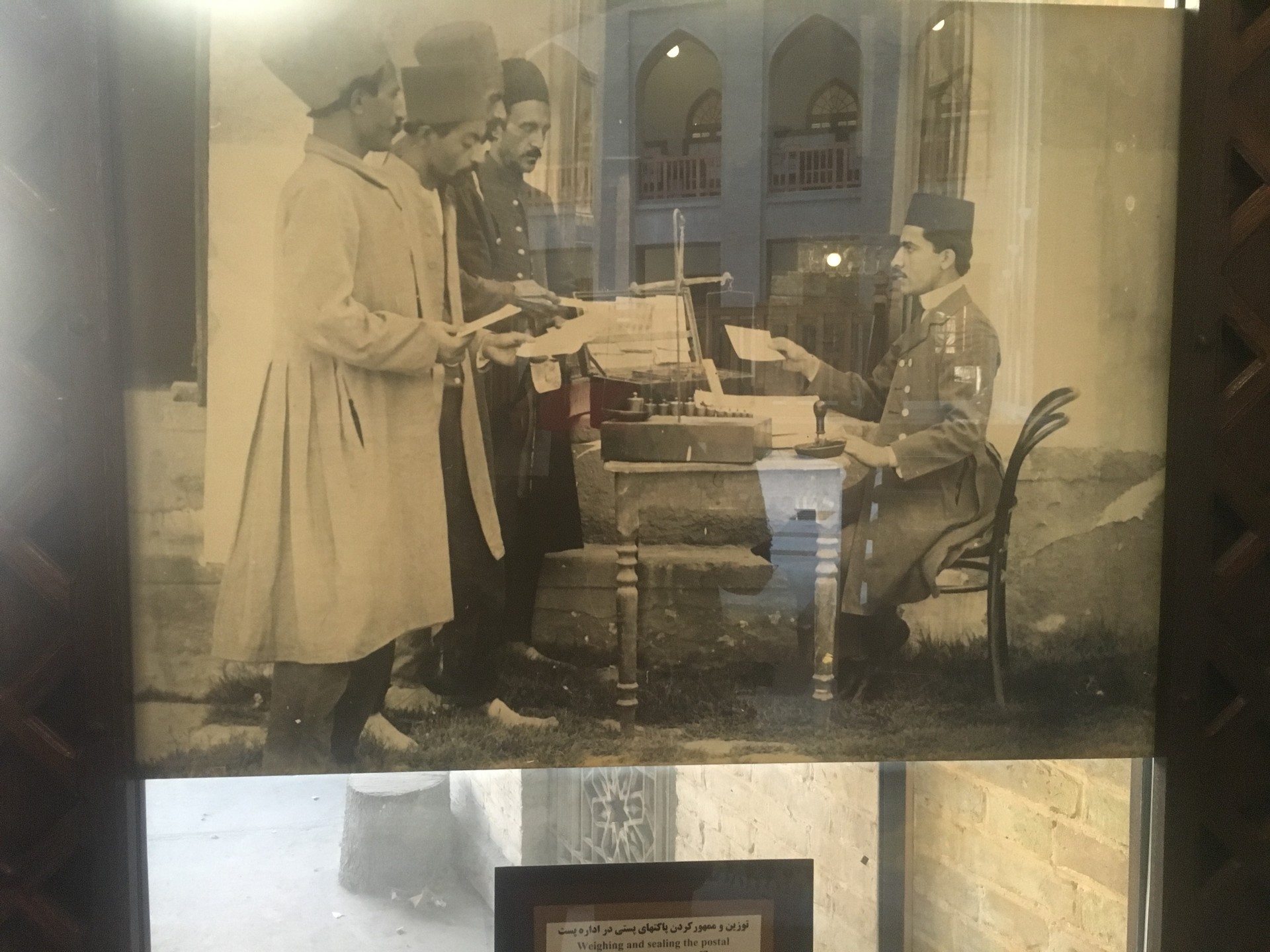 There is a room in the museum next to the replica of the post office during the "Qajar" dynasty, which I tried taking pictures of but the sun ruined all of my shots. Anyways the room has a picture of every communications and post minister up to today, the room was filled with photographs with every minister's details. I don't think it's that interesting for you guys so I'm not going to explain any further.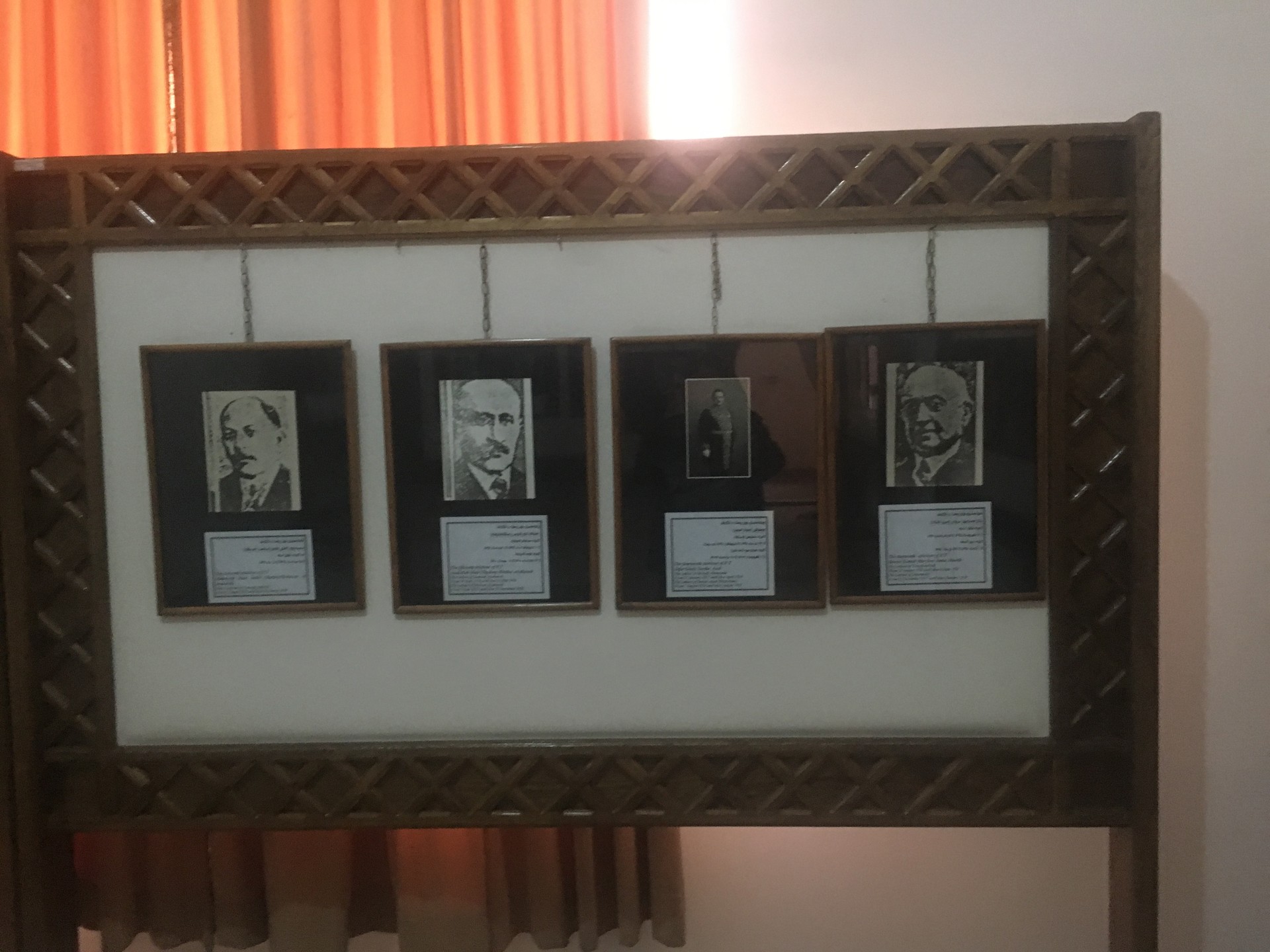 Another picture from the first floor, I seriously love these windows and their balconies, they make me feel so alive, they are so lively I don't know how else to put it.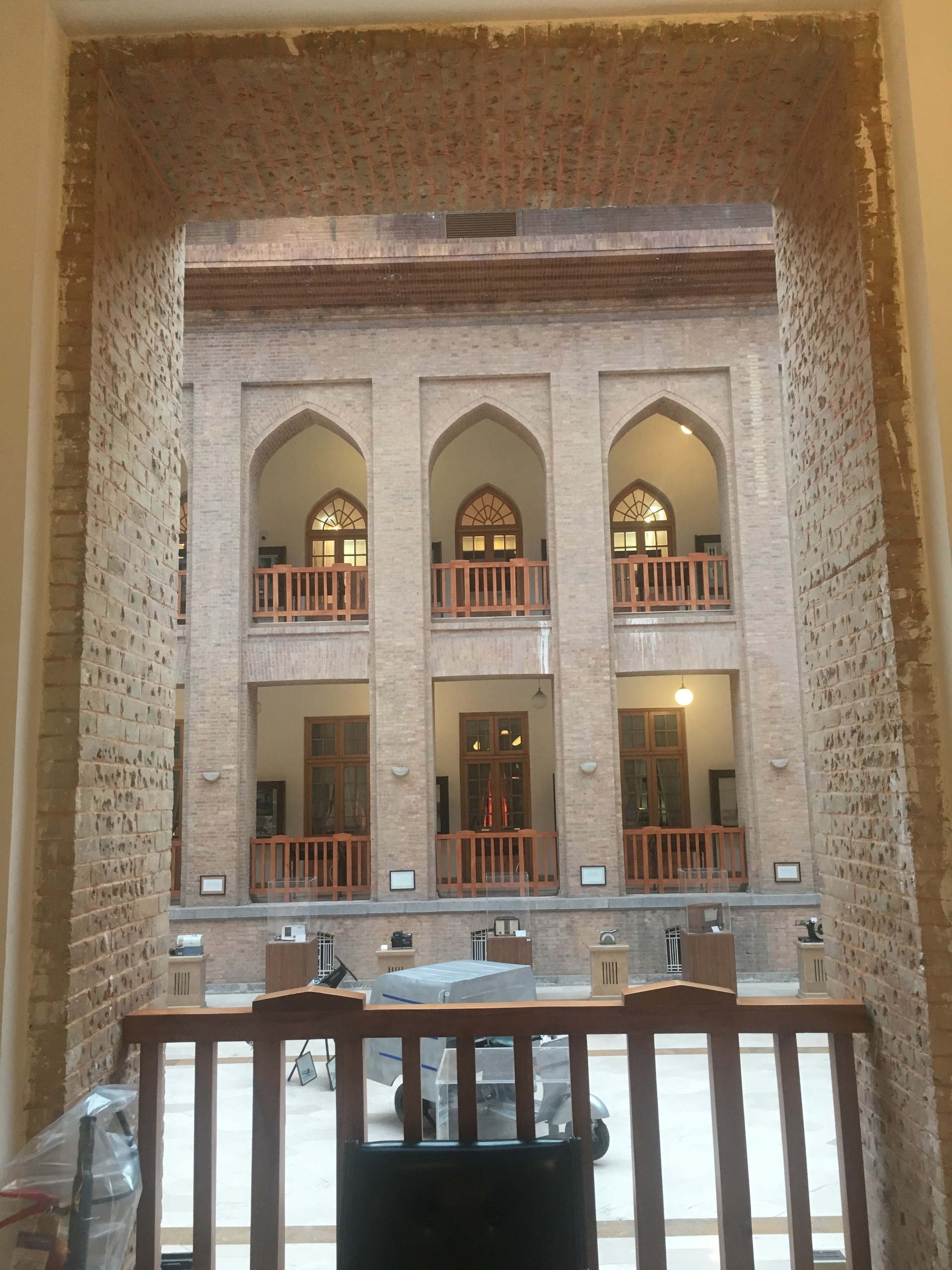 An old photograph of the post building back then when it was constructed.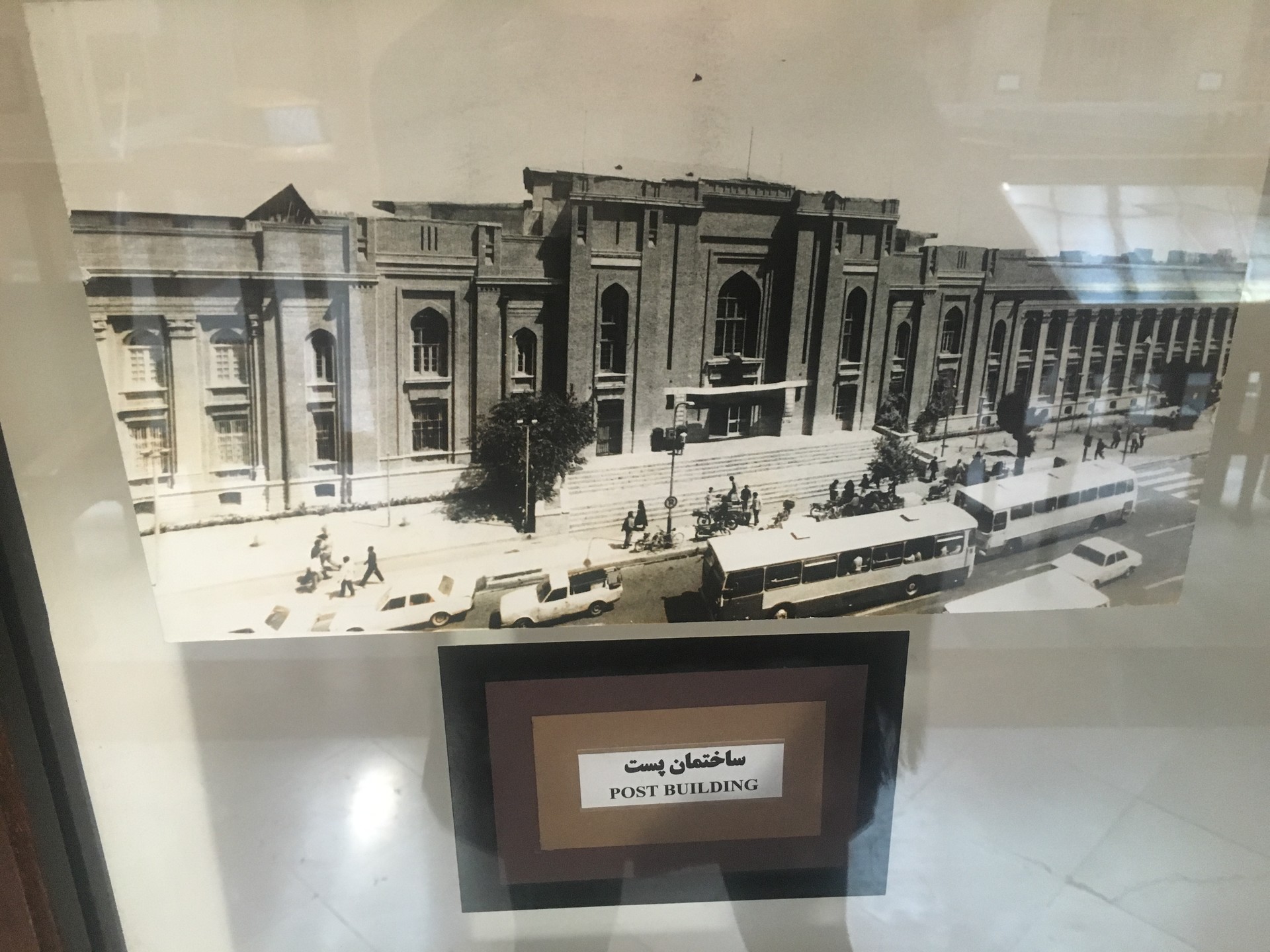 And my personal favorite, an old type writer, seriously type writers are my personal favorite.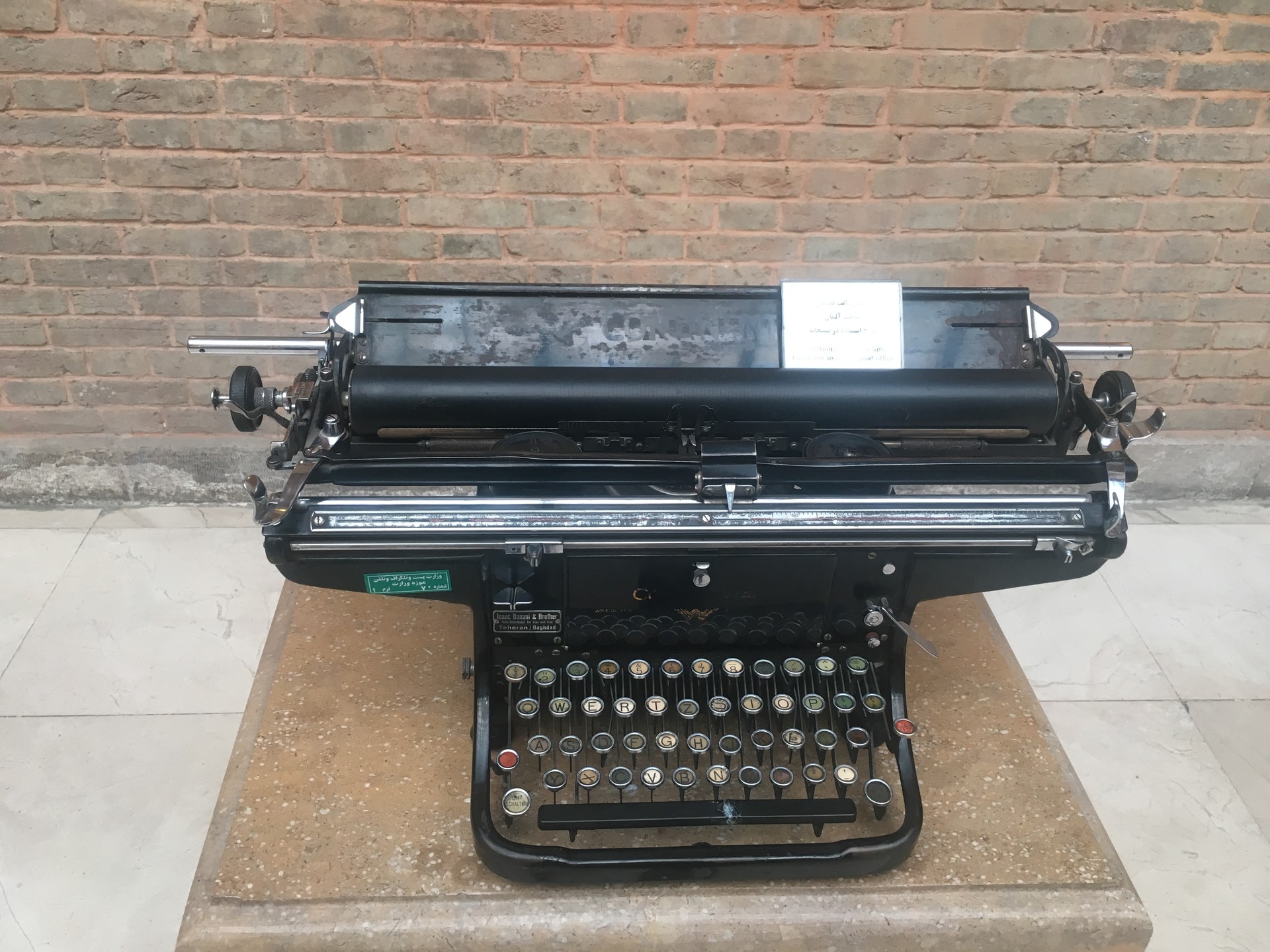 A postal machine used during the Qajar period, back then road thieves (Brigands) were a real trouble for the post offices, often thieves were hiding and waiting for these cars to arrive so they can rob them. This other photograph shows this tragedy, the thieves have stolen the whole postal caravan and killed the post men.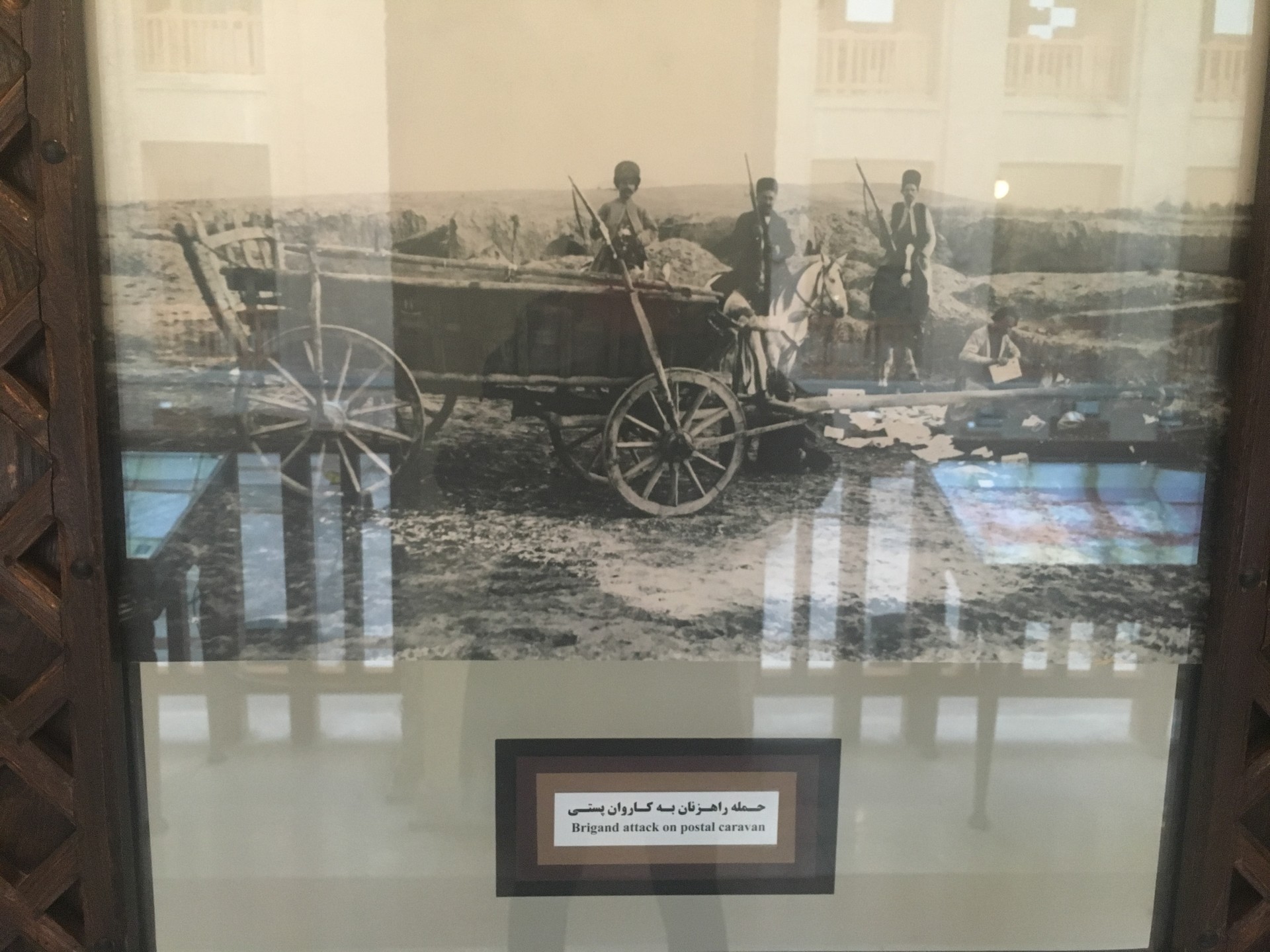 These new few pictures are from the telecommunications hall located on the second floor of the museum. My personal favorites are these old telephones, they are absolutely adorable.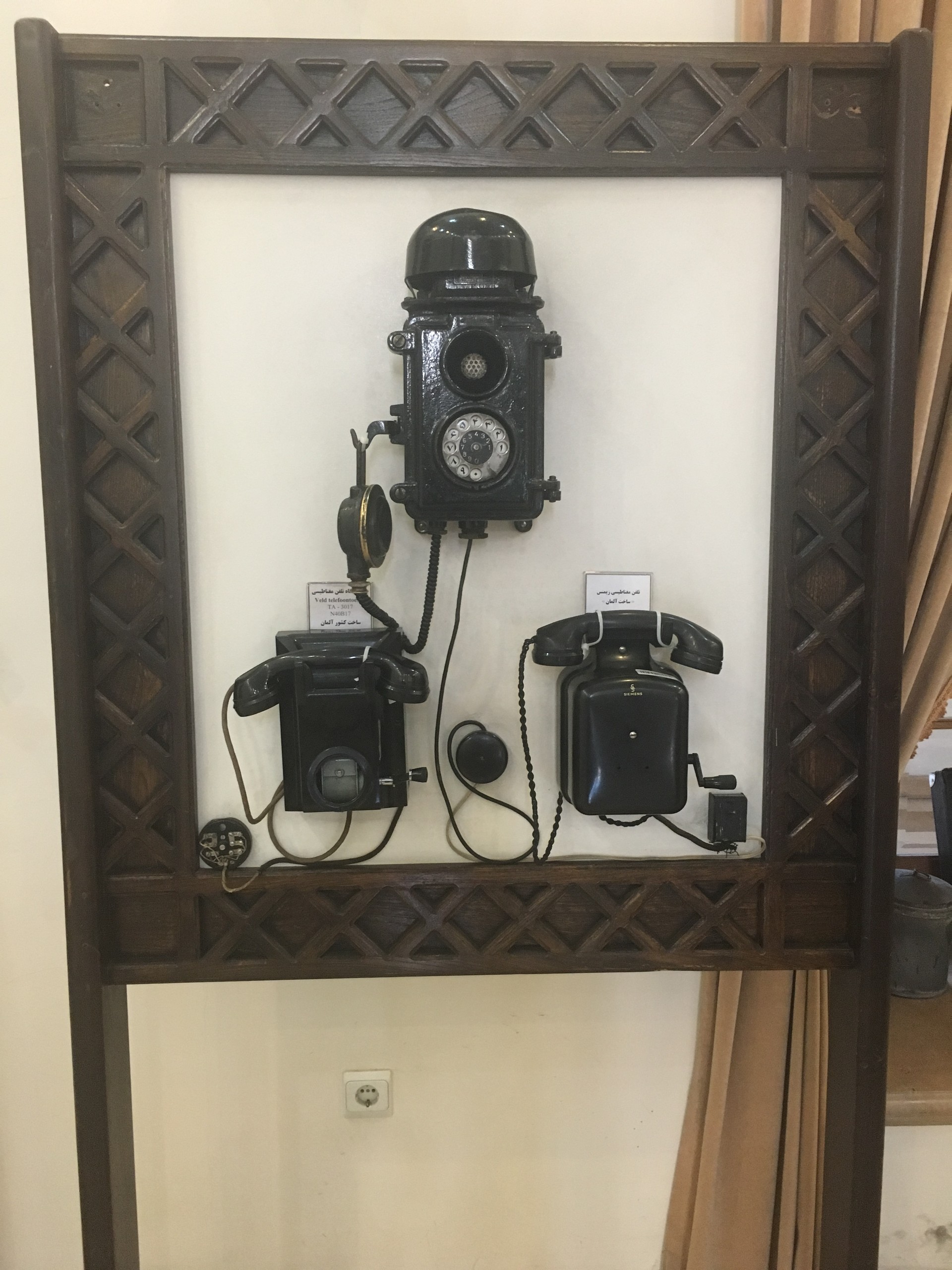 The next hall was the stamp collection hall; it was truly outstanding I was surprised at how many stamps were there. There was a stamp collection from almost every country in this world man and they were all categorized so neatly and nicely. I was impressed, although I did not photograph each case.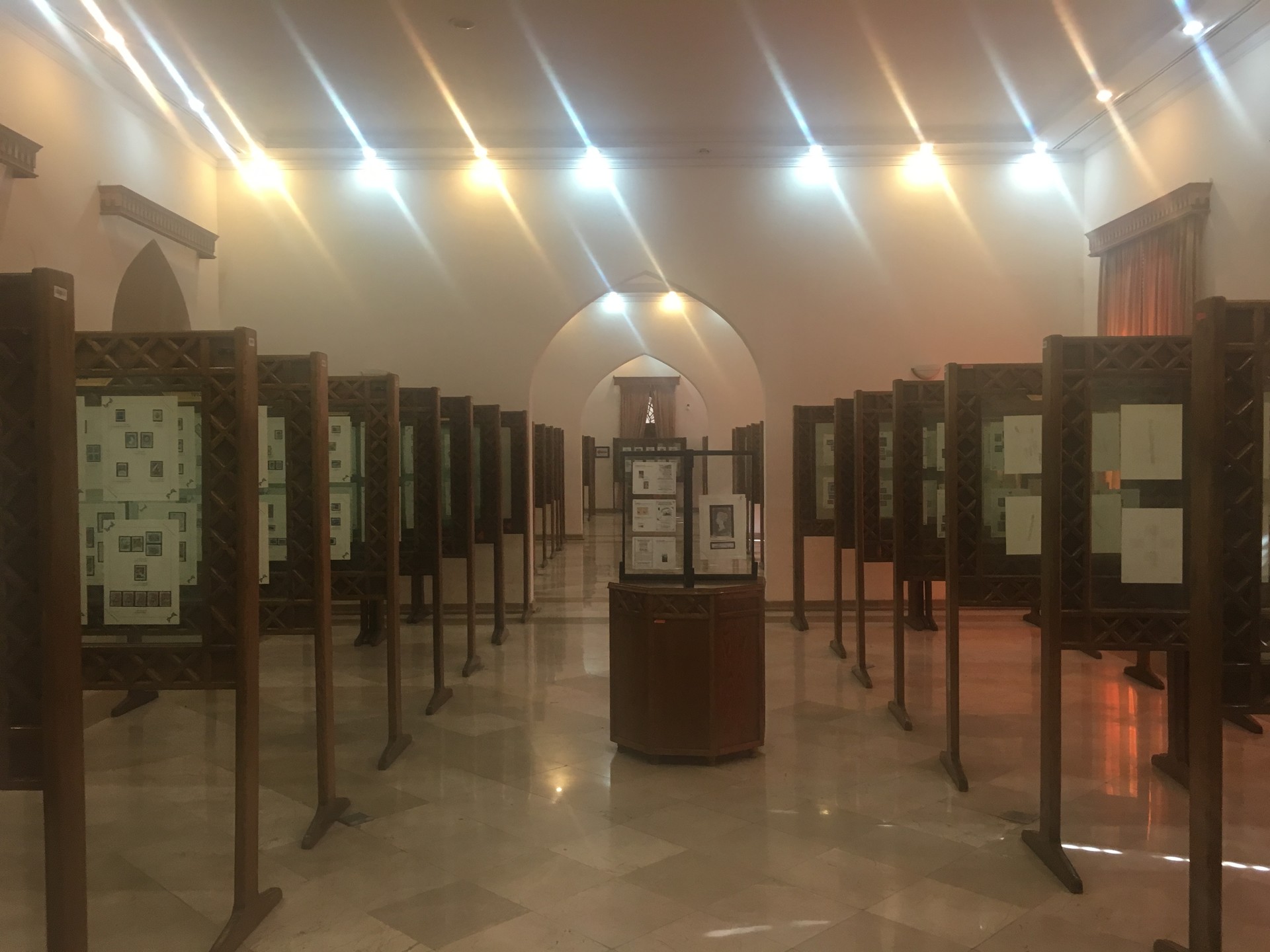 After making sure I have seen every section of the museum I headed downstairs to get ready and head out. I definitely did not expect to like this museum at all but it turned out it is much more interesting than I thought. I definitely appreciated the style of the museum and the behavior of the staff, they were super friendly fellows. I took my bag out of the locker they provided for me and thanked them, my day was only beginning, I had to head out and go to the next destination on the list.
Stay tuned for the second piece.
Cheers
---
Photo gallery
---
---
Content avaiable in other languages
Want to have your own Erasmus blog?
If you are experiencing living abroad, you're an avid traveller or want to promote the city where you live... create your own blog and share your adventures!
I want to create my Erasmus blog! →