Iran's palaces: The Saad Abad complex (pt.2)
The green palace:
Okay so I'm sure you all have been excitedly waiting for the second part, don't burst my bubble please. For those of you who haven't read the first part, here's a link to check it out: ( the Saad Abad complex (pt. 1) ). Now upon leaving the first palace, as known as the white palace, I asked the tour guides there on how I can get to the "Green palace", she told me you can either get a ride on the van for a small cost or just walk there. So when she said walk, I imagined like 5 minutes of walking, not that much. I mean the weather was nice and I had good company (The Dutch airline crew) to talk to and they were quite nice conversationalists but man that walk was long. It was also uphill so such a good leg day I guess, I actually felt sore the next morning.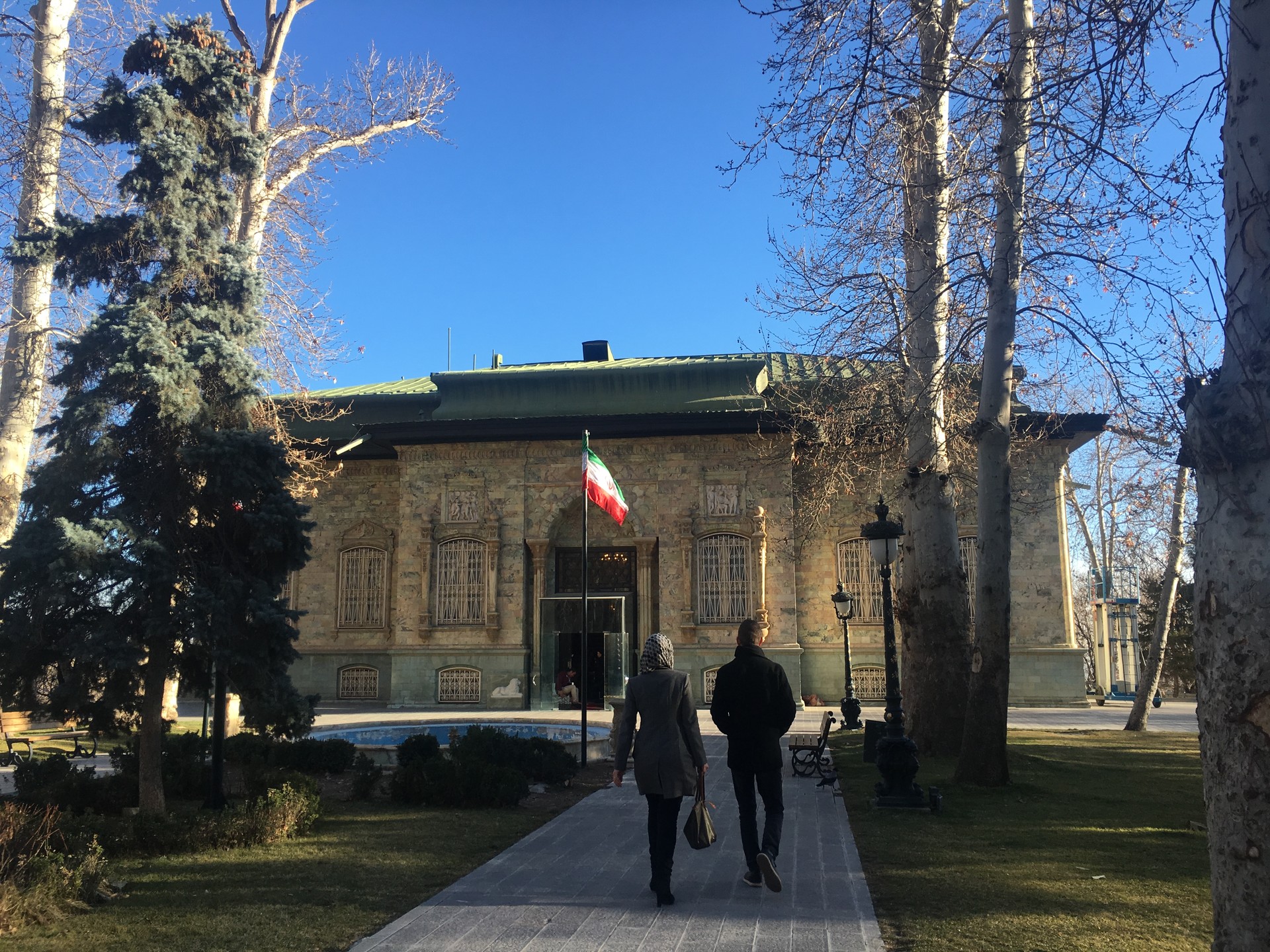 (The green palace from a distance)
Enough ranting about my athletic physique, here's a little background information about the green palace. The reason I consider background information super vital is that without it this is just a pretty building with cute furniture, it's as if there is neither story nor no history behind it. This palace belonged to Reza Shah aka Mohammad Reza shah's dad. He lived and worked there for many years. This palace is situated at the North West side of the Saad Abad complex; it took about seven years to build this palace. The outside of the palace has been designed with rare green marbles from mines in Iran, hence the name of the green palace. This palace has only two floors, and during the reign of Mohammad Reza Shah it was used as a place for foreign guests to stay in, one of the notable guests could be Jimmy Carter the former United States president.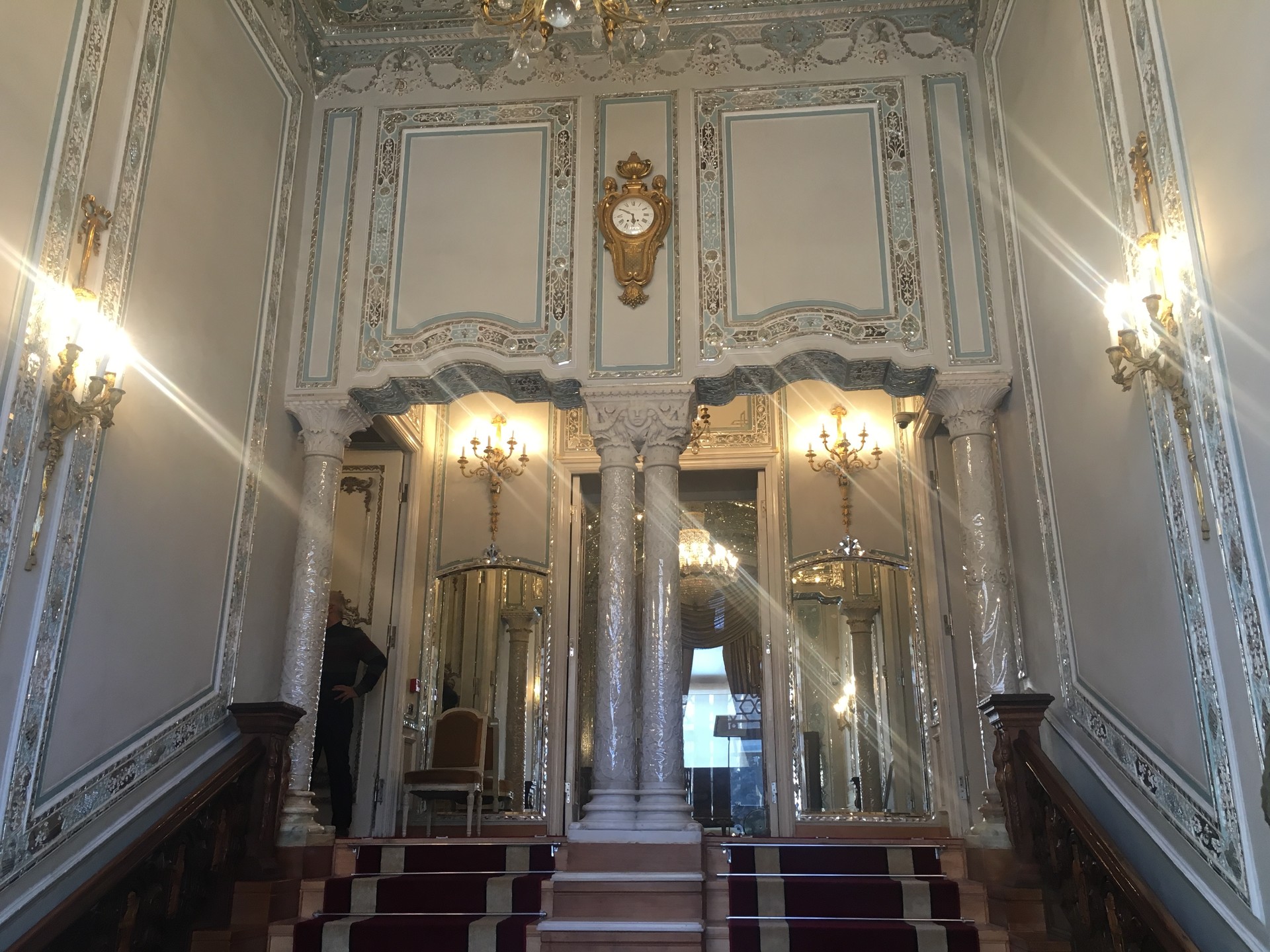 (The staircase)
Now let's some of the rooms of this palace and how totally I wish I lived there, after climbing up the stair case you can see the very famous "Mirror hall", this hall has mirror works on its wall and even the ceiling, this is a very original type of Iranian artwork and this hall's mirror works has taken over 4 years to do. The curtains here are of silver and the carpet is over 70 meters, I mean just wrap your head around that, silver curtains.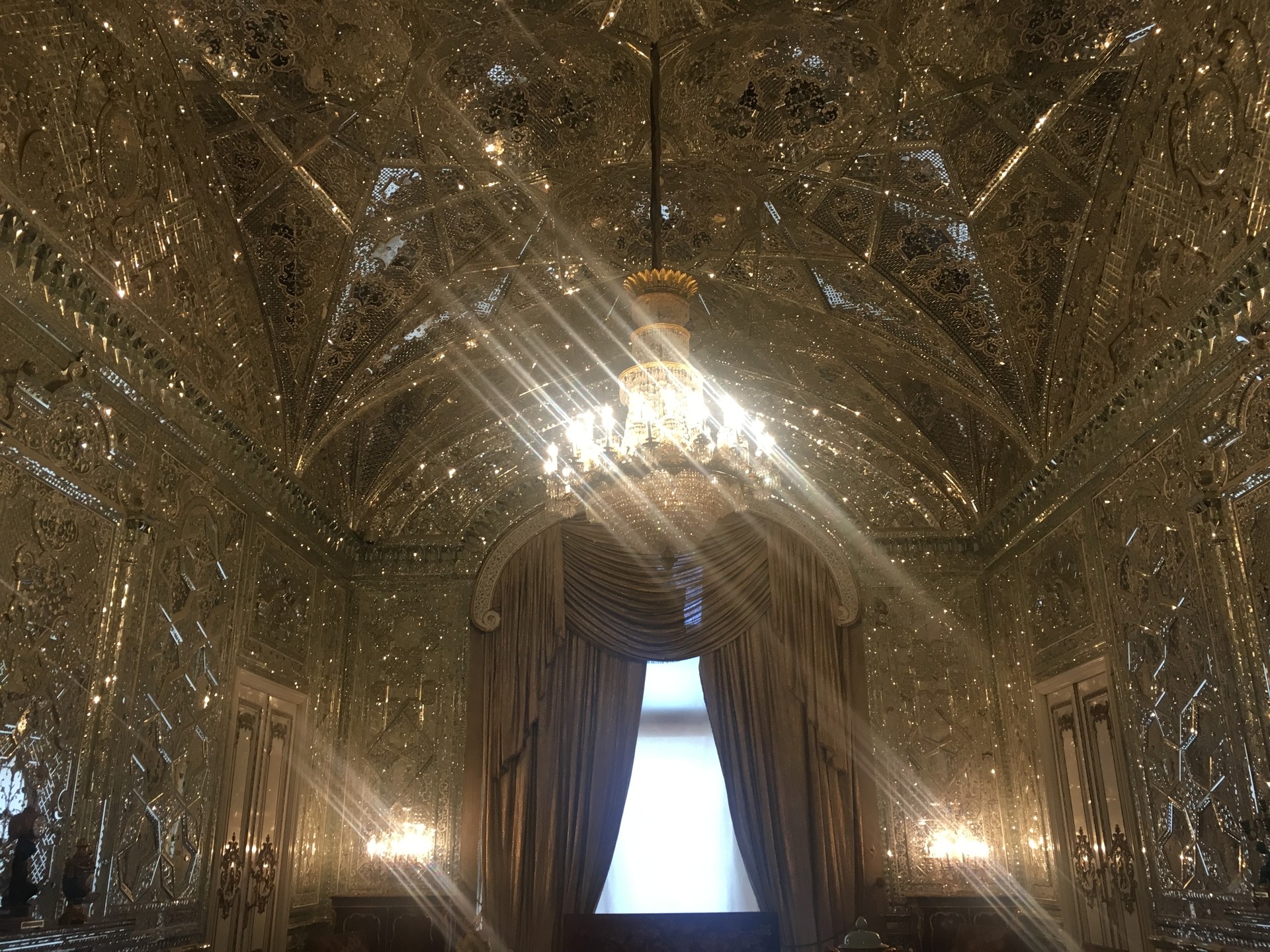 (The mirror hall)
(A proper shot of the mirror hall)
This one is Reza Shah's office, please notice how badass I am that the sign is saying taking pictures is forbidden and I'm still taking pictures. No I'm kidding I asked for permission to take pictures and the tour guide was nice enough to let me. The photograph there is a photograph of Reza Shah himself. I couldn't get a good shot of his office sadly.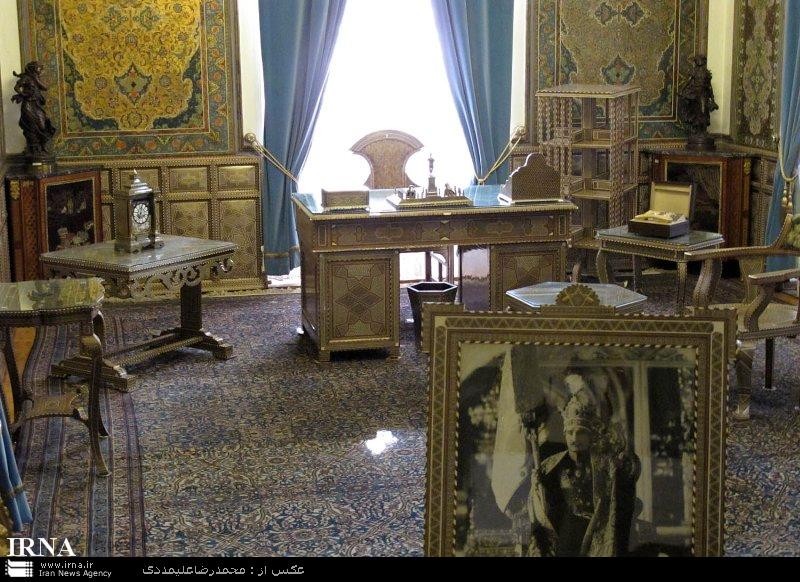 (The shah's office)
This one is the sitting hall, just look at the ceiling and the chandelier, how truly majestic. The ceiling work must have taken ages to finish. Now the cutest part of the palace, the Shah's bedroom; the walls and the ceiling has mirror works, such beauty. But the most shocking part is that the design of the ceiling is same as the design of the carpet on the floor; like they have actually painted the design of the carpet on the ceiling, very marvelous.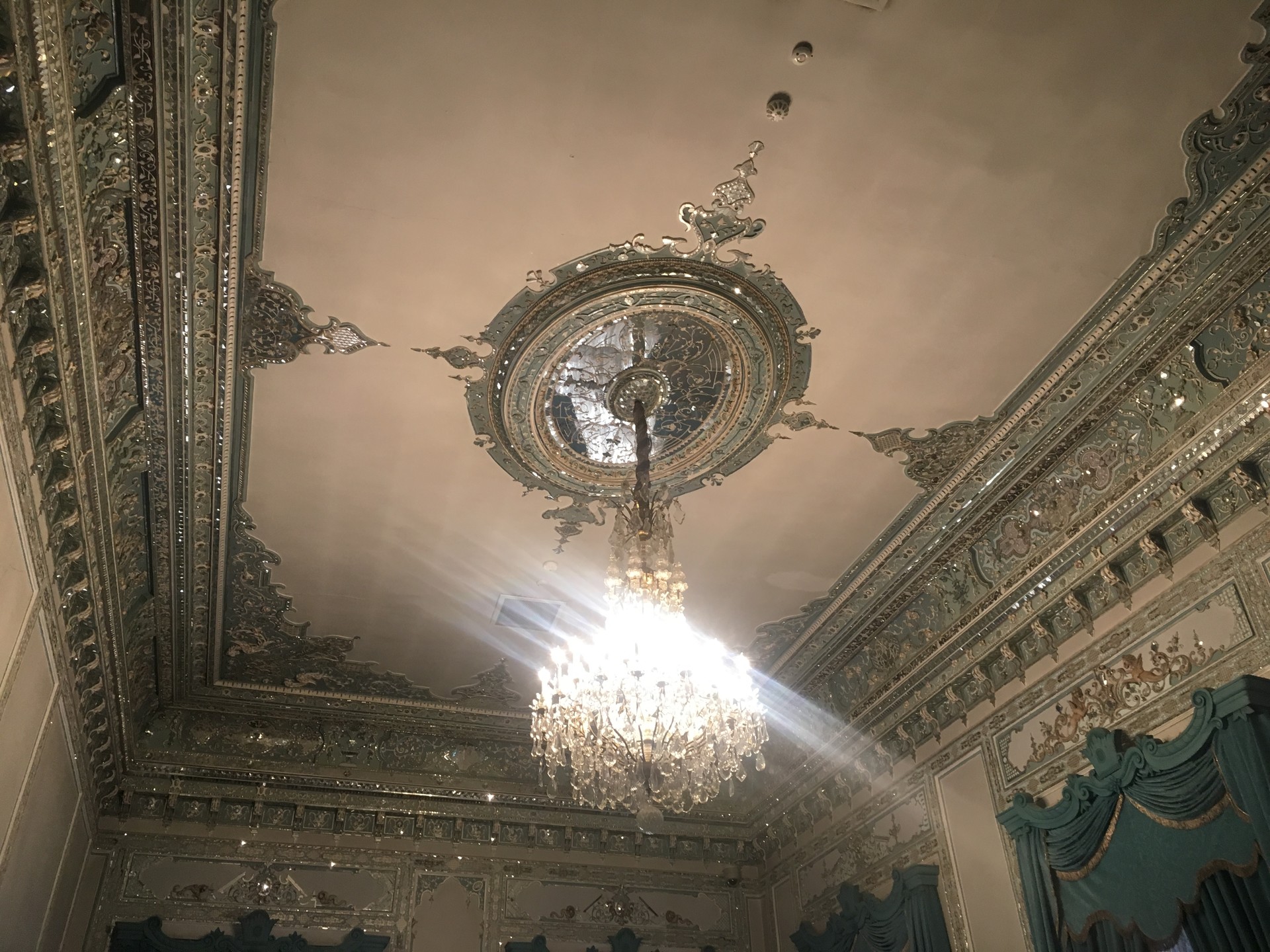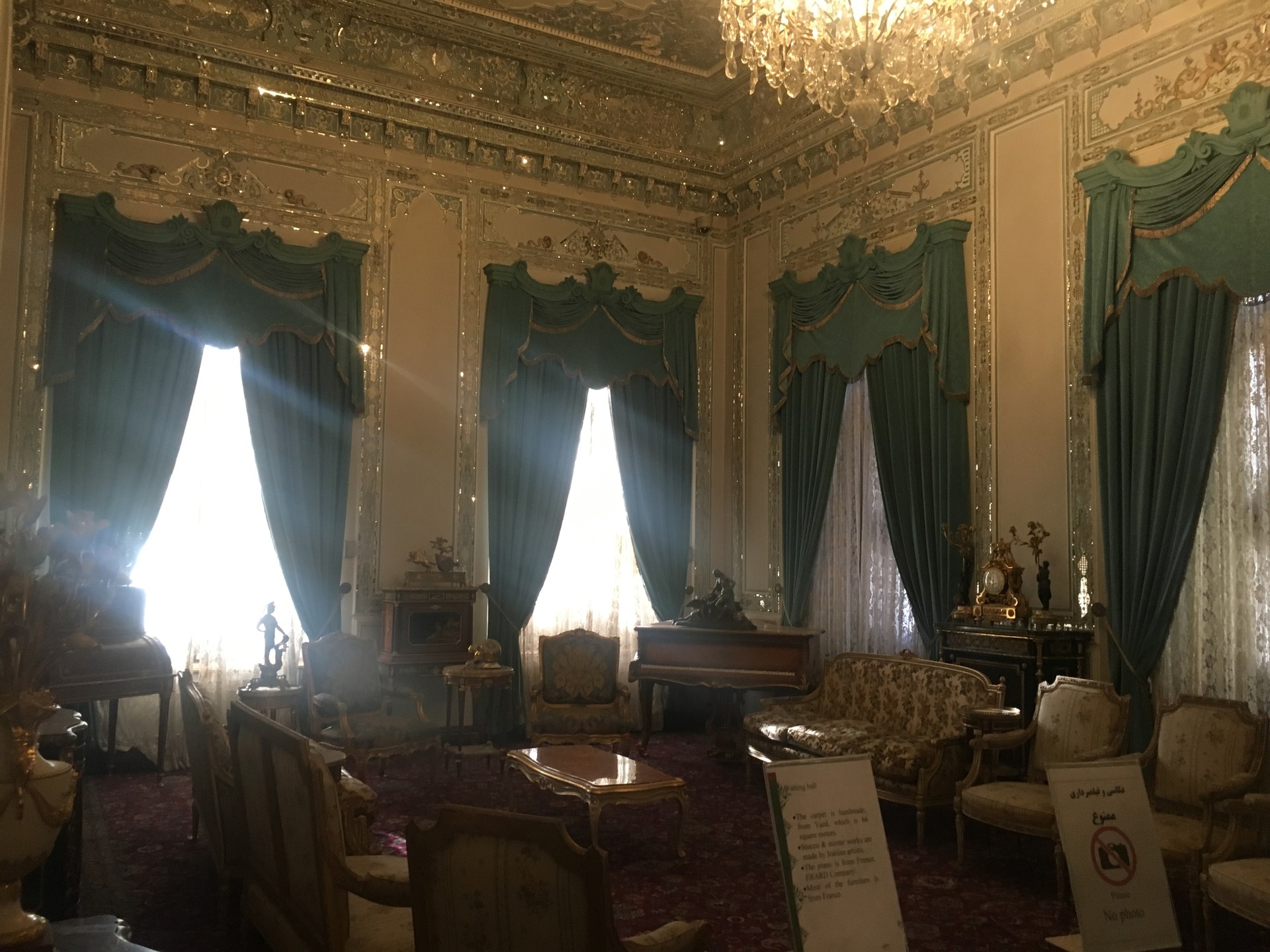 (The sitting hall and its chandelier)
Another fun fact is that there was no bed in the original bedroom, as Reza Shah insisted on sleeping on the floor, army habits die hard. (Reza Shah used to be an army man before becoming a king). After the redecoration done by Mohammad Reza Shah the bed was added to the room. The bathroom (The lavatory) was rebuilt in 1970 made up of marble.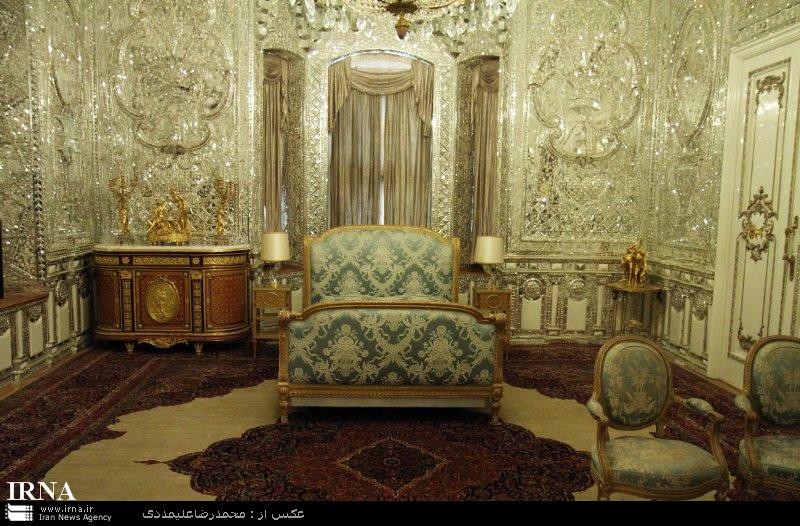 (The Shah's bedroom)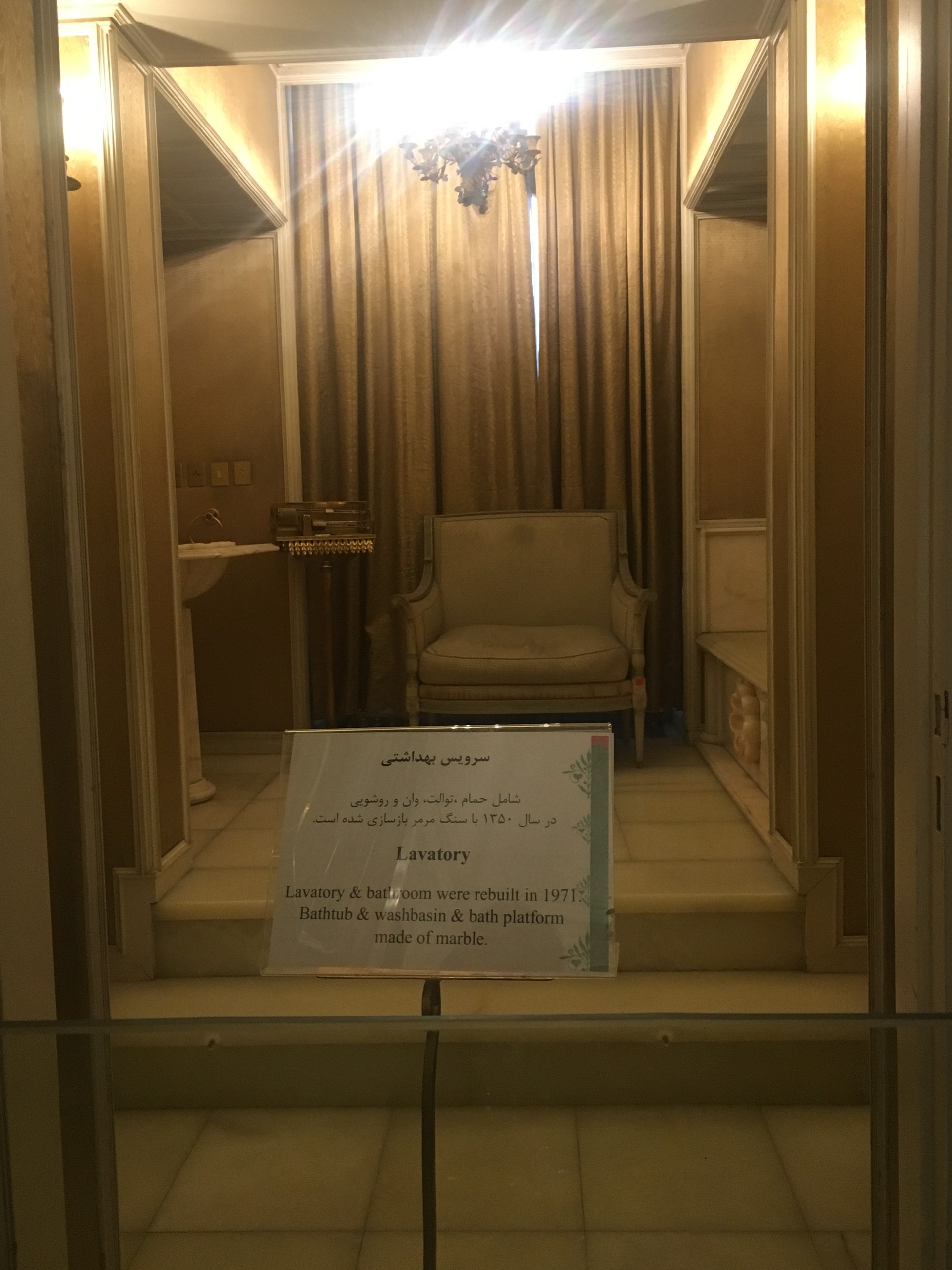 The lower floor was used as a basement during Reza Shah's reign it was later on turned into a reception hall, two bedrooms and a dining hall for foreign guests. This is pretty much it on the green palace.
The Omidvar brothers museum:
Okay so this museum is only located inside of the Saad Abad complex but doesn't have much to do with the Pahlavi dynasty. This museum is from two Iranian world travelers who travelled across the globe to spread the message of peace and unity. Their motto was actually that "Everyone is different, everyone is related". Their names were "Eisa Omidvar" and "Abdollah Omidvar" born only two years apart from each other. Their museum contained their collection of findings and gatherings. Given how much I was into the Pahlavi and their lifestyle and everything, I just quickly went through this museum because I wanted to go and see more related stuff but as I was about to leave I realized this is probably the only time I'm going to get to visit this museum so I better take a good look and understand everything.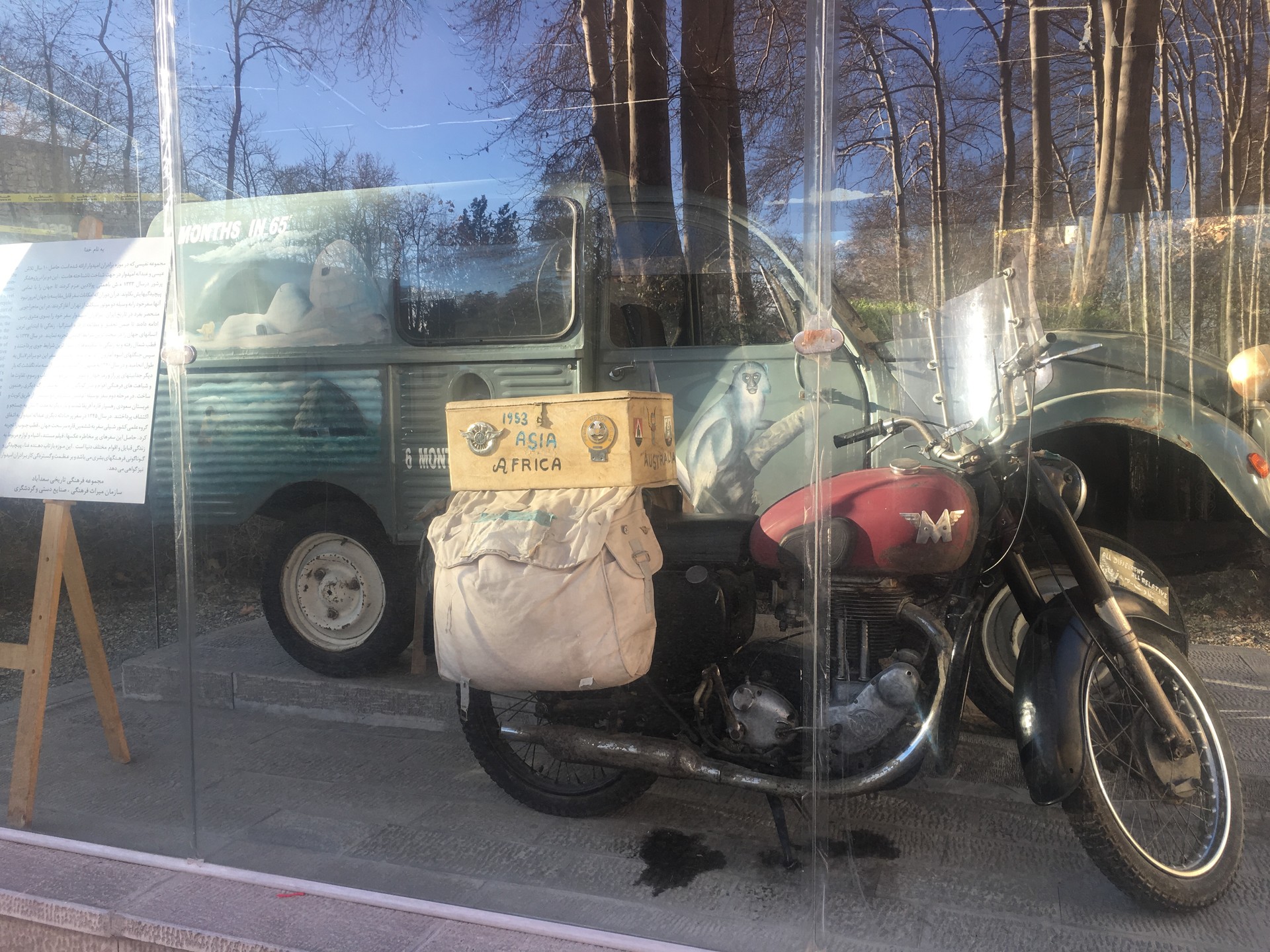 (Their motorbike and car that they used during their travels)
So the museum place originally was a place for holding carriages and a resting area for carriage drivers during the Qajar dynasty. So now the Omidvar brothers travelled around the world for 10 years, when they first started they only had about 90 dollars in their pockets. By making exhibitions of their souvenirs, writing articles and giving speeches in world famous universities. At the end of their 10 year travels they created a 16 hour documentary that was played for 10 years straight in a cinema; they were quite famous by the end of their travels.
This first picture shows their cameras, sunglasses, passports and some more personalized items.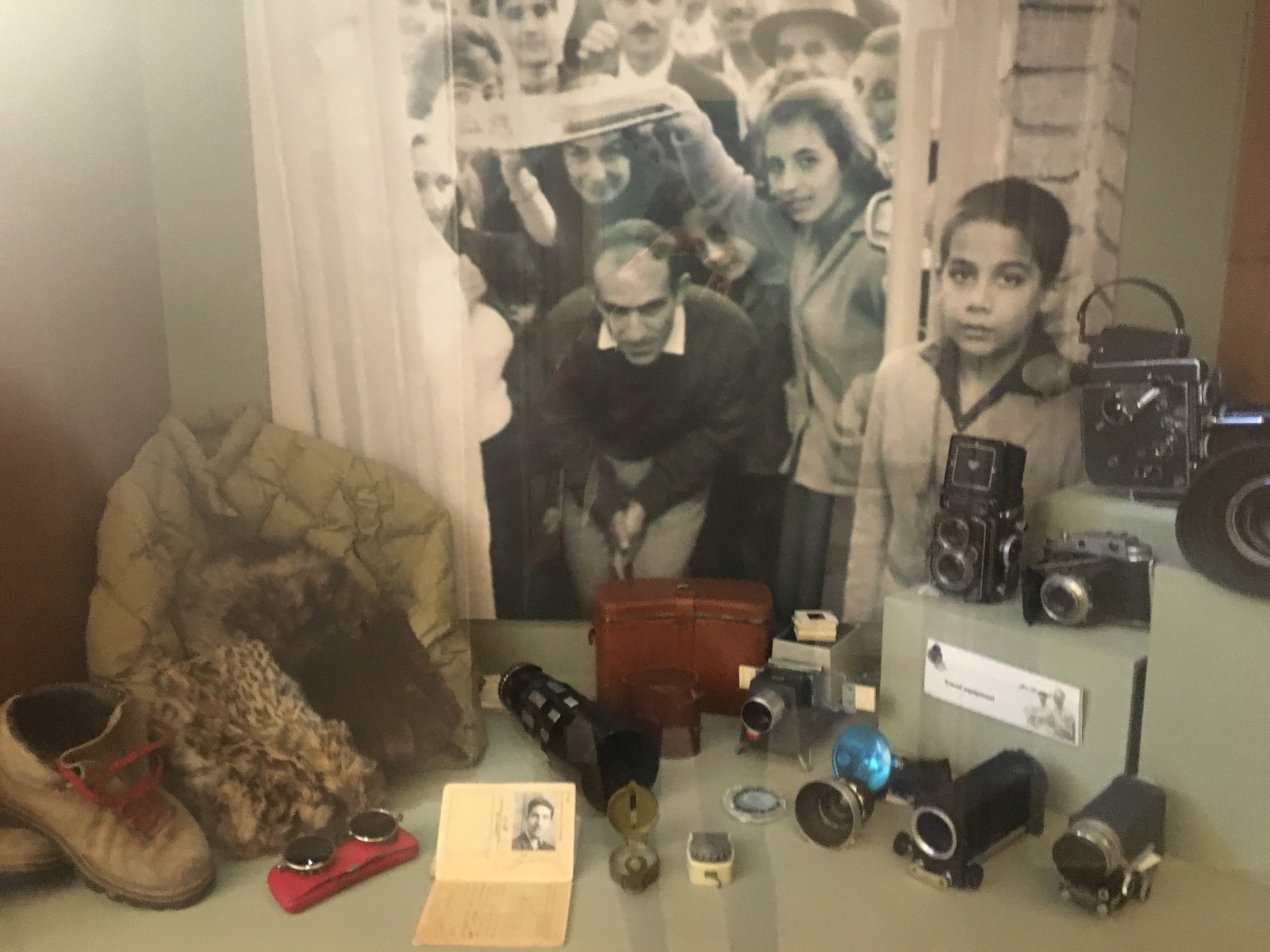 One of their gatherings, a collection of skulls from the biggest which is a gorilla skull, chimpanzee skull, a monkey skull and part of an elephant seals. These skulls are of African origins.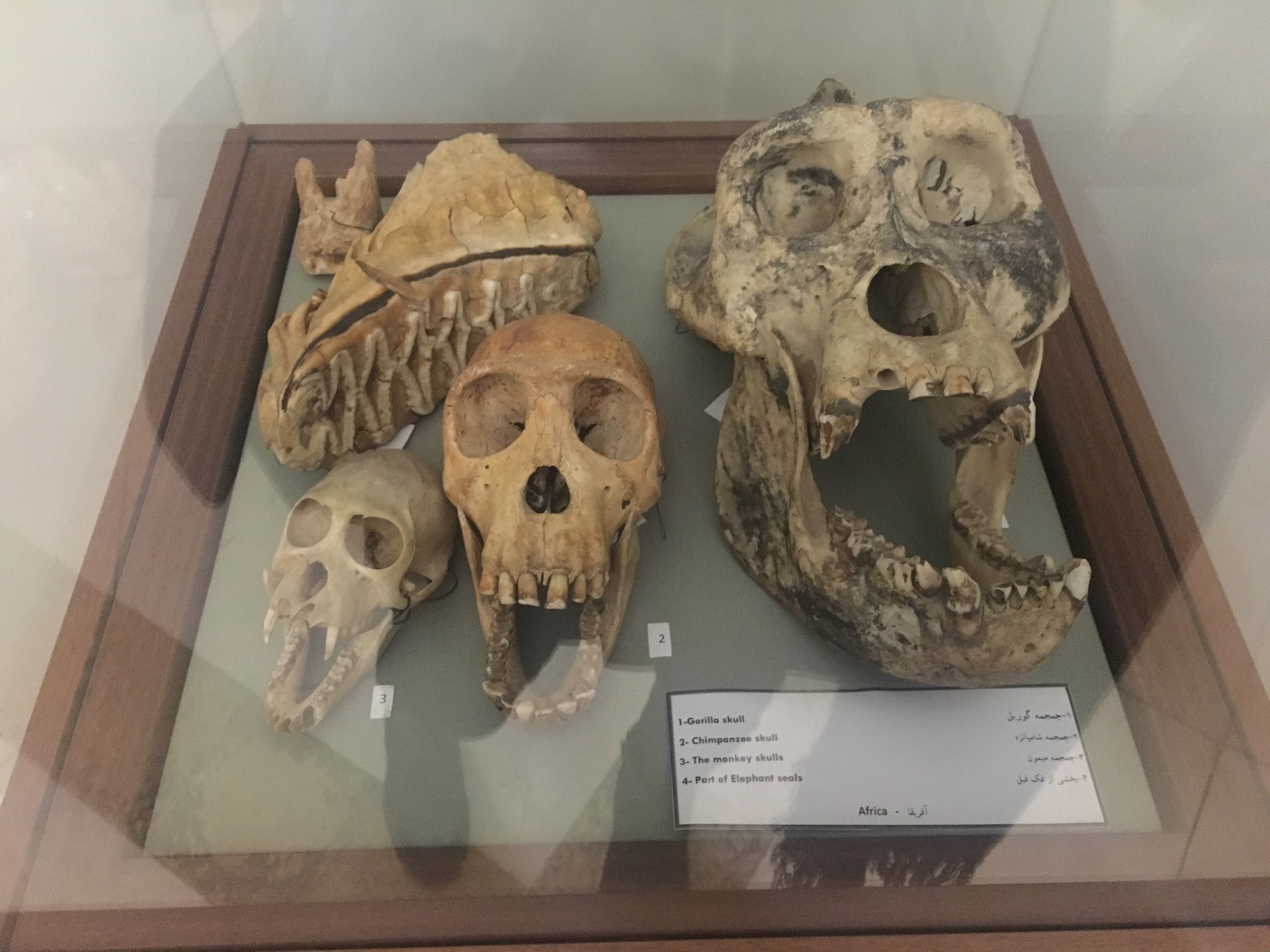 A picture of the Omidvar brothers, 7 years of their journey was performed on two motorbikes.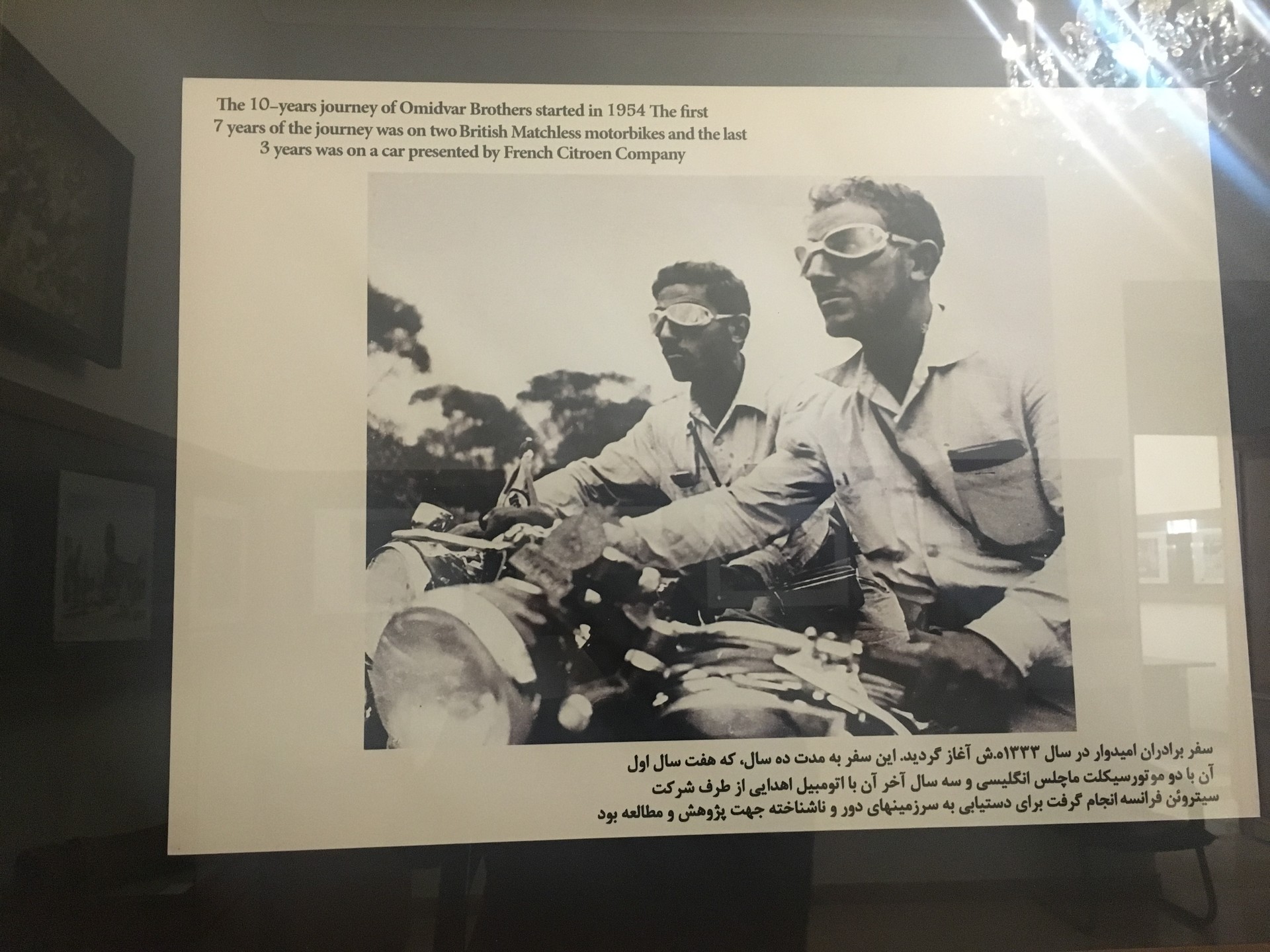 The Omidvar brothers on the Amazon River after hunting of a tapir.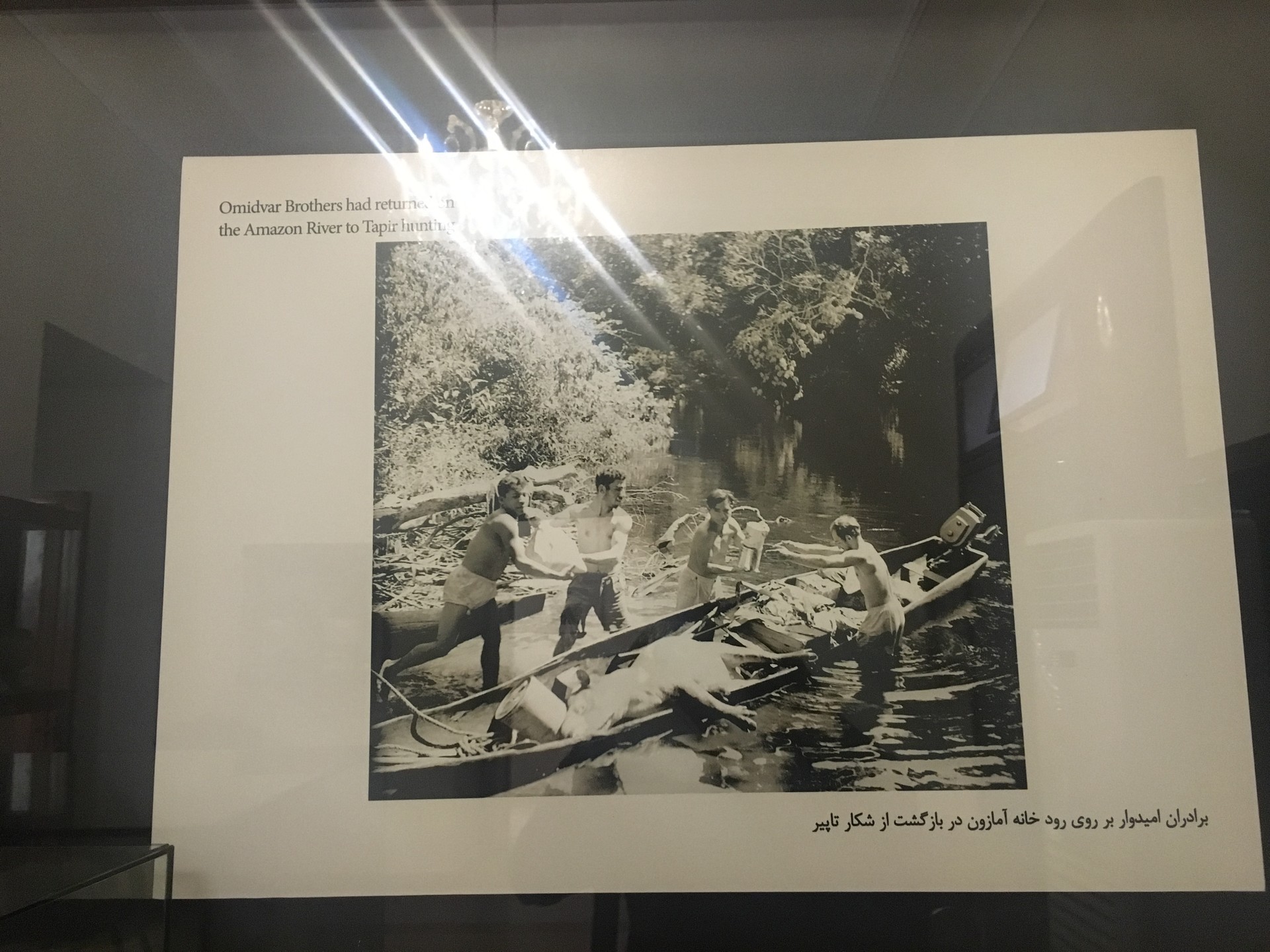 The Omidvar brothers in Paris next to the Eiffel tower.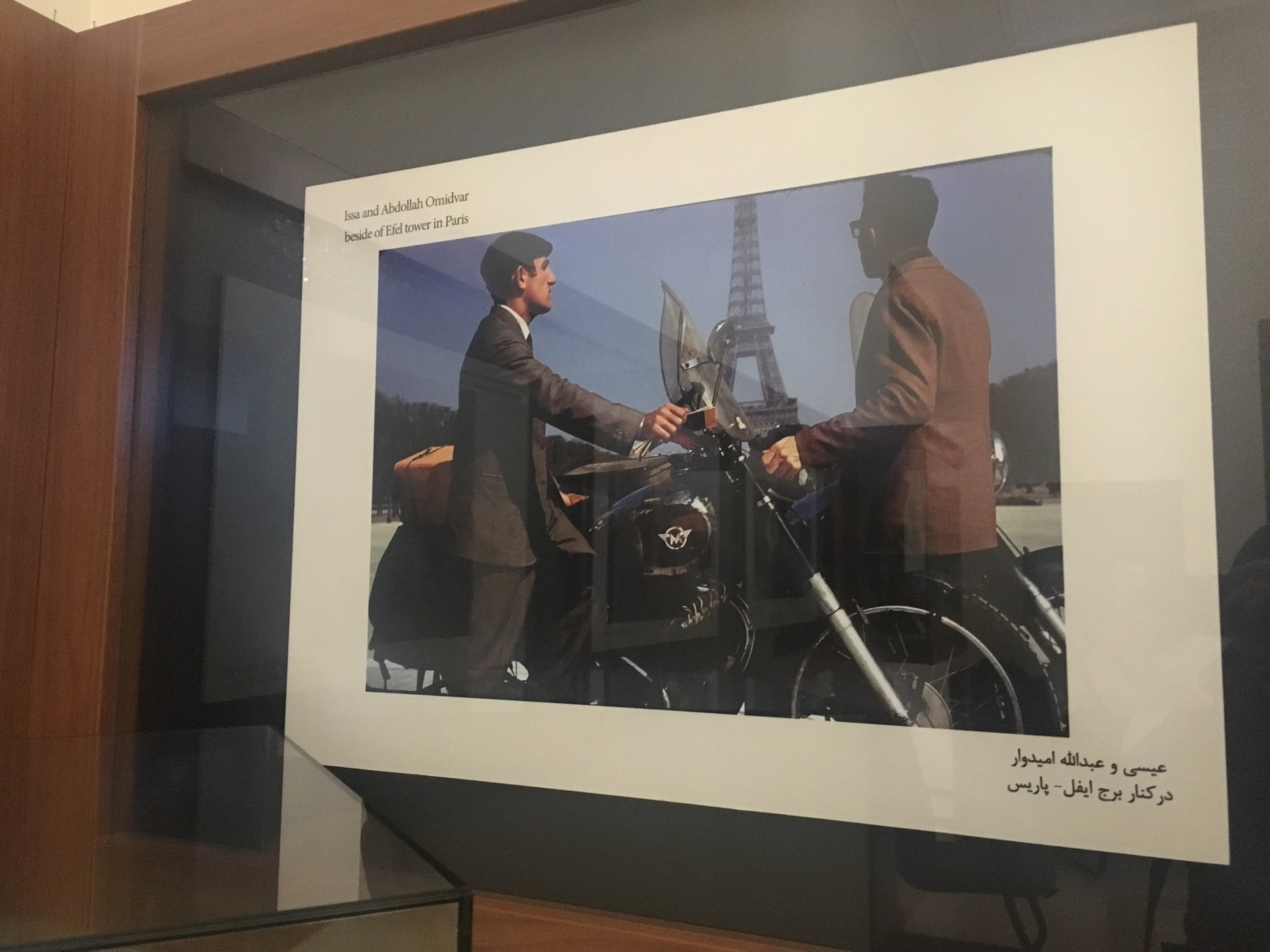 Royal car museum:
Okay so this is pretty much it on the Omidvar brothers museum, next up we have the Royal cars museum and oh my god this place was heaven and I'm not even exaggerating this time. I really really enjoyed this museum; it actually contained some of the best antique cars I have ever seen with my own eyes. I'm not even a car person and I found this museum more than fascinating.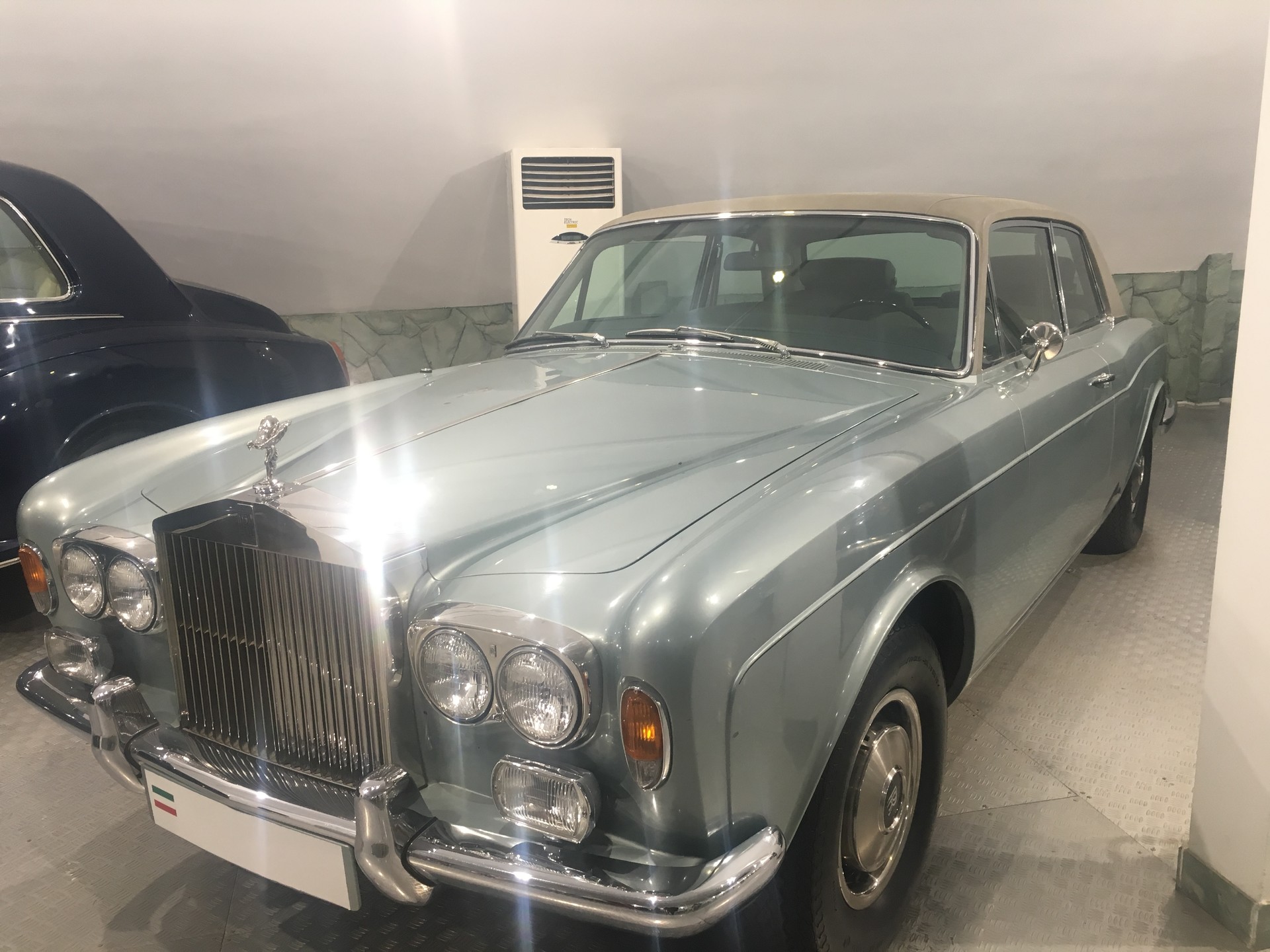 (The car that Mohammad Reza Shah personally used)
It was about a 5 minute walk to the royal car museum, it was around 4 something, the weather was getting chilly and I was only wearing about 3 layers of clothing, I was so not in the mood to freeze, so I walked faster and enjoyed the feeling of entering a warm building.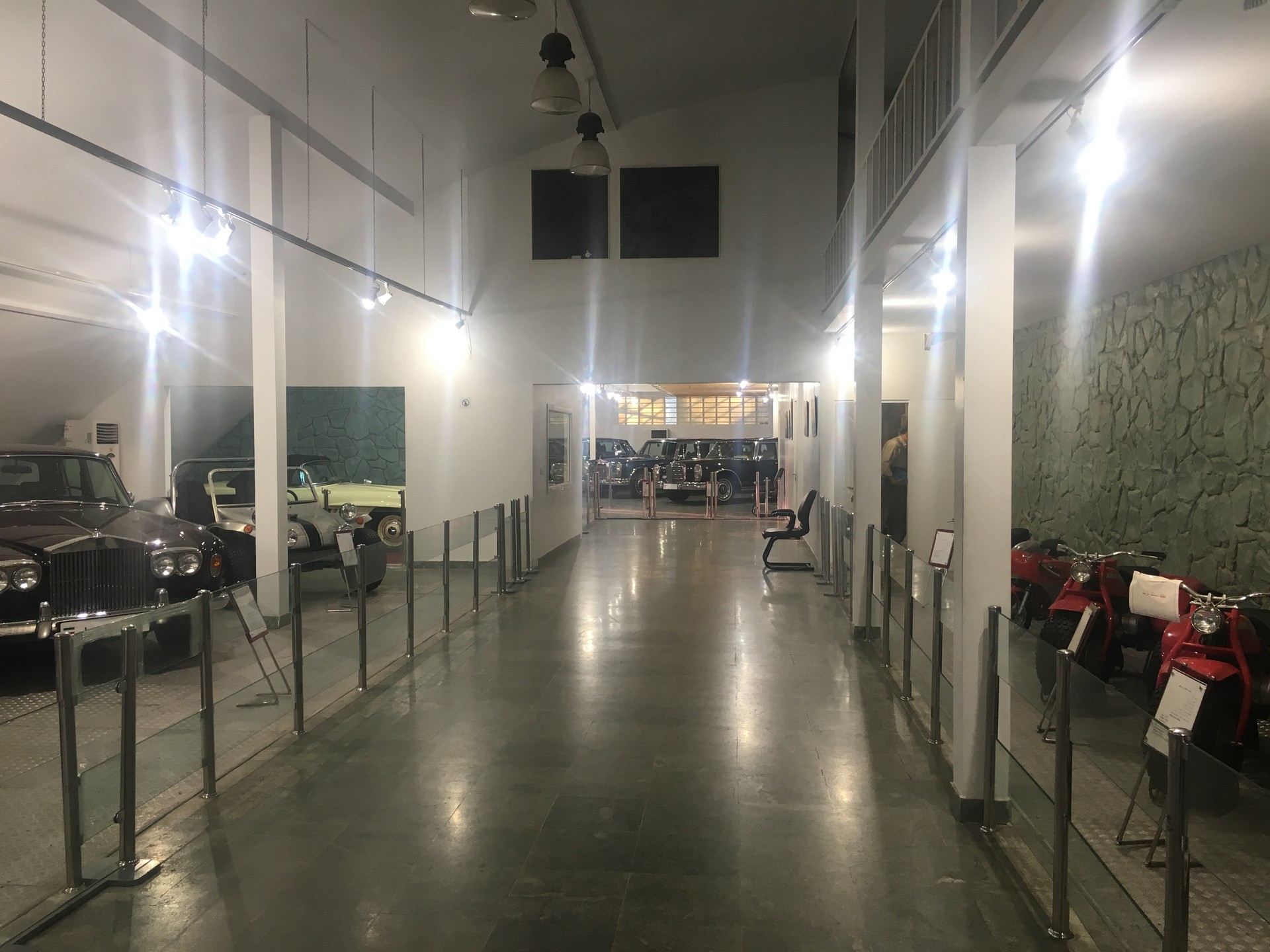 The museum was fairly small and as usual the explanations were disappointing as they were nowhere near detailed enough, so special shout out to Mr. Akbari the tour guide there that spent about 20 minutes walking with me and explaining every single car there. He told me about how he loves his job and how he feels proud that Iran has such priceless antiques within it. I really appreciated his explanations specially after realizing how fascinating they were.
The first car in the museum belongs to Ashraf Pahlavi who was Mohammad Reza Shah's twin sister. This car is from the Rolls Royce company made in England. The car is bulletproof, fireproof and has automatic gear. I mean given no cars had these features back then it makes it all the more interesting.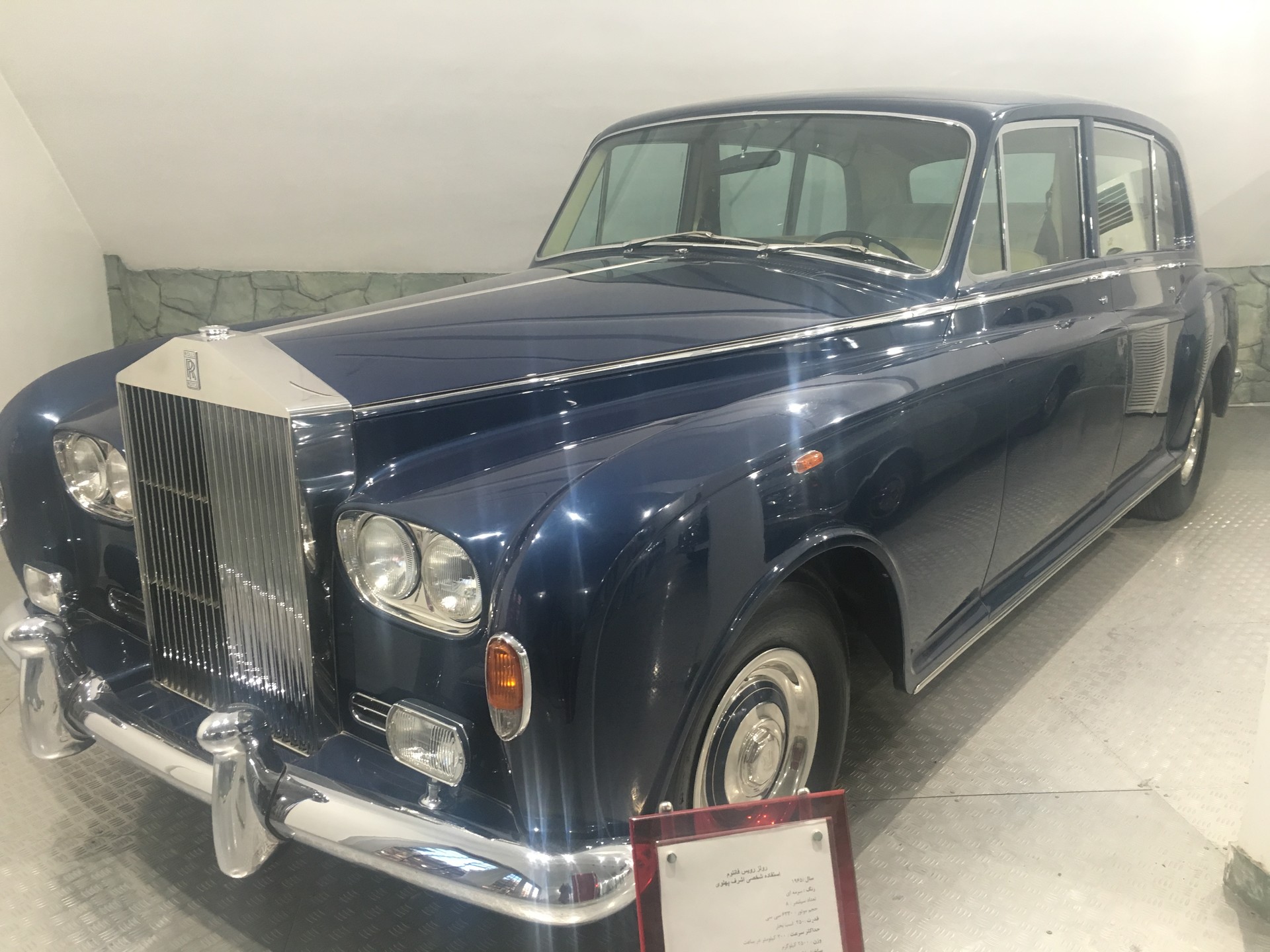 On the right side of the museum, we have the royal carriage which was a gift to Reza Shah upon his coronation from the British ambassador. The inside of the carriage is of complete leather, one that still remains perfectly fine after more than 90 years. It also has the king's crown embedded on it making it look like a 3D crown, I mean who had even heard of 3D 90 years ago?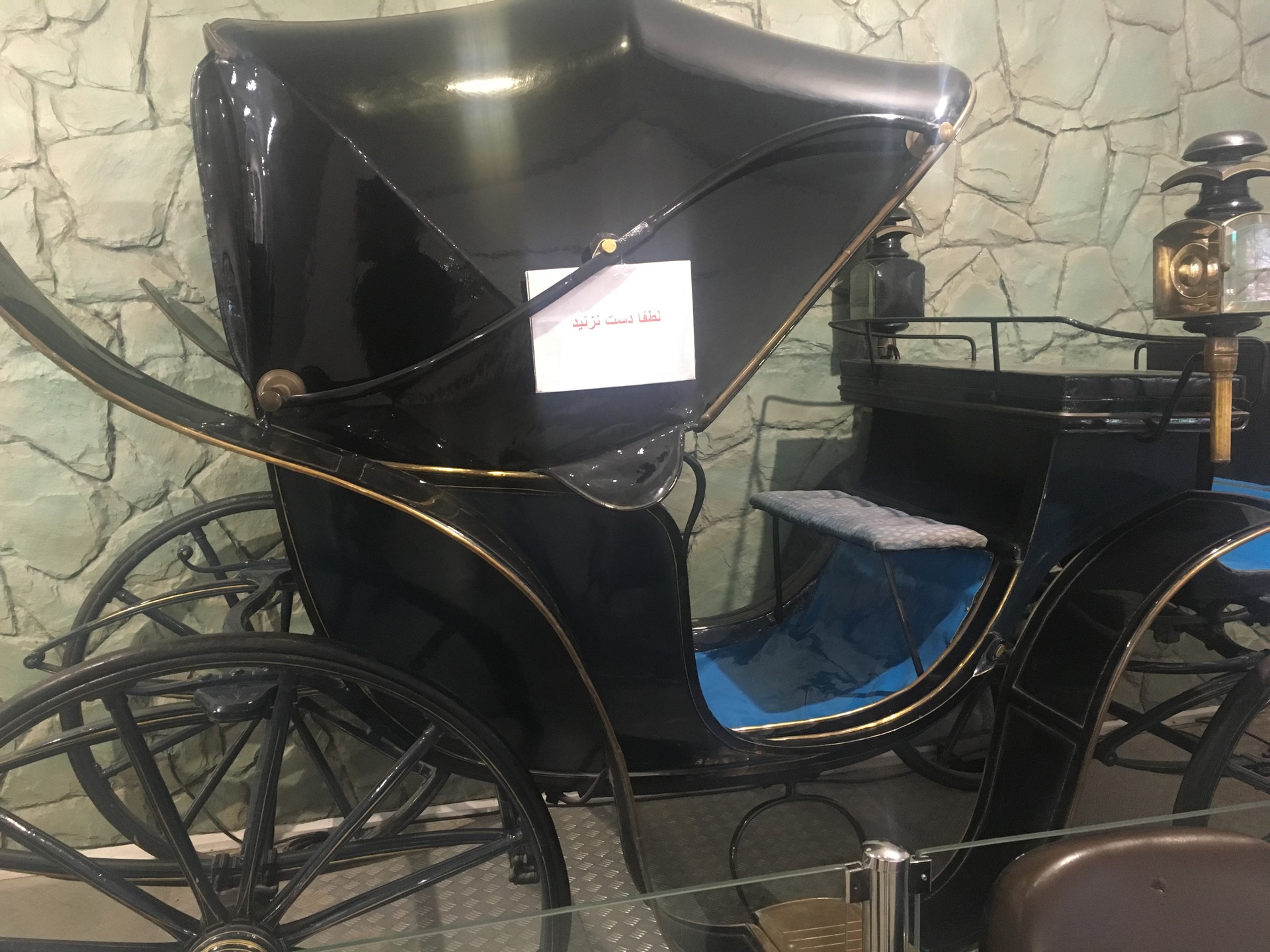 (The royal carriage)
Okay now my favorite car, one that I wish I can buy one day. This car is also known as the bride of all the cars here. This is Farah Pahlavi's personal Mercedes Benz that was specially designed and made for her. Now let me tell you some mesmerizing facts about this car, it is made from airplane material, mostly aluminum materials, so this car is extra light weight. There is an oxygen capsule in the car so in case they are trapped somewhere and there is a lack of oxygen they can breathe using the capsule until help arrives. The inside of the car is made of buffalo leather; it is perfectly fine after all these years. The valve handles is hydraulic but the gear is not automatic. This car is also fire proof and bullet proof but I guess that goes without saying. The color is also kind of unique.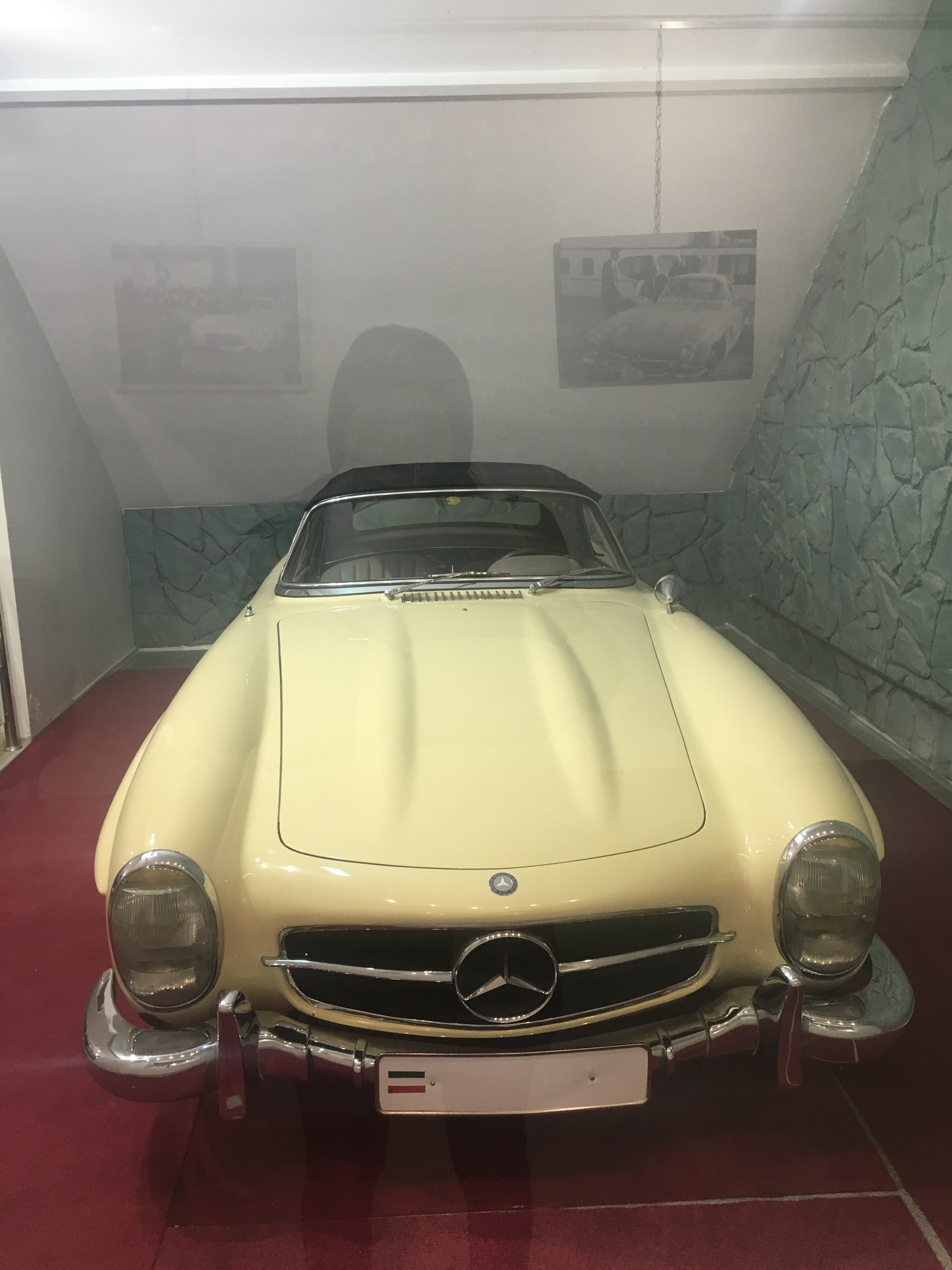 These other cars here were all used for the Shah's ceremonies or taking him around places, all of them bullet proof, fire proof, with hydraulic valve handles and automatic gears. I seriously loved this museum so much man.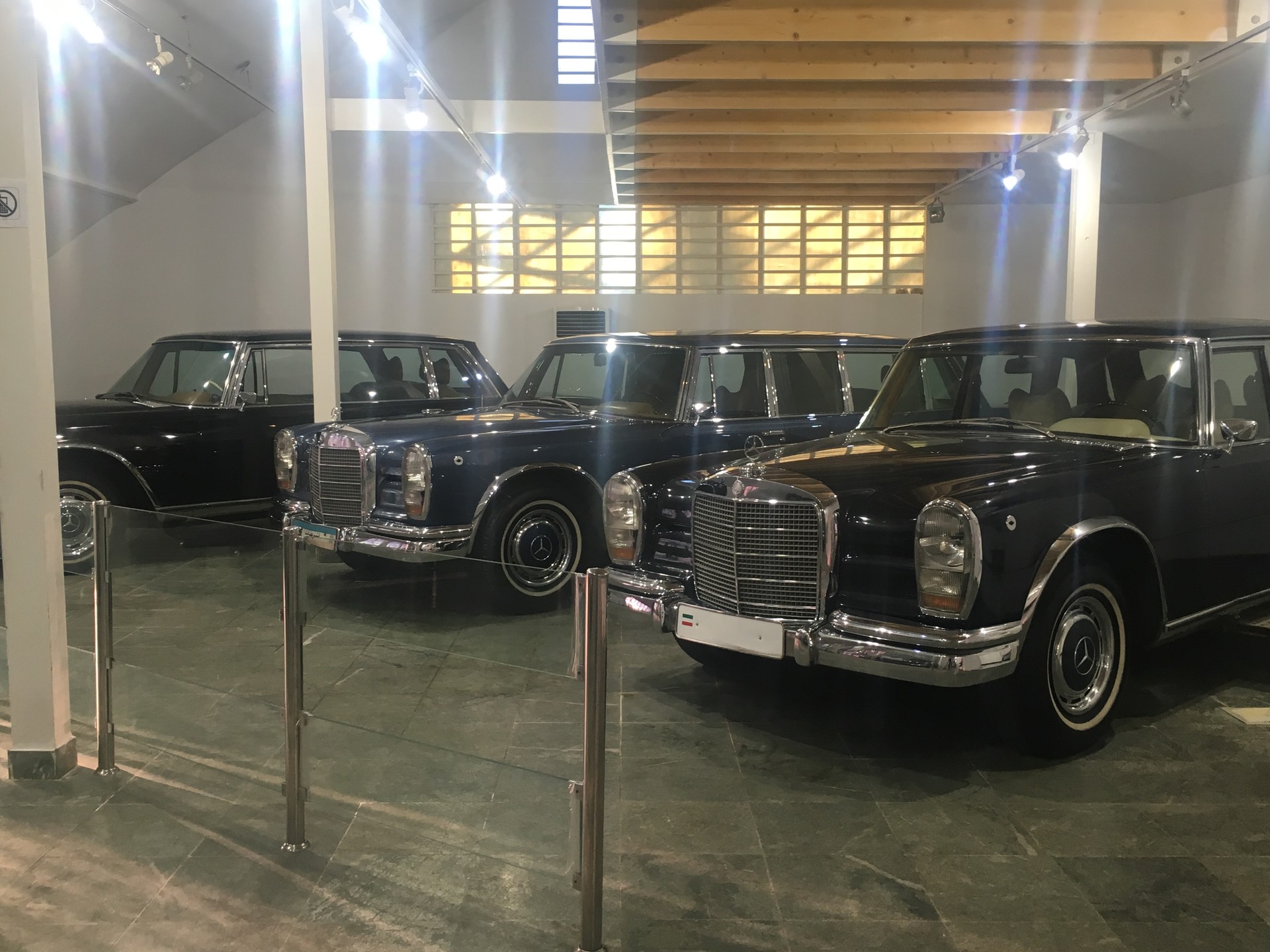 After that museum it was getting late so I decided to head home, I left from the "Darband" door and there were cabs there to Tajrish, I hopped on one and got to Tajrish, you can use the metro line from there.
I spent more than seven hours writing this piece so I really hope you guys enjoy it. Stay tuned for more awesome articles.
Cheers!
---
Photo gallery
---
---
Content available in other languages
Want to have your own Erasmus blog?
If you are experiencing living abroad, you're an avid traveller or want to promote the city where you live... create your own blog and share your adventures!
I want to create my Erasmus blog! →