Ghazali cinematic town
I'm not such a huge cinema geek. Sure I enjoy watching movies and shows but I wouldn't call myself a cinema enthusiast, much less a Persian cinema enthusiast that would go to visit the set of some famous Persian movies. Movies that I have never even watched, (that I would be interested to watch after this visit). But anyhow with a suggestion of a friend, we headed down to Ghazali cinematic town on a Thursday morning to visit these famous locations of the old Tehran and more.
We gathered all the needed information to go there. When I called I was told that since it's fall, the locations are only open for visiting on Thursdays and Fridays, from 9 am to 4 pm. I was told that their schedules change according to seasons, so they probably have a different summer schedule. I would advise calling the place before deciding to go and visit it.
How to get there:
Let me tell you, there is no public transport, don't waste your time looking for it. There cinematic town is located, somehow outside of Tehran, in the Tehran-Karaj highway. The exact address is: Shahid Lashkari highway, 15 th kilometer of the 55 th street, infront of the "Saipa" company.
The address is not that hard to find. Only when you miss the entrance is when you are in big trouble since it's a highway and there is nowhere to turn and go back. Man that is what happened to us and we spent about an hour getting back on the other side of the highway. Long story short, don't miss the entrance. The easiest way to go there is by your own car using a GPS or going with a cab. I suggest going with a cab, as the place can be a little tricky to find. I don't really know how much it would cost going there with a cab but you can check it out using "Snapp". Snapp is based in Tehran and functions exactly like "Grab" which I used to use in Malaysia. Their prices are fair and reasonable and their availability is pretty good. I definitely suggest trying it, since it's safe and secure.
Description and experiences:
There is a small entrance fee to be paid upon entrance, upon entering the place; you can see a bunch of old cars on display, although I gotta admit they weren't in such good conditions.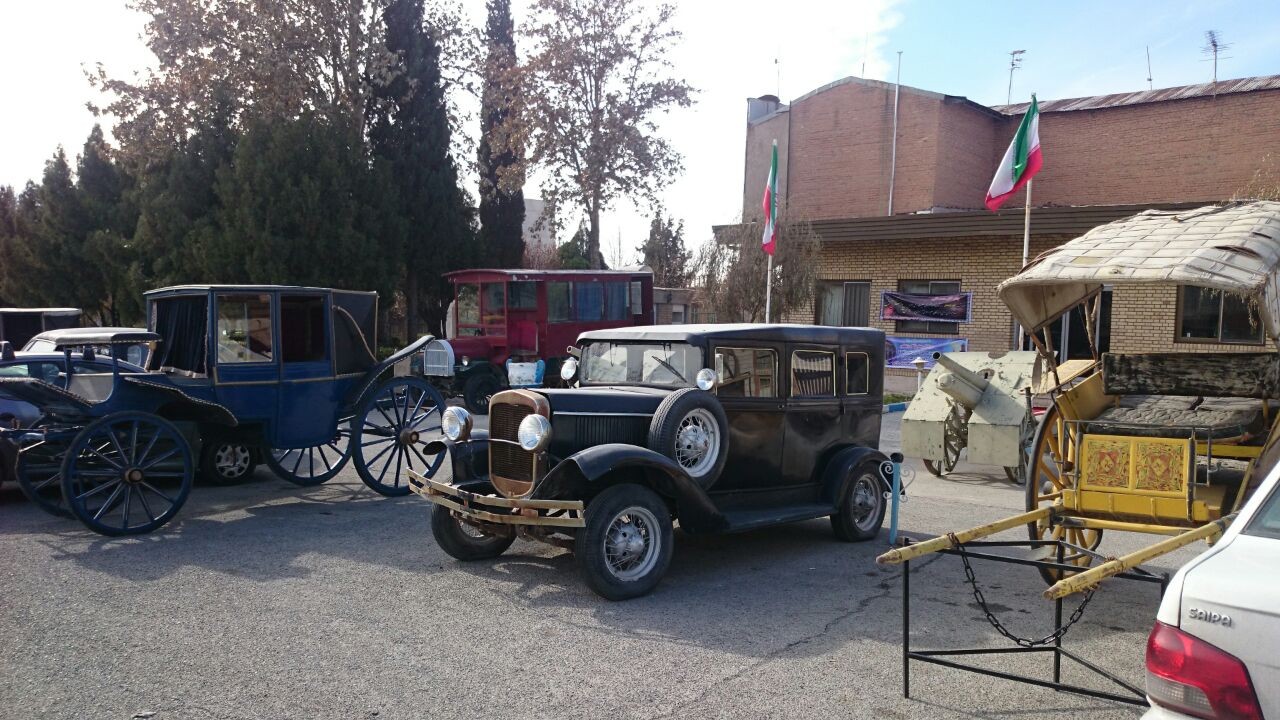 (The old cars and carriage on display upon entrance, there were more on the set inside)
You then enter the main street which is also famous as the "Laleh zar". This street is demonstrating the old Tehran, which is basically Tehran before the revolution happened in 1979. Little historical fact is that Iran used to be a monarchy, in which the "Pahlavi" dynasty ruled Iran, in 1979 the Islamic revolution happened and the country became an Islamic republic. So this street shows how Tehran used to be in those years, which is fascinating to be honest, given I was born way too many years after the revolution, it was interesting to see an old model of my own city.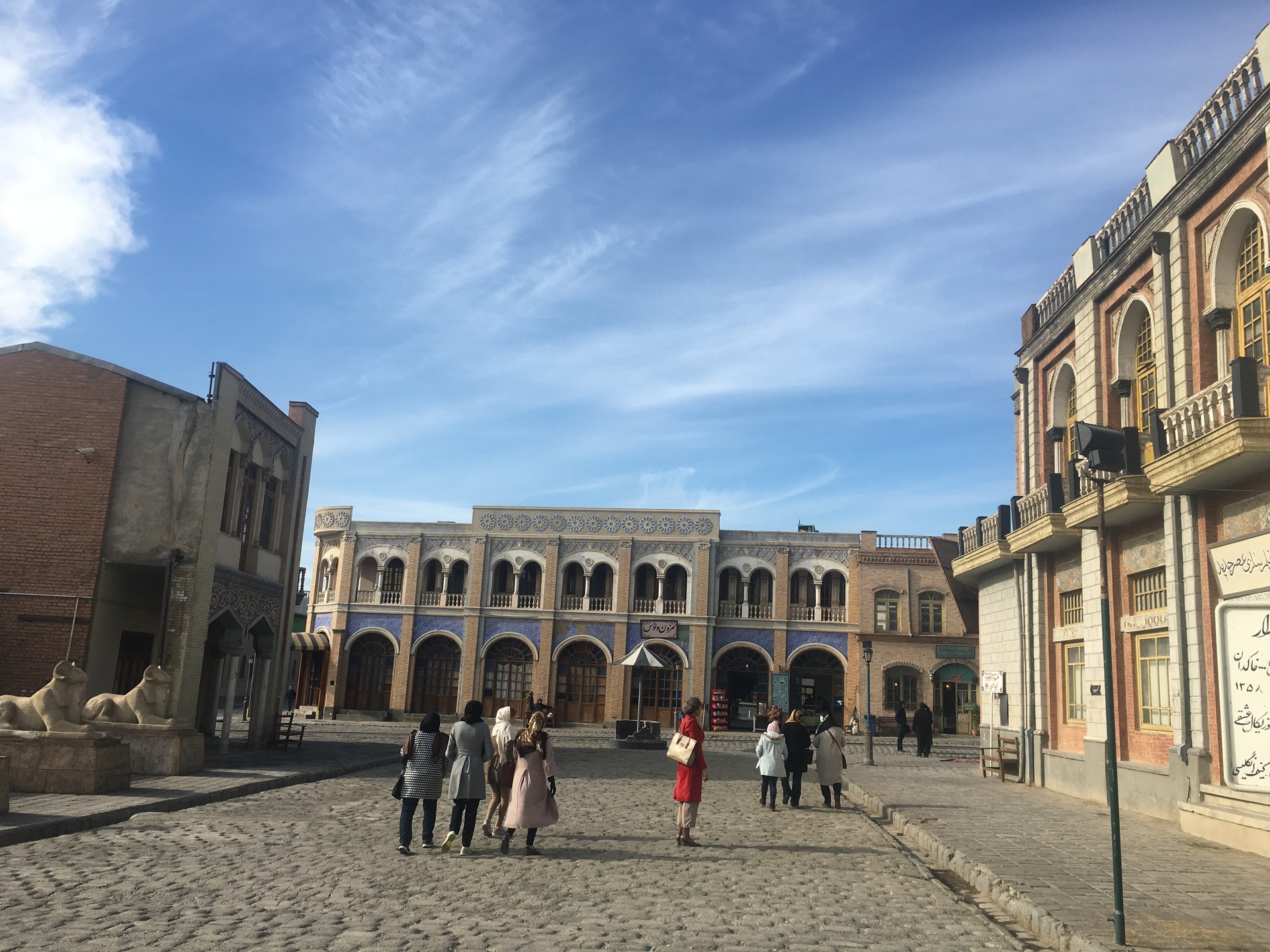 (The entrance to "Laleh zar" street, such a beautiful place and I did not use any filters)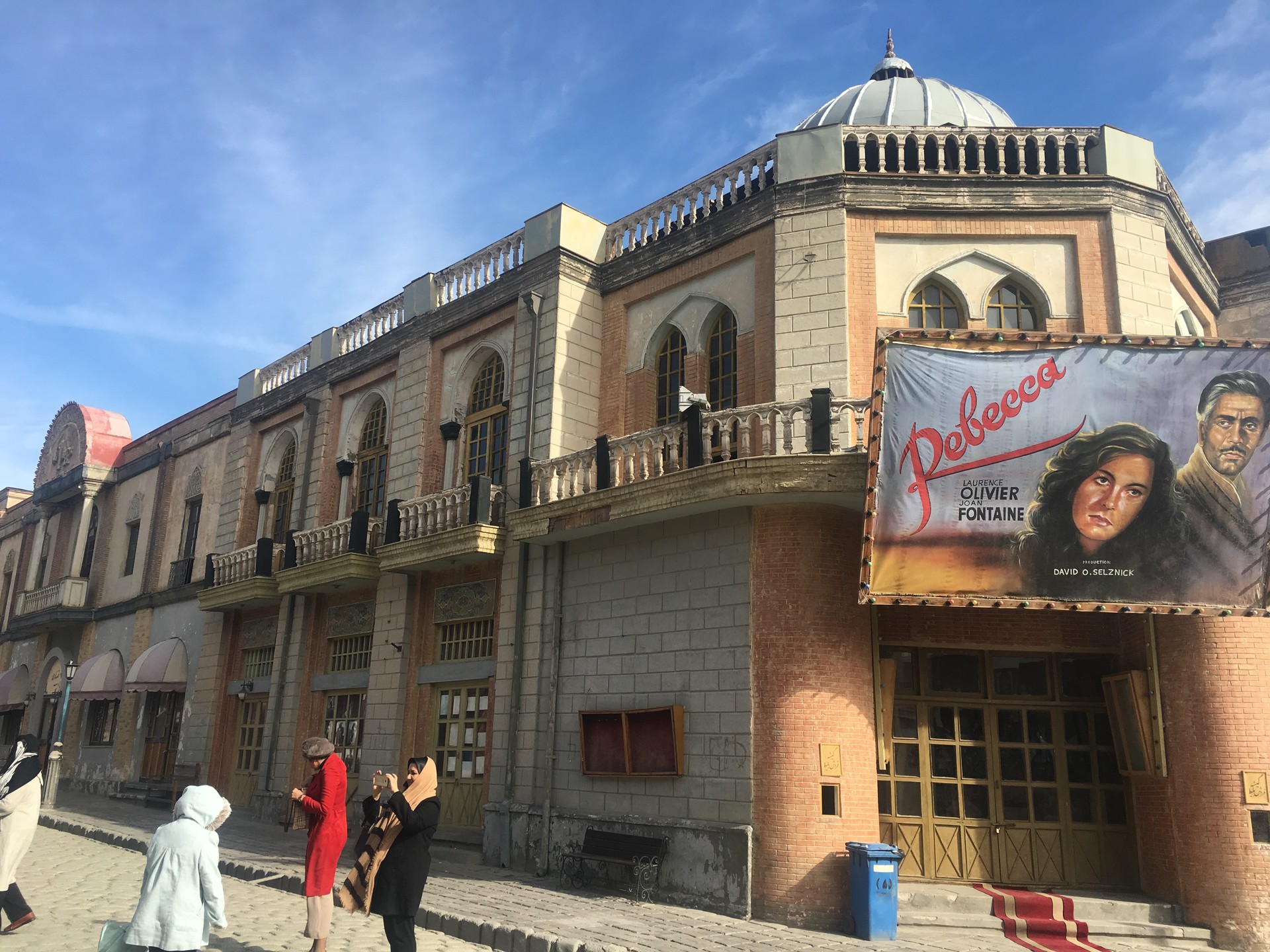 One of the buildings is the cinema, in which you can see in the image above. The cinema has a movie poster of "Rebecca" which came out in 1940 starring Joan Fontaine. The movie was a big hit in Iran back in those years.
This street has been used for many movies and TV shows. The most recent of which is the extremely popular "Shahrzad" TV show; starring award winning actors such as Shahab Hosseini. The show has been one of the highest rated shows in Iran's cinema industry and has been sold to many channels overseas in countries like Germany. Most of the show has been filmed in this street, as the story takes place before the revolution.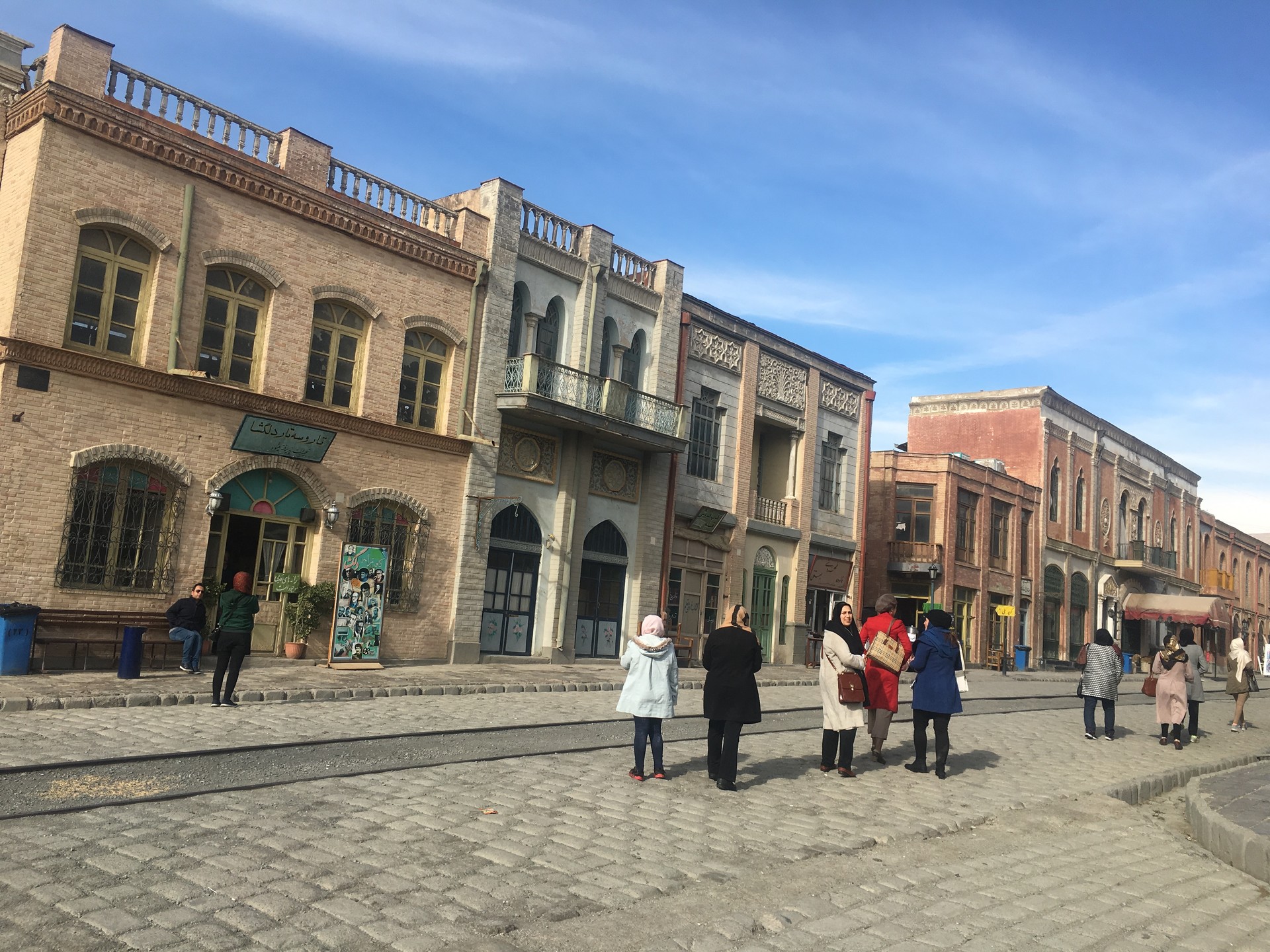 (Walking through the street of "Laleh zar")
Although I have to admit that the location looks much bigger and glamorous in the show and that is because during filming any movie here, they spend a lot of time fixing the place up and the producers invest a lot in making the set look more alive. Nonetheless the place was majestic and had it's own beauty.
There were also shops in which they sold old Iranian albums and CDs. The traditional music was blasting all across the place and to be honest for a second I also felt like I was in a movie too. There was also a shop selling old style hats that women used to wear during that era and also jewelry that women used to own then. The shop was a cute little place. There was another shop selling autumn like snacks, like warm drinks and "Ash" which is a soup of sorts but made with different ingredients. We had some warm drinks to warm us up from the inside, it was freezing man.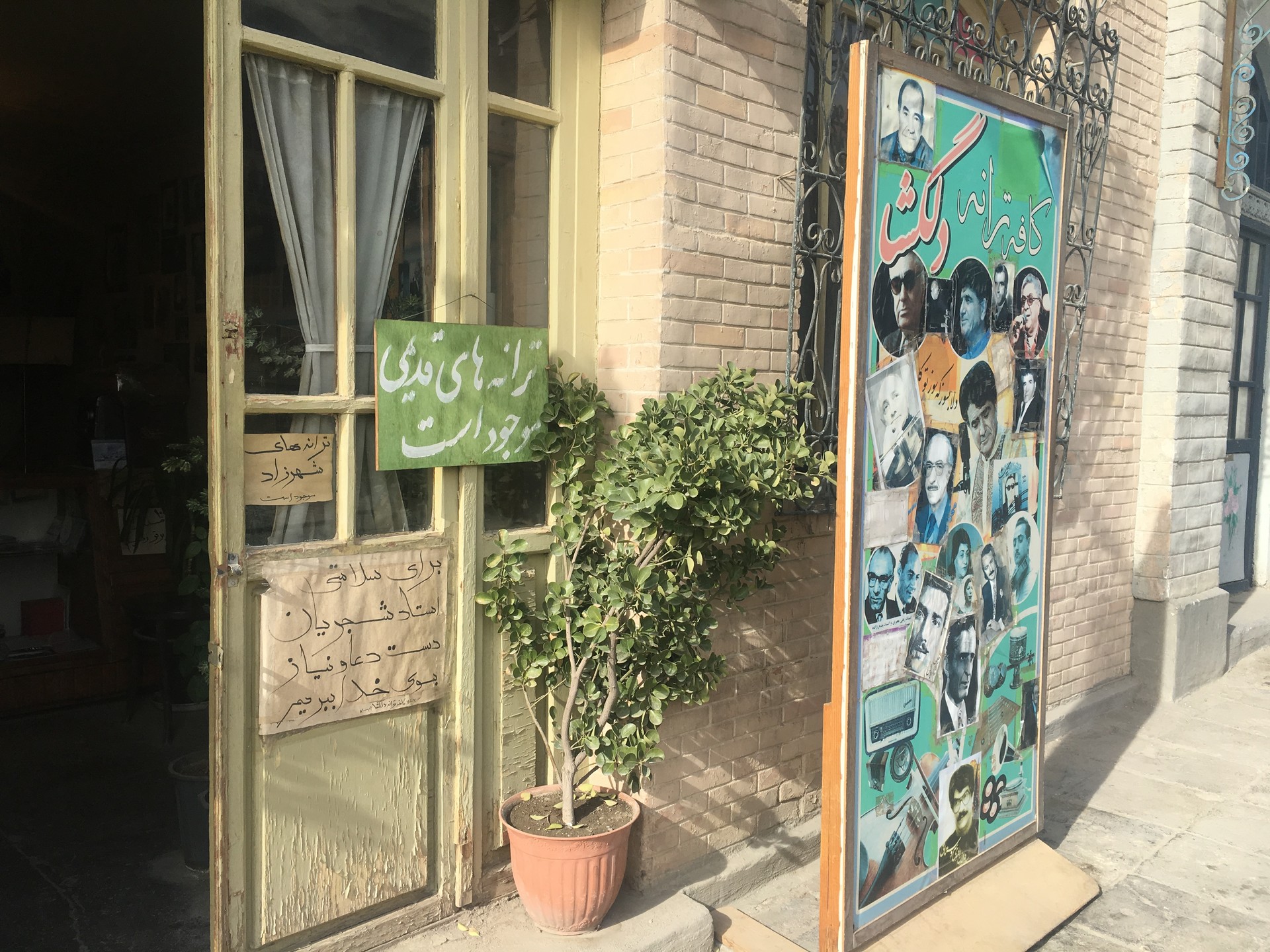 (The shop that sold old Iranian songs and albums. The sign reads "old songs are available", the inside of the shop was extremely cute)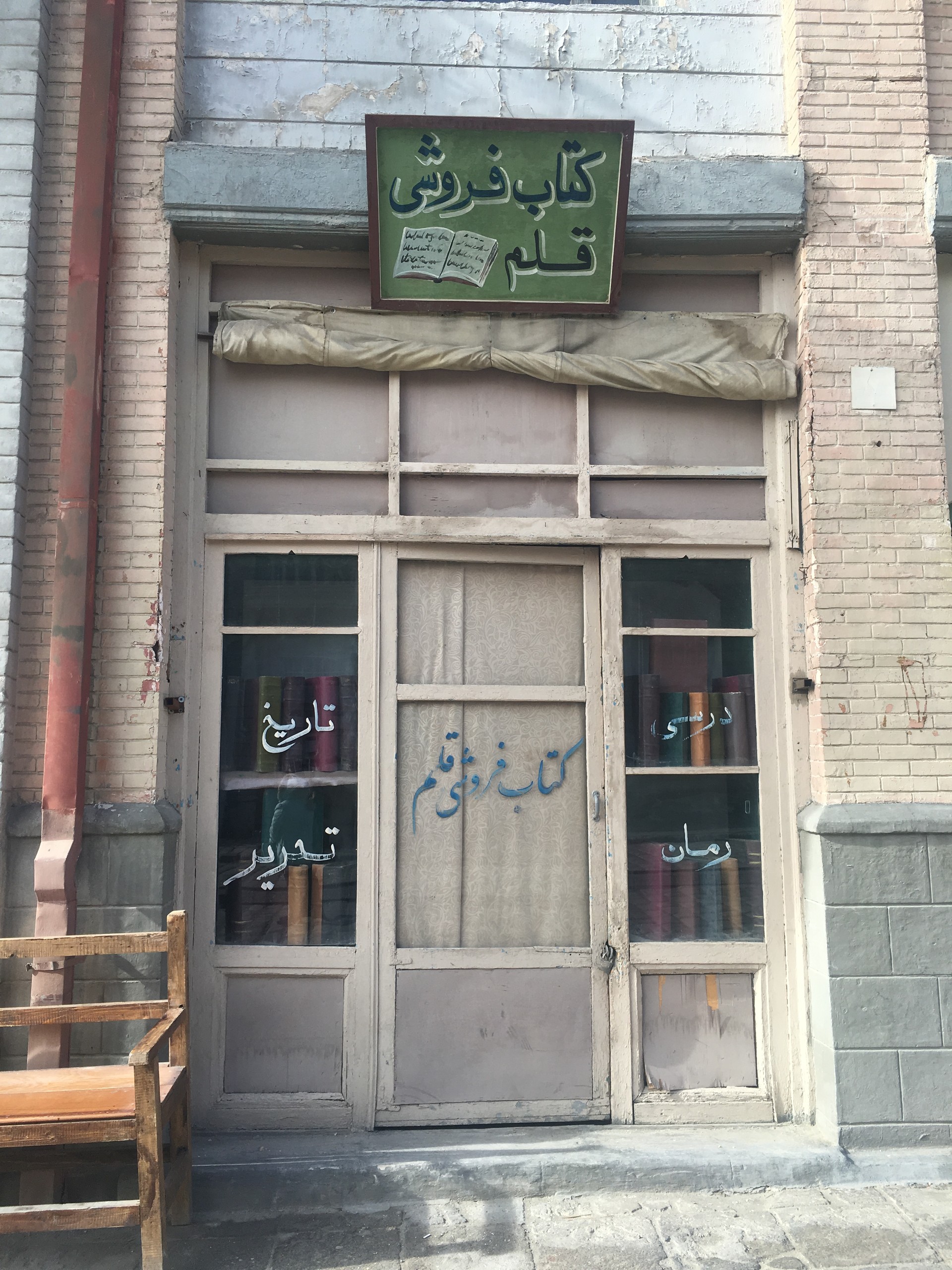 Another shop on the set of the street, this time a bookstore, I really loved their signboards and their way of writing on the windows. The windows read novels, stationary, historical and study books.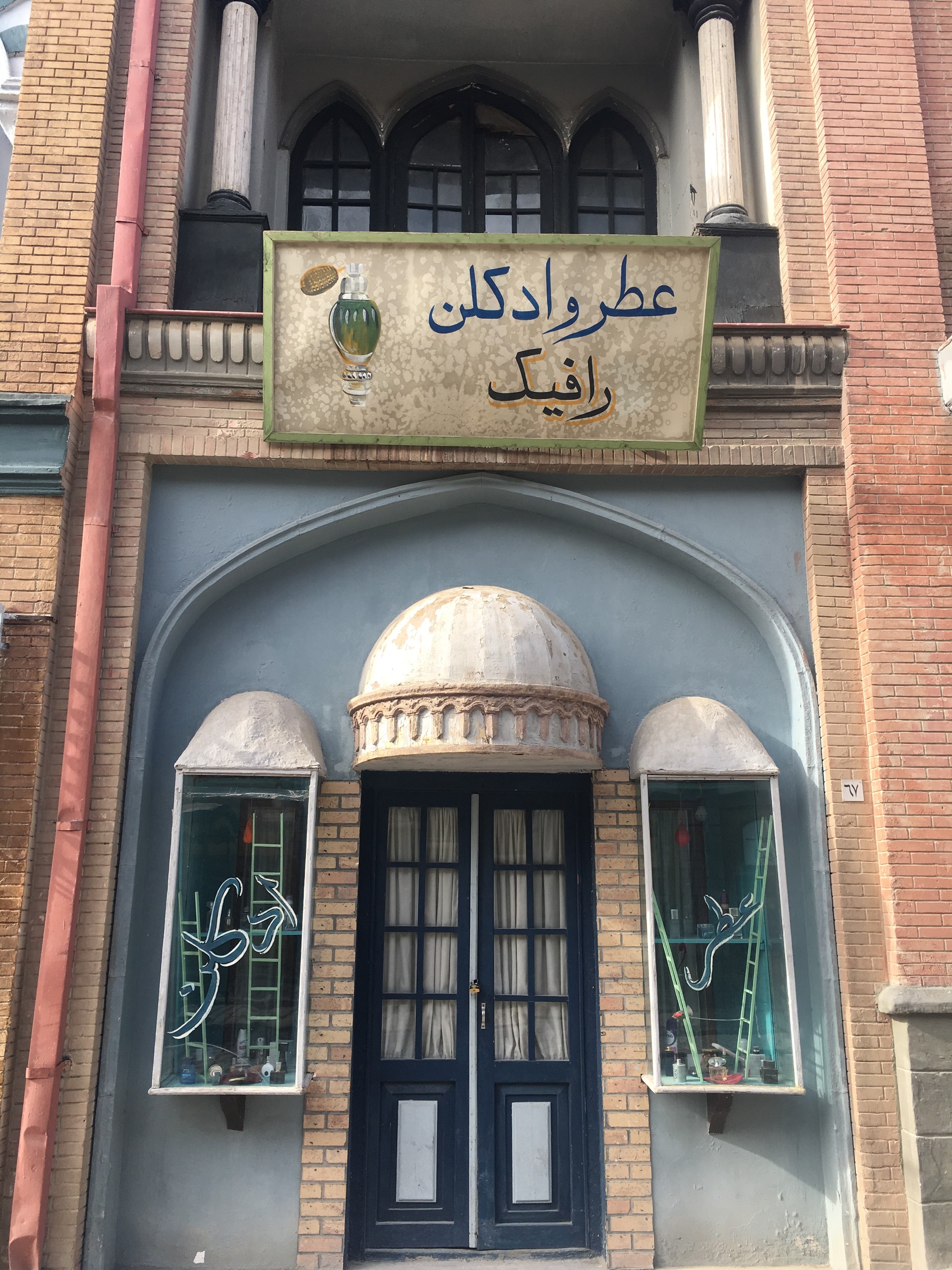 This one is a perfume and cologne shop, very cute design. I approve.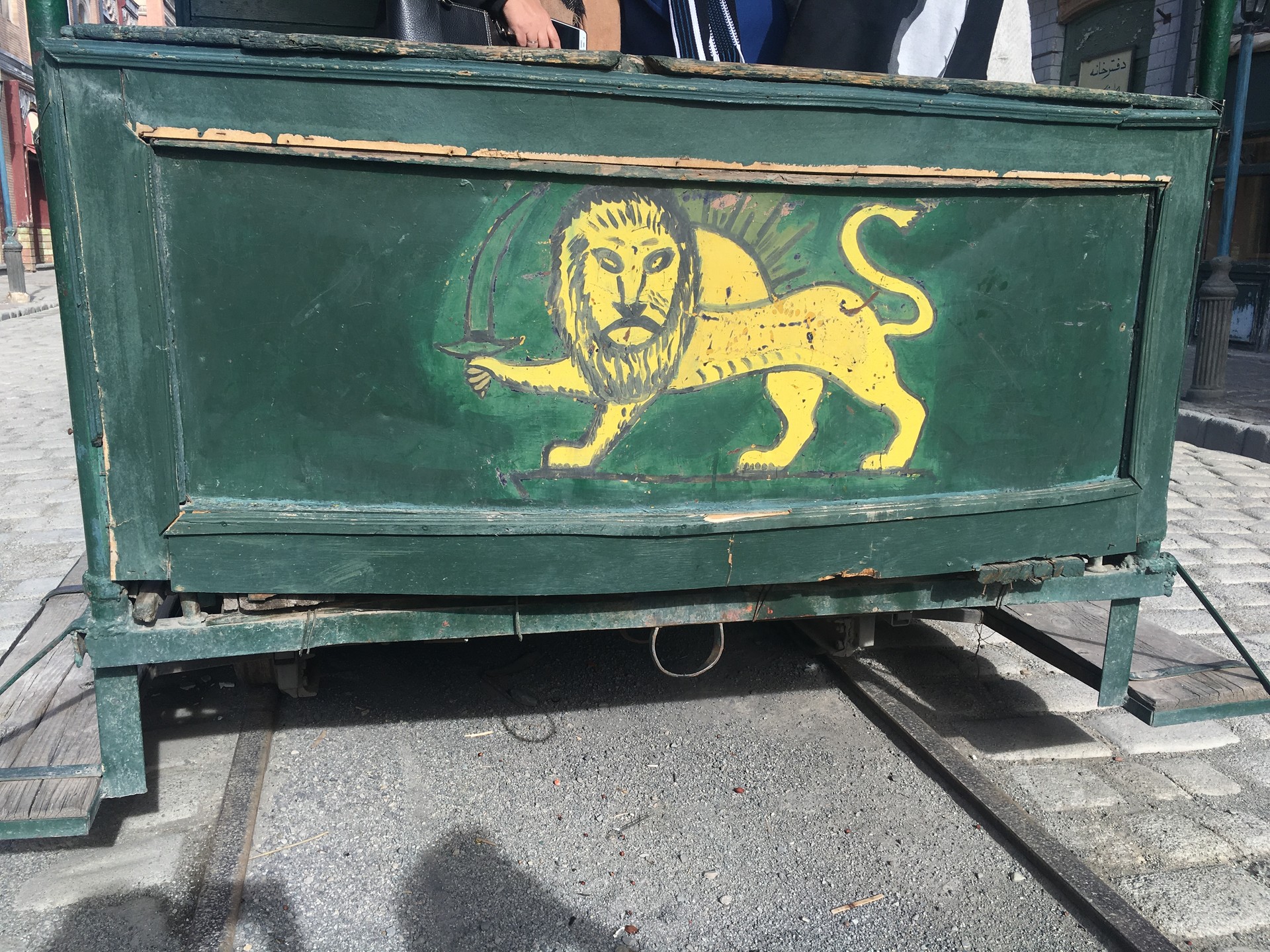 This one isn't a shop but I thought it's important to share it. The picture of the lion holding a sword, used to be on the Iranian flag before the revolution, It was the symbol of the "Pahlavi" dynasty. After the revolution the symbol was removed and the symbol of "Allah-god" was replaced on the Iranian flag.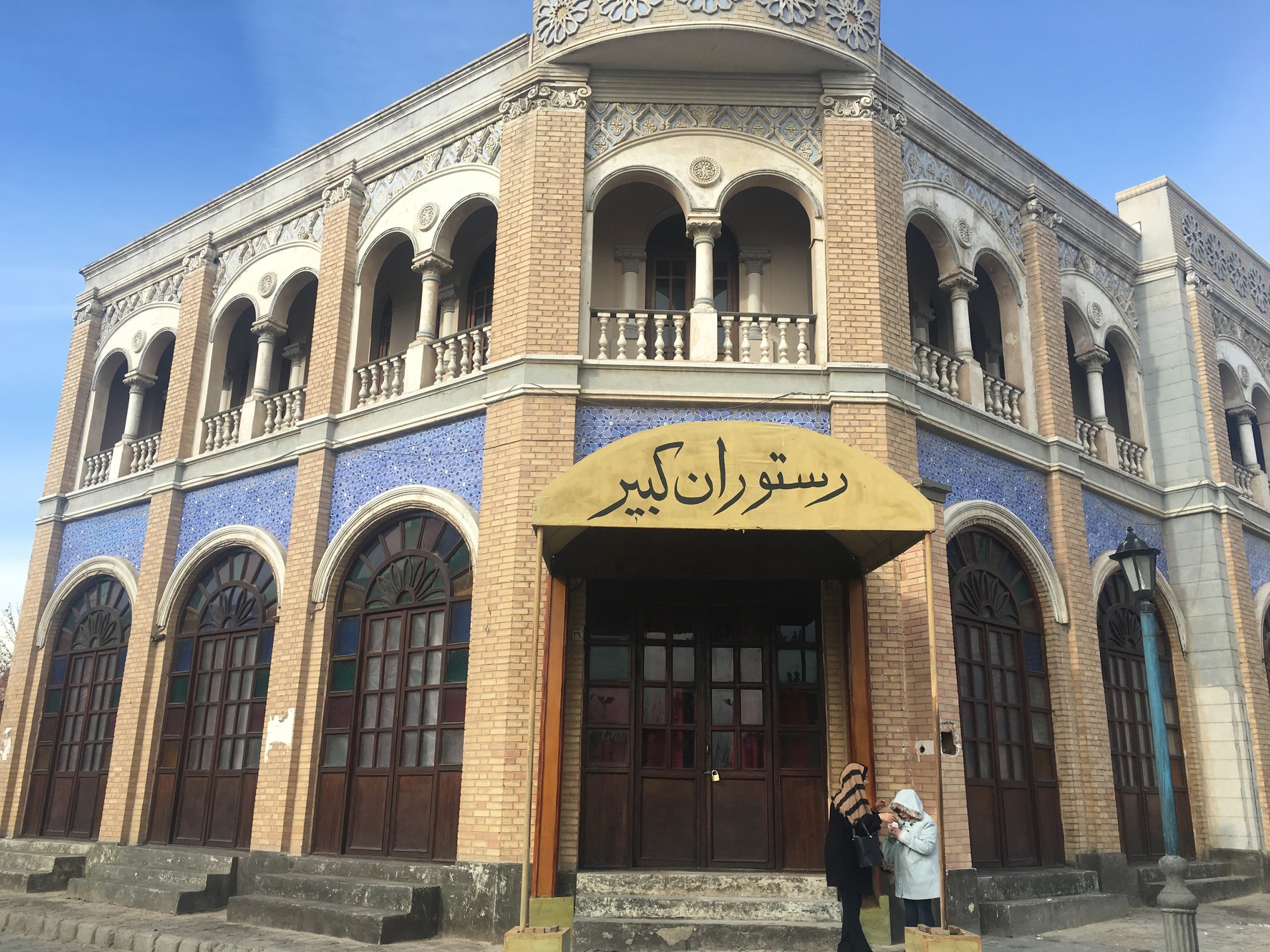 Last on the set of "Laleh zar" shops and places was the "Kabir restaurant". another cute place, with a cute architecture.
Moving on from "Laleh zar" to other locations. On our way we saw that a famous Iranian director was filming an episode in one of the locations. We stood there for a few minutes watched how the scene was taken. It was fascinating to see a scene being shooted. The picture below is a picture of the set they were using for the scene. I really found it interesting to watch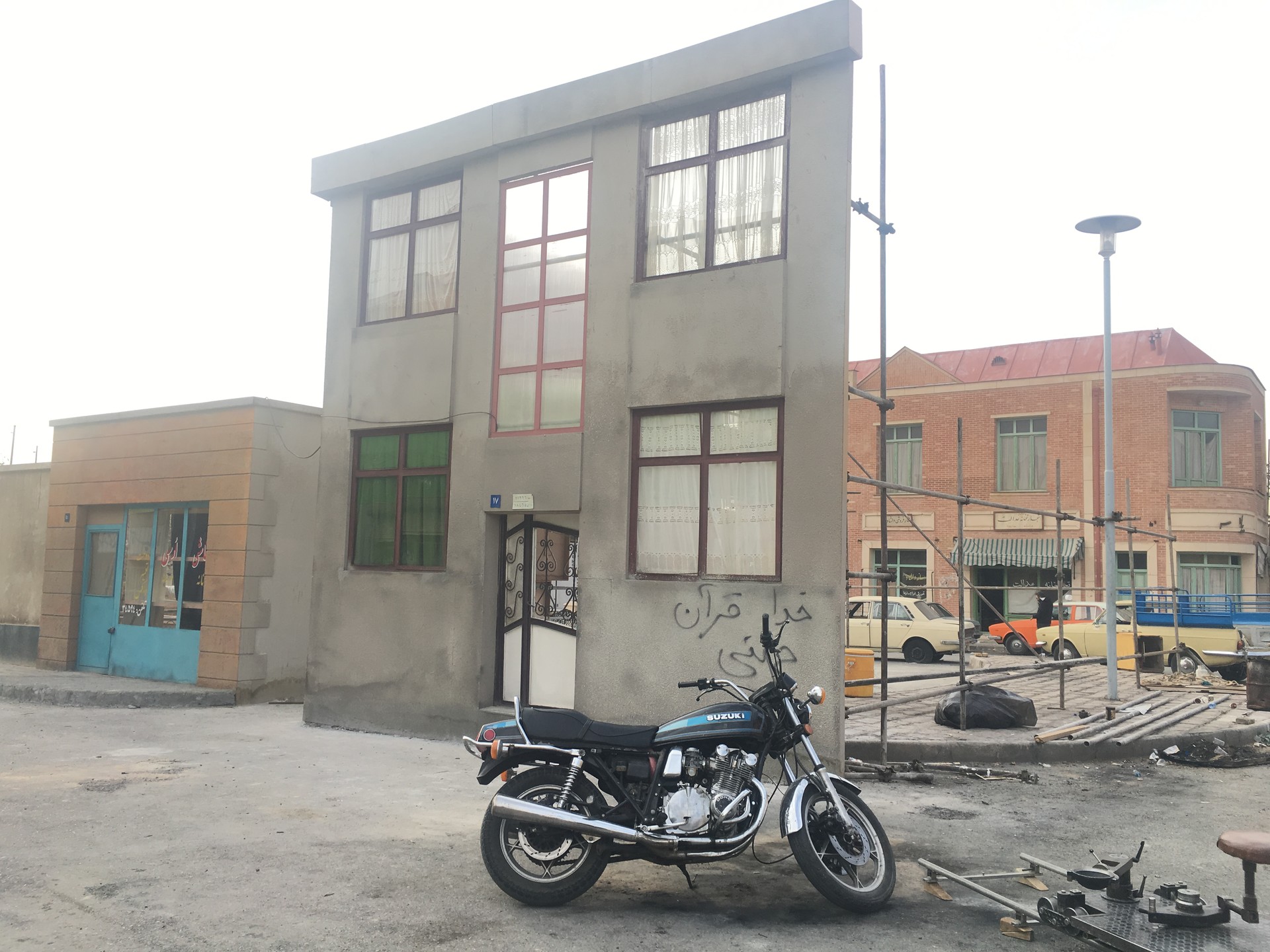 A few of the other locations were closed for public viewing which I found inconvenient. The reason they were closed was that, there was filming being done in those places.
Apart from the old Tehran models there were also models of the old "Madinah" which is the city in Saudi Arabia. These locations were used to film movies related to Islam and Islamic history. Although these sets weren't as interesting, mostly because due to neglect most of the buildings were in ruins. And the ones that were in good conditions were occupied for shooting scenes. I guess the most interesting remains "Laleh zar", although paying a visit to the other sets wouldn't hurt, some of the places are actually nice.
I hope you guys enjoyed this piece, let me know what you think.
Cheers !
---
Photo gallery
---
---
Content available in other languages
Want to have your own Erasmus blog?
If you are experiencing living abroad, you're an avid traveller or want to promote the city where you live... create your own blog and share your adventures!
I want to create my Erasmus blog! →