Lovely room in downtown Seville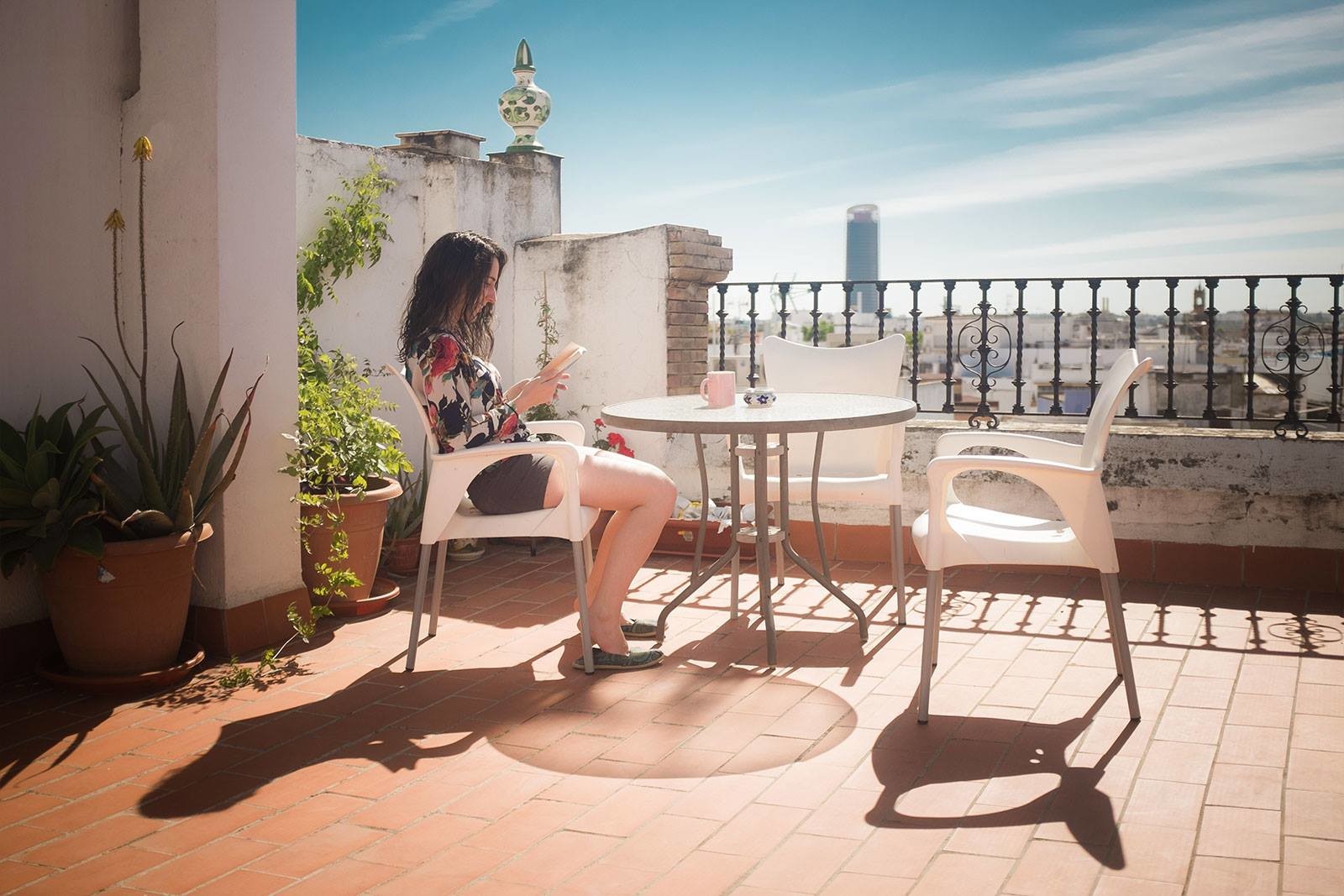 Please read the advertisement well: we are looking for a girl to share a flat rental price € 240 + € 100 (all all all expenses + management) = € 340
Hello! We are alba (girl) and curro (boy) and we are looking for a roommate, a girl from june 8, 2020. The apartment is located in the center of seville, in the vibrant downtown of the city, 2 minutes from the alameda, 10 of the setas and 15 of the plaza del salvador. The apartment is 70 square meters and is in a beautiful building from the beginning of the 20th century, it has been completely renovated and has 3 bedrooms.
The room that is left free has a large built-in wardrobe and is super quiet facing an interior patio. Your 105 cm wide bed is super comfortable. We also leave you sheets, duvets, towels, and an individual fan in addition to air conditioning in summer and individual heating in addition to central heating in winter.
The apartment has parquet floors, central heating hot / cold, double glazing in all the windows of the house (thermal and sound insulation) and an 80 m2 terrace with views of seville and the aljarafe cornice where beautiful sunsets are contemplated. And if you are a student and want a different study area we have a library just in front, 10 meters away
Bathroom with shower plate and kitchen equipped with appliances.
The apartment also has its own storage room where you can put suitcases for example. Only two more neighbors live in the block.
To the rental price must be added + 100 euros of expenses all all expenses included + management
In the € 100 of expenses + management are included
+ electricity
+ internet 200 real megas of symmetrical fiber
+ water
+ gas
+ community
+ if you need a piece of furniture such as a lamp, a shelf, another chair, another curtain, more hangers, you will not have to pay for it either, I buy it and it stays in the apartment (even if you use it)
+ sheets
+ towels
+ pillows
+ blankets
+ hangers
+ fan
+ heater
+ cleaning products
+ laundry detergent
+ softener
+ brooms
+ mops
+ cubes
+ floor cleaning
+ window cleaner
+ degreaser
+ clean bathrooms
+ dishwasher
+ scourers
+ cloths
+ toilet paper
+ kitchen paper
+ wet wipes
+ trash bags
+ garbage cans
+ clothespins
+ etc, etc, etc
+ consumables: light bulbs, for example, a glass that breaks, cups, glasses, knives, forks, pans, pots, coffee machines, etc etc...
+ any arrangement of the house: if the thermos, the water, the shower, the ceramic hob, etc. Are broken
+ and the most important thing of all (time is money): you will not have to do any of the usual tasks of managing a home on a daily basis! For example, not only will you not have to pay for the butane cylinder, but you will not have to be aware of whether there is a lot or little gas left, to call the butanero, stay with him, remove the worn cylinder and put the new one... Little, but over the months it is an important task! Well, with everything
+ manage affairs with the community: if the glass of the portal door breaks, or a light bulb in the corridor for example burns out...
If you will have to collaborate in the cleaning of the house (do not pay for cleaning products, or be aware of whether or not there are, or go buy them, but help with cleaning).
All this 100 euros
In short, all you have to do is collaborate in cleaning and pay for your food and personal hygiene products
They are not allowed:
1 parties
2 couples
3 animals
4 bad rolls
5 people who are not clean and tidy
House's rules
Let no one be offended! Hehehe, but since i have been sharing a flat for so long, I have found that putting things like "house rules are common sense... Normal coexistence... We have to be clean and tidy... You have to scrub your things "it is useless, i'm afraid i will have to be as explicit as possible:
- do not be a smoker (do not smoke inside or outside the house)
- scrub your things immediately after using them.
- clean and collect what you dirty
- clean the house once a month at least
- lower the toilet lid and close the bathroom door when leaving
- remove your hairs from the shower
- do not slam doors or open or close furniture doors abruptly
- do not make noise
- not scream
- don't break things
- communicate with me for anything (don't shut things up)
- turn things off when leaving the house or when you finish using them: vitroceramic, iron, candles, lights, heaters, fans...
Expressed like this, it seems that i am a military man pero, but no, I am normal but i am obliged to specify all this because i have found everything in these years of living together.
Photo gallery
---
---
Advertise your accommodation!
If you have accommodation or want to rent a room, you can advertise it on Erasmusu.
Add accommodation →