New studio apartment/ Nowe mieszkanie typu studio, 24m2, I floor/ piętro, balcony/ balkon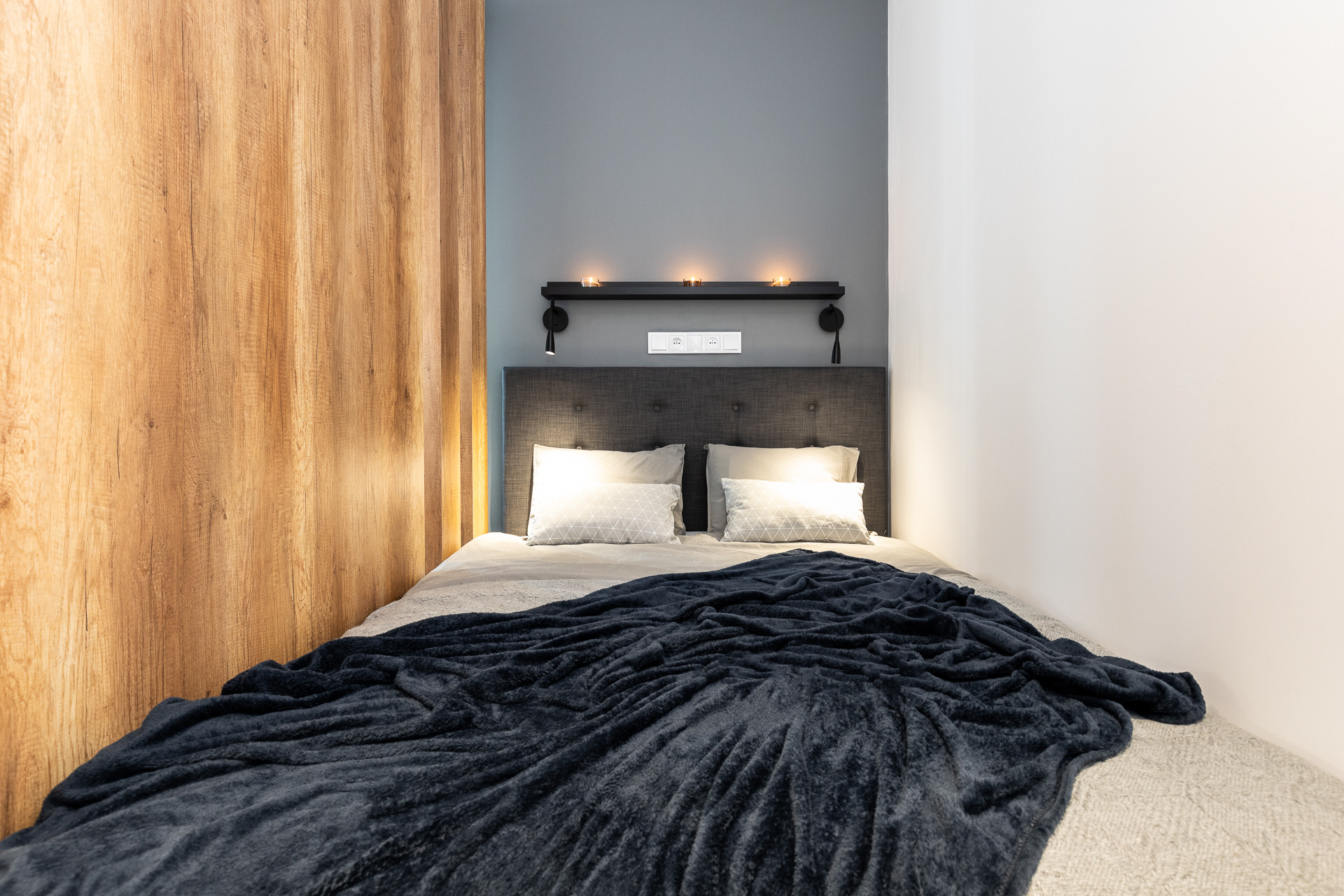 Do wynajęcia całkowicie umeblowane mieszkanie typu studio z wydzieloną częścią sypialną połozone w centrum Krakowa, przy ul. Słomnickiej 4, przecznicy z ul. Lubelską - okolice Nowego Kleparza.
Mieszkanie znajduje się na I piętrze w budynku oddanym do użytkowania w II kw. 2019 r. Wykończone w styczniu 2020 r.
Składa się z salonu z aneksem kuchennym, wydzielonej części sypialnej oddzielonej ścianką oraz łazienki. Do mieszkania przynależy balkon o pow. ok. 4m2 (stolik i krzesełka).

Mieszkanie całkowicie umeblowane:
- salon: sofa, telewizor z płaskim ekranem
- kuchnia: lodówka z zamrażalnikiem, piekarnik z funkcją mikrofali, płyta ceramiczna, czajnik, toster
- część sypialna: podwójne łóżko (140x200 cm) z pojemnikiem na pościel, pojemne szafy PAX
- łazienka: prysznic, pralko - suszarka
- przedpokój: szafy PAX, lustro

OPŁATY:
- czynsz najmu - 2500 PLN
- czynsz administracyjny z zaliczkami na media (ogrzewanie MPEC) - ok. 300 PLN
- pakiet Internet i telewizja z Netia - 43 PLN
- prąd wg zużycia - ok. 95 zł

Mieszkanie usytuowane jest w okolicy Nowego Kleparza w odległości zaledwie 1 kilometra od Rynku Głównego. W pobliżu znajdują się liczne sklepy (Lewiatan, Biedronka, Żabki), punkty usługowe (salony kosmetyczne), restauracje, kluby fitness, dworzec autobusowo - kolejowy, Galeria Krakowska, targowisko Nowy Kleparz.
W niedalekiej odległości zlokalizowane są najważniejsze ośrodki akademickie tj. – Akademia Górniczo-Hutnicza, Uniwersytet Rolniczy, Politechnika Krakowska i Uniwersytet Pedagogiczny, a niewiele dalej – Uniwersytet Jagielloński oraz Uniwersytet Ekonomiczny.
Ta lokalizacja wyróżnia się również bardzo dobrze rozwiniętym systemem komunikacji miejskiej z licznymi połączeniami autobusowymi i tramwajowymi - przystanek NOWY KLEPARZ.

Przebiegająca w pobliżu aleja Juliusza Słowackiego zapewnia szybkie połączenie z głównymi trasami - obwodnicą Krakowa i autostradą.
We speak English.
We offer for rent a fully furnished studio apartment with a separate sleeping area, located in the center of Krakow, at Słomnicka 4 Street - around Nowy Kleparz area.
The apartment is located on the first floor in a building put into use in Q2 2019. Finished in January 2020.
The apartment consists of a living room with a kitchenette, a separate sleeping area separated by a wall and a bathroom. The apartment includes a balcony (4m2) with a sitting area (table and 2 chairs).
The apartment is fully furnished:
- living room: sofa, flat screen TV with Internet and cable TV
- kitchen: fridge with freezer, oven with microwave function, ceramic hob, kettle, toaster
- sleeping area: double bed (140x200 cm) with a container for bedding, spacious PAX wardrobes (IKEA)
- bathroom: shower, washing machine - dryer
- hall: PAX wardrobes, mirror
FEES:
- rent - PLN 2,500
- admin fee with advance payments for utilities (MPEC heating) - approx. PLN 300
- Internet and TV package by Netia - PLN 43
- electricity according to consumption - approx. 95 PLN
Deposit of 1 month rent (3000 PLN) is required and returned when you leave if there's no damage and unpaid bills.
Location: One of the best locations in Krakow, 15 mins walk to the pedestrian area (Old Town / Main Square). There are numerous shops nearby (Lewiatan, Biedronka, Żabka), service outlets (beauty salons), restaurants, fitness clubs, a bus and tram stops.
The most important academic centers are located in the neighborhood: AGH University of Science and Technology, University of Agriculture, Cracow University of Technology and Pedagogical University, and a little further - the Jagiellonian University and the University of Economics.
This location is also distinguished by a very well-developed public transport system with numerous bus and tram connections. The nearby Juliusza Słowackiego Avenue provides quick connection with the main routes - the Kraków ring road and the motorway.

The apartament can be for 1 or 2 persons.
Photo gallery
---
---
Advertise your accommodation!
If you have accommodation or want to rent a room, you can advertise it on Erasmusu.
Add accommodation →