Isfahan diaries (II): Bridge hopping
So Isfahan is full of bridges, there is a bridge in every corner probably, some of them more historical and monumental than the others, all are eye-catchingly beautiful nonetheless. The bridges are such an important part of Isfahan's landscape and architecture and obviously the most important tourist destinations in all of Isfahan.
They attract many tourists both domestic and international that come to take a walk on those beautiful bridges overlooking "Zayande Rood", with the sound of water, the sound of children laughing and the overall vibe that overtakes the atmosphere. Anyways before I get into introducing each of the bridges and what's there to see. Let's get into as to why Isfahan has this many bridges in the first place, well the Zayande Rood river which is one of Iran's largest rivers with a length of more than 200 kilometers, passes through the city of Isfahan, hence why there are many bridges in Isfahan, some of them dating back to 400 years ago.
Now before I go on and tell you guys about how magical this river is and how it makes the city the city of dreams, I have to tell you guys that sadly due to shortage of water, excessive usage and providing water for way too many states at once, Zayande Rood has become dried out, now that there is no water, but it's that because of the shortage they close the dams and don't let any water pass through. Hence this makes the city look a little bit dead. Luckily every time I get to Isfahan, the river is up and running which is so joyful. They usually open it during the Persian New Year and months like March and April. Any other month it depends, on the rainfall level and other stuff. I suggest you guys check to see the river is open or not.
Nonetheless Isfahan isn't only about the bridges and I'm sure you guys will get to see that as we proceed further along the Isfahan series.
Si-o-se- Pol
Pol means bridge in Persian, hence the usage of this word. Now let's see what our first bridge is all about. This bridge is the most well-known bridge of Isfahan and considered the most beautiful, it was built during the Safavid dynasty, as usual, and Iran really peaked during this dynasty. The bridge is about 295 meters long. Before I explain more, I hope you guys understand why I always make sure I explain about the history or the back story of every place I write about. I believe it is important to know what any sight, building or historical monument represents, without the story behind it, it's just another pretty sight and I don't want you guys to just think something is pretty. It's important to know where it comes from.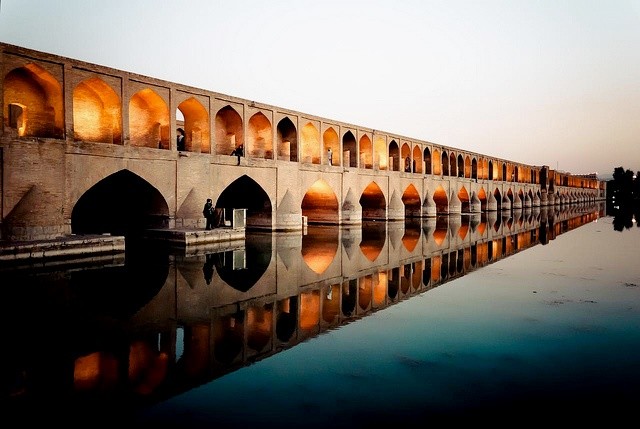 (Si-o-se Pol, I know it is breath taking)
Now back to si-o-se pol, the word itself means thirty three bridges, and that is because it has thirty three of those holes in the center, so basically it is divided into thirty three sections and water flows from each of these sections. There has many ravings about the architecture of the bridge and how it is one of Iran's and world's finest, I guess you can only know if you visit it. So pack your bags kids and come and see for yourself.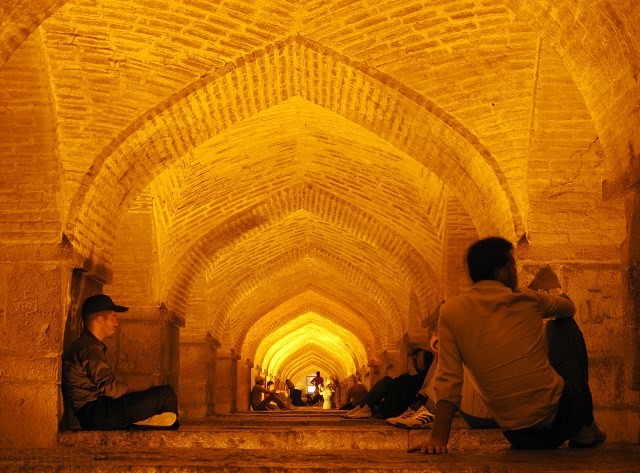 (Inside of the bridge)
The bridge is always open, so don't worry about that. It has pathways, one is the upper pathway and one is the lower pathway which is nearer to the riverbed, I actually like the upper pathway more. It's really well lit and pretty. It is especially beautiful during the sunset and super romantic, imagine taking a walk with your beloved on the bridge, staring at the sunset, feeling happy as you pass one of the small rooms of the bridge and then maybe you can take a walk alongside the river side, look at the flock of people gathering there for a picnic or for a romantic stroll in the park. The vibe is always happy around those times, so enjoy it. I hope I painted quite a picture.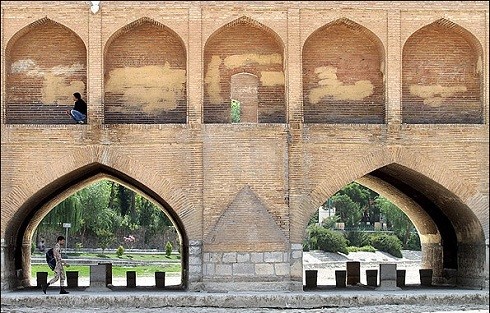 This bridge is located in the southern part of the Char Bagh Street. Remember the Naghshe Jahan square (Imam square)? Well you can actually walk from there to the bridge, it is about 3 kilometers, quite a walk but you get to sight see as well, use Google maps for directions.
Pol-e- Khajoo
Khajoo Bridge is my personal favorite bridge, I actually like the architecture more, I have so many good childhood memories there, and I just love going there and sit nearby the bridge and look at the view. Now from Si-o-se Pol to Khajoo bridge there is 2 kilometers of distance, it takes about 10 minutes of walking to get there, roughly. So you can just walk between the two or take a cab and pay a really small fee to get there. This bridge was built later than the Si-o-se pol bridge.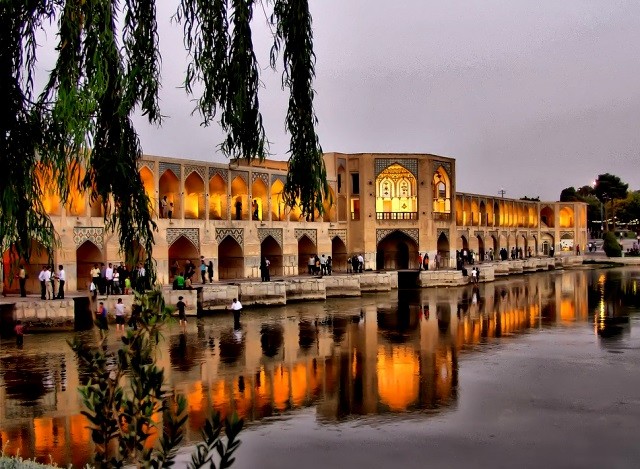 (Oh my god, oh my god)
Now the most interesting thing about this bridge is the house or basically a small hut that it's in the middle of the bridge, this was built for temporary stays of the Abbas Shah and his family during the Safavid period. This bridge is also famous for it's tile works, I guess one thing you guys know about the Iranian architecture is that there are a lot of different tile works everywhere. The length of the bridge is about 133 meters. I'm going to leave the text book facts here and let you guys know that this place is pure magic, there is nothing quite like it and I'm serious as hell. So don't miss out on it.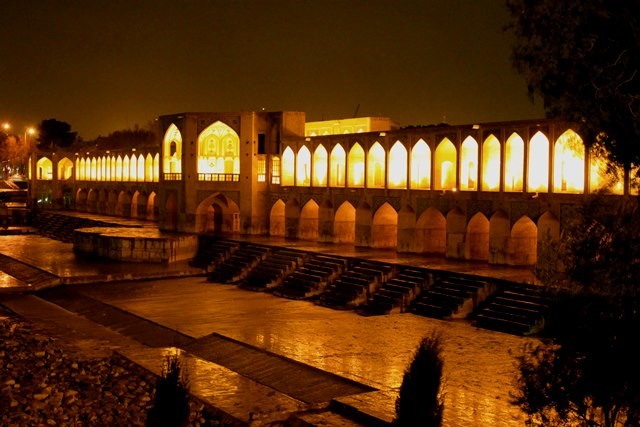 Pol-e-Choobi
Now these two bridges were the most famous bridges of the Isfahan, the rest of the bridges aren't as historical and famous but they are really interesting and great spots to visit. Among those bridges we have Pol-e- Choobi, translating to the wooden bridge, which I never went to as a kid but I got to visit it this year when I visited Isfahan and realized man I was really missing out on much. Now this bridge was also built around the same time as the Khajoo Bridge. The purpose of this bridge was really different, it wasn't built for normal civilians to use it, it was only used for the royal people and was used to connect the southern and northern parts of the river together, so rich and royal people that has gardens on either side could travel easily.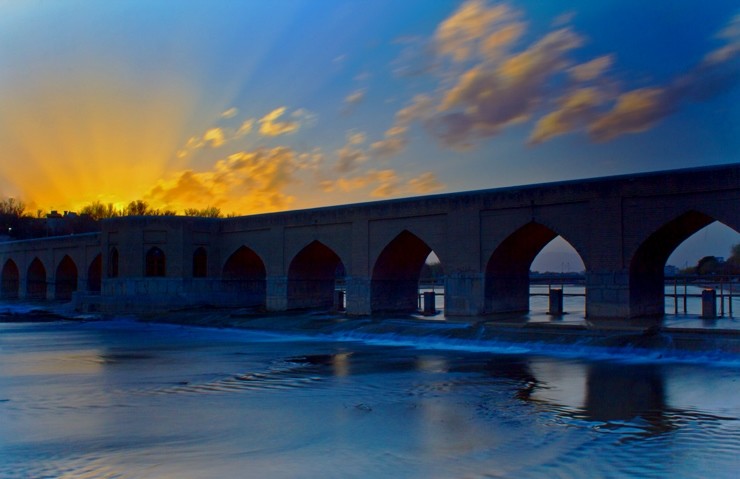 (Just see how dreamy, I don't have anything else to say for real)
I visited this place at night, it was raining a bit and we got some coffee and cake and went and sat nearby the bridge, the sound of water wouldn't let you hear anything else, I took a few pictures, sipped on my coffee, while enjoying the rain drops hitting my face. It was truly blissful, I also walked on the bridge itself and overlooked the river and obviously took some more pictures.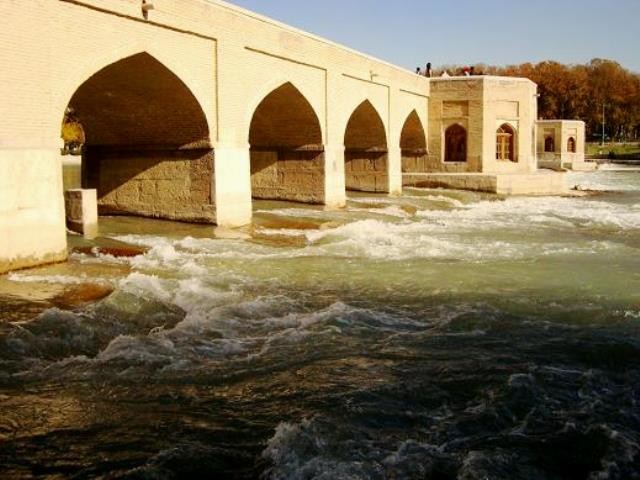 (The bridge during the day)
Marnan Bridge
Okay one last bridge, I can feel you guys being like gosh Saba enough with bridges but hey I warned you guys that this piece is going to be all about bridges so not my fault. This bridge is really not famous, but it is a hang out spot for all the Isfahanian kids, I went there and man there were barely any tourists there, I could realize this because well Isfahanians have their own special accent when speaking Persian, it's almost impossible not to recognize or realize it.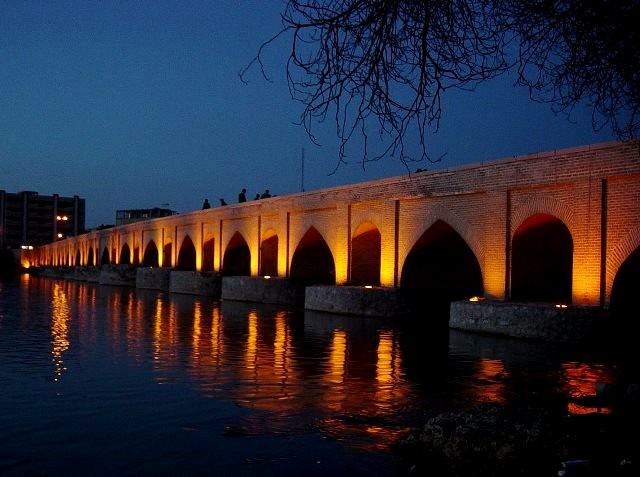 (Marnan Bridge)
Back to the bridge, I don't think there is anything special about this bridge, it is still beautiful and great to see but you aren't missing out on anything if you don't. This bridge is really really old, I mean way older than the other bridges, I couldn't find an exact date but just know this. This bridge was used by the village people to connect the villages on each side of the river. Ask any cab for Marnan Pol and go there with a small fee.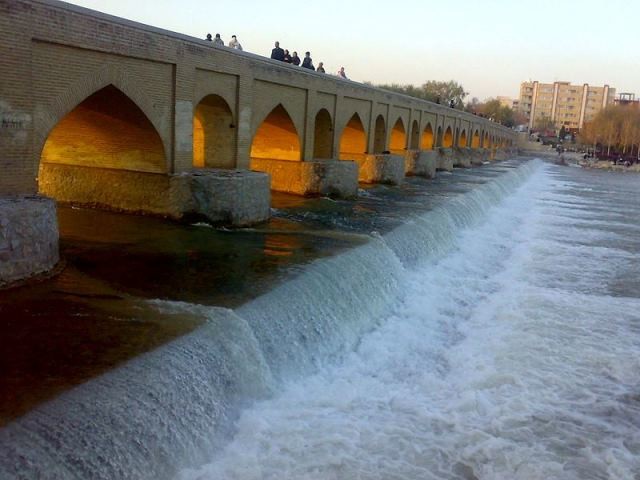 Okay so this is it, my full account on all of Isfahan's bridges, hope you guys enjoy it and really do let me know what you think.
Cheers.
---
Photo gallery
---
---
Content available in other languages
Want to have your own Erasmus blog?
If you are experiencing living abroad, you're an avid traveller or want to promote the city where you live... create your own blog and share your adventures!
I want to create my Erasmus blog! →