FROM OWNER FURNISHED IN THE CENTER 3 bedrooms 1livingroom, SAHİBİNDEN 3+1 MERKEZİ EŞYALI
Internet: Yes
Square meters: 120 m2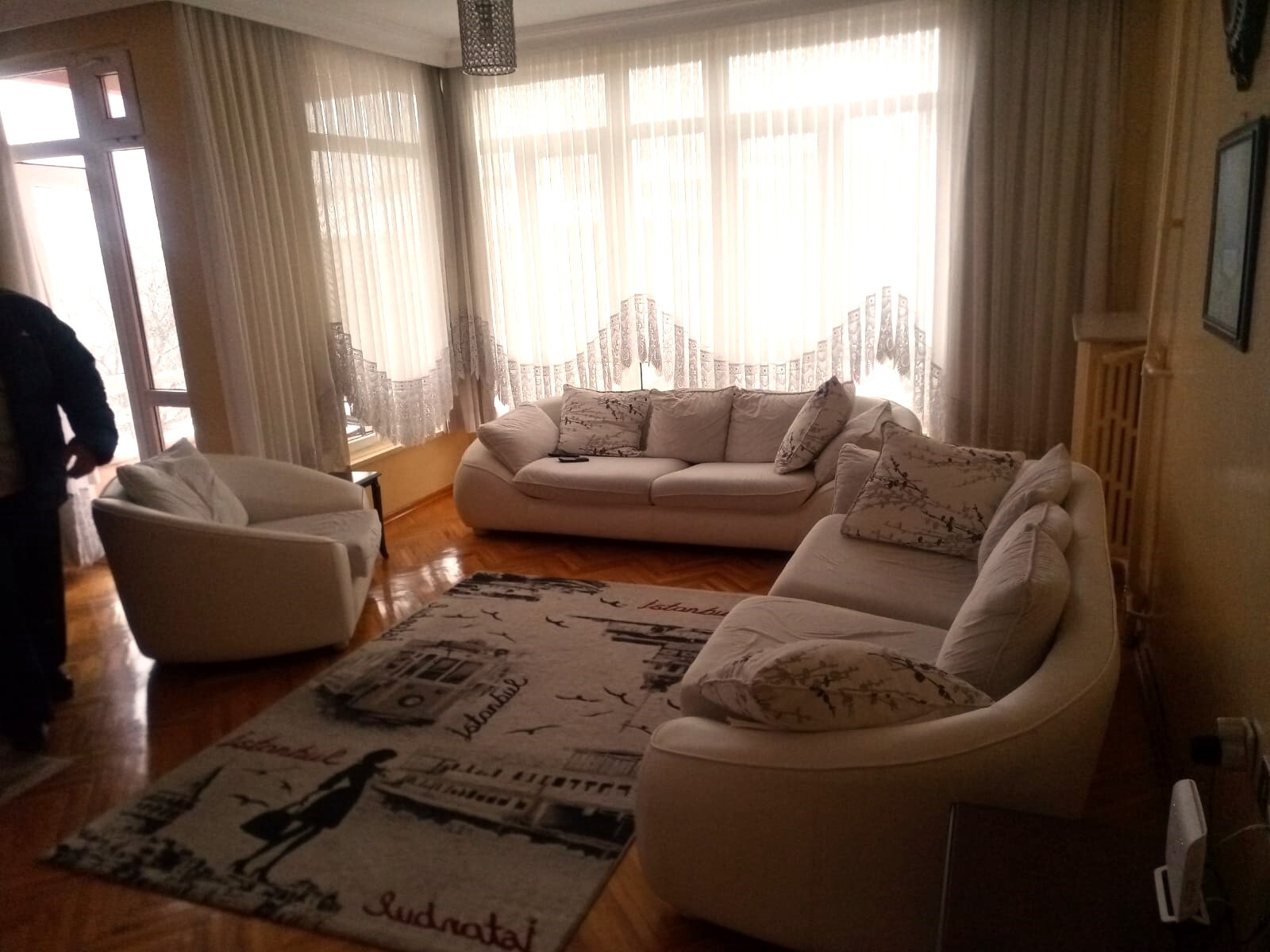 You can find introduction in English following the Turkish information below. You can contact in both languages including German. There is no commission fee.
The flat has three bedrooms and one livingroom. There is central system heating. Its a well-maintained building. It is very close to the center in a beautiful district. Many kinds of products and services are accessible on the street. In the immediate vicinity of the flat, there are police station, health center, supermarkets, schools, hospitals, mosques and a church.
All transportation facilities, trains, buses, subways, minibuses serving in Ankara can be accessed right in front of the flat or in the immediate vicinity. The suburban station is within 10 minutes walking distance, and the High Speed Ankara Train Station is easily accessible.
It is 15 minutes by walking to Kızılay and 7-8 minutes by walking to Kolej. Tunalı Hilmi Street is a 20-minute walk away. Ankara Courthouse, Hacettepe Hospital, İbn-i Sina Hospital, Topraklık Dentistry are 10-15 minutes away on foot. Ulus, Ministries, Bakanlıklar, Cebeci, Esat are within walking distance.
Museums, Anıtkabir, Başkent Hospital, Liv Hospital, Dünya Eye Hospital, Kudret Eye Hospital, Gazi University Hospital, Maya Eye Hospital, Güven Hospital, Çağ Hospital, Bayındır Kavaklıdere Hospital is quite easy. Some of the embassies, consulates and representative offices are within walking distance and some are within easy reach.
Ankara University Faculty of Political Sciences, Faculty of Law, Ankara University Faculty of Medicine, Hacettepe University Faculty of Medicine, TED University is within walking distance. Apart from these, access to Gazi University and Ankara University campuses in the Beşevler region is easily achieved by subway.
Access to Armada, Cepa, Kentpark, especially Ankamall Shopping Center, can be easily provided by subway.
The apartment includes a room with a double bed, a room with a double sofa bed and a room with a single bed. Each room has wardrobes. The house has two balconies. Both have a spacious view. There is a sitting bathtub in the bathroom.
If requested, including utility bills can be added to the rental fee.
-------
Kıbrıs Caddesi Çankaya 3+1 eşyalı daire. Merkezi sistem ısıtma bulunmaktadır. Konumu iyi bakımlı bir binadadır. Merkeze oldukça yakın ve güzel bir semttedir. Birçok imkana kolaylıkla erişilebilir. Cadde üzerinde her türlü ürün ve hizmete erişilebilir. Dairenin yakın civarında, polis merkezi, sağlık ocağı, süpermarketler, okullar, hastaneler, camiler bulunmaktadır.
Ankara'da hizmet veren tüm ulaşım imkanları, tren, otobüs, metro, minibüs, dolmuş gibi tüm taşıtlara dairenin hemen önünden veya yakın çevresinden erişilebilir. Banliyö istasyonu 10 dakika yürüme mesafesinde, Yüksek Hızlı Ankara Tren Garı ise kolaylıkla erişilebilir konumdadır.
Kızılay'a yürüyerek 15 dakika, Kolej'e yürüyerek 7-8 dakikadır. Tunalı Hilmi Caddesi yürüyerek 20 dakikadır. Ankara Adliyesi, Hacettepe Hastanesi, İbn-i Sina Hastanesi, Topraklık Diş Hekimliği yürüyerek 10-15 dakika mesafededir. Ulus, Bakanlıklar, Dikimevi, Cebeci, Esat yürüme mesafesindedir.
Müzeler, Anıtkabir, Başkent Hastanesi, Liv Hospital, Dünya Göz Hastanesi, Kudret Göz Hastanesi, Gazi Üniversitesi Hastanesi, Maya Göz Hastanesi, Güven Hastanesi, Çağ Hastanesi, Bayındır Kavaklıdere Hastanesi gibi bu alanda hizmet veren tüm hastanelere erişim oldukça kolaydır. Büyükelçiliklerin, konsolosluk ve temsilciliklerin bazıları yürüme mesafesinde olup bazıları ise kolaylıkla erişilebilir mesafededir.
Ankara Üniversitesi Siyasal Bilgiler Fakültesi, Hukuk Fakültesi, Ankara Üniversitesi Tıp Fakültesi, Hacettepe Üniversitesi Tıp Fakültesi, TED Üniversitesi yürüme mesafesinde yer almaktadır. Bunların dışında Beşevler bölgesindeki Gazi Üniversitesi ve Ankara Üniversitesi yerleşkelerine erişim metro ile kolaylıkla sağlanabilmektedir.
Ankamall AVM başta olmak üzere Armada, Cepa, Kentpark erişimi metroyla kolaylıkla sağlanabilmektedir. Tren istasyonu Sincan'dan Kayaş'a kadar bir alana hizmet dağıtmaktadır.
Dairede bir çift kişilik yataklı oda, bir çift kişilik çekyat kanepeli oda ve bir tek kişilik yataklı oda bulunmaktadır. Her odada yeterli genişlikte gardroplar bulunmaktadır. Evin iki balkonu vardır. İkisinin de manzarası ferahtır. Banyoda bir adet oturaklı küvet bulunmaktadır. Tuvalet ve banyoda klozet yer almaktadır.
Photo gallery
---
---
Advertise your accommodation!
If you have accommodation or want to rent a room, you can advertise it on Erasmusu.
Add accommodation →